The more I am growing up the more I am realising how important it is to properly cleanse my face every time. For me, it all started after K-Beauty trends taking over the Indian market and emphasizing on the major pros of double cleansing. Double cleansing is a method where you take off your makeup with Micellar water or oil infused balms and then properly clean your face with a foam-based cleanser. It helps cleaning all the makeup residue you are leaving behind on the skin surface by using only a foam cleanser. So today I am going to review Garnier Micellar Oil infused Cleansing Water which is awarded by big beauty magazines like allure and supposed to be a dupe for the Bioderma Sensible H2o. If you want to know what's my take on this, then keep reading till the end.
Product Description:
Removes 96% makeup with just one Cotton pad. It contains Agran oil and free of parabens and alcohol. It is supposedly gentle on the skin and suitable for all skin types.
Ingredients:

Price: 225 INR
Quantity: 125 ML
Cautions: It is very crucial to take off  the makeup every night before going to bed but  let's be honest we all are lazy so somedays we tend to only use the Micellar water to wipe off the makeup but hear me out Micellar waters are basically soapy water and if you don't wash it with a foam cleanser afterwards then it can dry out your skin and cause breakouts! So always make sure you wash your Micellar water with a foam cleanser after each use.
Garnier Micellar Oil infused Cleansing Water Review
Packaging: The Garnier Micellar Oil infused Cleansing Water comes in a squeeze bottle jar made of plastic. It's hygenic to use and travel friendly as well.
Texture: It has a runny water-like texture. I mean it is a Micellar water! What I should expect then duh!
Fragrance: Despite marketed as fragrance-free this Micellar water has a very soft floral scent. It is not overbearing and goes away after using it onto the face.
Efficiency: This particular micellar water does its job of removing all kinds of waterproof makeup but does it do it in one cotton pad? No, it does not…If you are wearing heavy festive makeup then you have to use more than 5  to 6 cotton pads to remove all the makeup. Regardless to say you have to use tons of product too!. I shake the bottle, then take some product in the cotton pad then place it on my waterproof eyeliner or mascara for 30 seconds then wipe it. In this way the product work more effectively. The product is quite handy and good for correcting makeup mistakes because it doesn't make my eyeliner into smokey eye and red lips don't bleed when using this. This Oil Infused Garnier Micellar Water doesn't sting or burn my eyes like any other micellar water which is great because the Bioderma Sensible H20 water stung my eyes like crazy and it is half the price of that . This is Dermatologist Tested and a spot on Dupe for the Bio Derma one. I think it is even better than the bio derma on some points.
I have very dry skin and it does leave my skin drier, If I don't use a foam cleanser afterwards. It claims it has Argon Oil in it and I must say there is no sign of moisture what so ever. This Micellar water brightens up my face and makes my skin look fresh every time I use this. I never broke out from this and it is really a gentle product to use.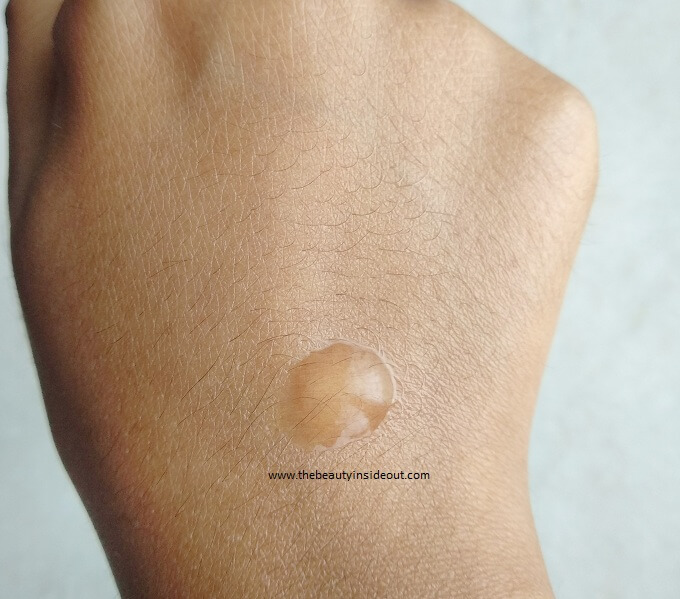 Pros:
Budget Friendly.
Easily available.
Travel Friendly packaging.
Gentle on the skin.
Removes all kinds of waterproof makeup.
Brightens up the skin.
Doesn't burn or sting eyes.
Dermatologically Tested
Free of parabens and alcohol.
Cons :
Skin can get dry if you don't use foam cleanser after that
Have to use more quantity each time, compared to other micellar waters.
Rating: 4.5/5
Would I recommend? Yes absolutely. This is one of my favourite Garnier Products that I recommend giving it a try.