My sister once told me why don't we take care of our hair as we take care of our skin? And that really hit me hard. If you notice your daily routine you will see double or triple skincare products than haircare. We feel like any shampoo or oil do the job. Being careless for the most part of my life I completely lost the natural healing power of my hair. And then I got diagnosed with PCOD, my hair was falling like crazy it became so thin and dry that you can really see my hairline. I was desperately looking for a good affordable shampoo which will help me with hair fall. My friend suggested me the Garnier Ultra Blends 5 Precious Herbs Shampoo, so today I am going to review this product which is supposedly good for hair fall and dryness and if you are interested then please keep on reading.
Product Description:
The Garnier Ultra Blend 5 Precious Herbs Shampoo is enriched with 5 essential herbs like Lemon, Green Tea, Eucalyptus, Henna and Aloe Vera. This shampoo contains a unique formula which gives you perfect nourishment with a healthy clean scalp.
Ingredients: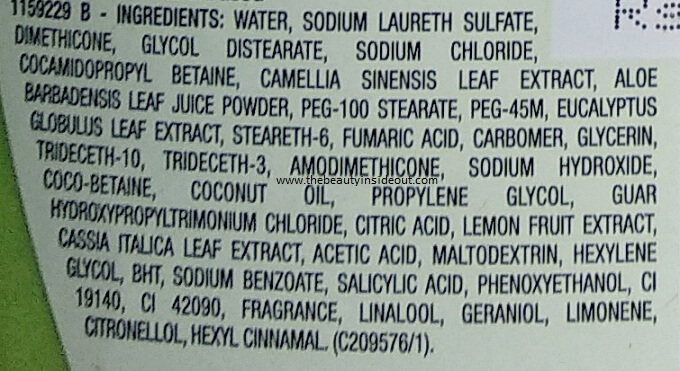 Price: Comes in Various prices and quantities. But for 640 ML the price is 425 INR
Availability: Both online and offline.
Garnier Ultra Blend 5 Precious Herbs Shampoo Review:
Packaging: The Garnier Ultra Blends 5 Precious Herbs Shampoo comes in various quantities and shape.  I got the 640 ML bottle which has a pump dispenser. This is a family pack so it looks huge in general and it is not possible to travel with it. In all, the packaging is quite good in terms of hygiene and ease of use. You can easily ensure how much product you need.
Texture: It has a liquidy texture like any other shampoo. The product itself is light green in colour.
Fragrance: The shampoo has a mild herbs scent which definitely goes away after putting it in the hair.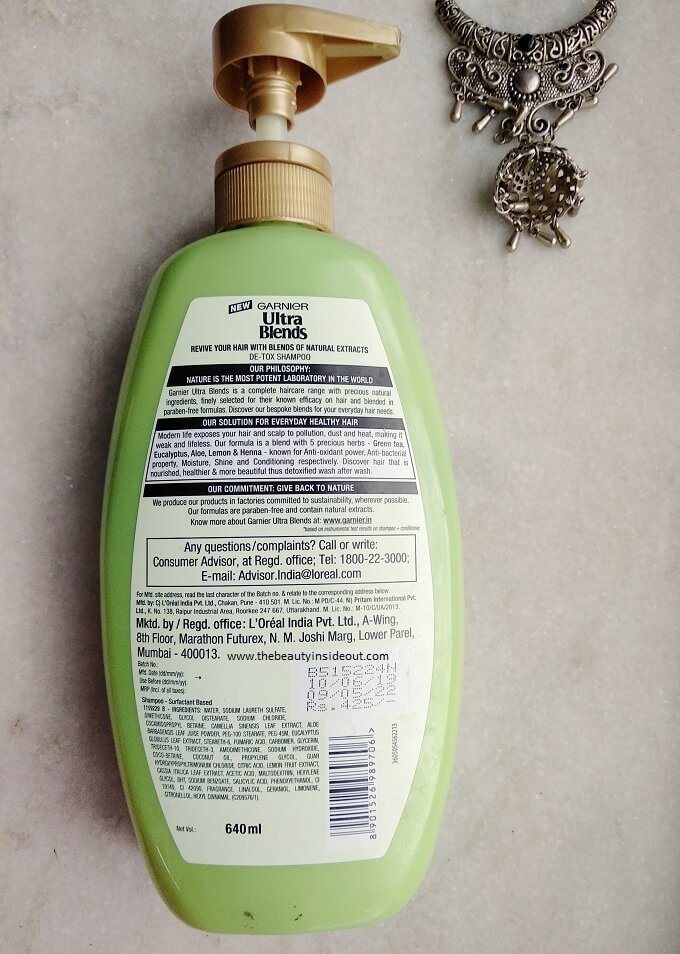 Efficiency: The Garnier Ultra Blends 5 Precious Herbs Shampoo does not have parabens in it which is great but it does have sulphates as one of the main ingredients like any other shampoos in the market. It lathers up quite good and cleanses the hair extremely well. The lemon in it is great for detoxification of the hair. Every time I use this shampoo it gives me healthy looking bouncy hair. You don't really need a conditioner and serum after this because it doesn't dry out your hair. My hair fall definitely reduced after using the Garnier Ultra Blends 5 Precious Herbs Shampoo.
In the winter I am prone to dry dandruff and this shampoo has nourishing properties in it so my dandruff is gone because of this product. People with unmanageable dry & damaged hair will be benefited with this shampoo. The only con I will say is the presence of sulphate I wish they came with a sulphate free formula. But since it is quite affordable and also comes in a sachet form, so there is no harm trying. I always air dry my hair after using this and it gives me the most natural-looking voluminous hair.  My hair looks fresh for 2 days after using this particular Garnier shampoo. Let me know your experience in the comment section if you have any.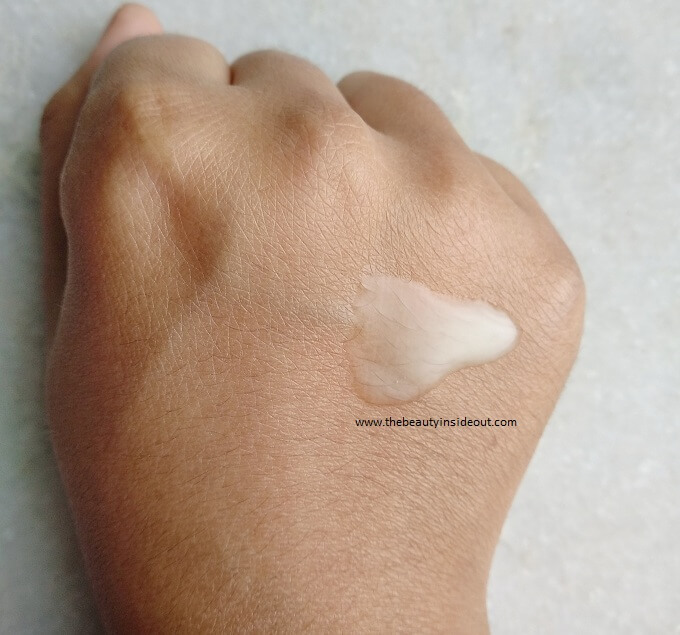 Pros:
Affordable & Easily Available.
Contains 5 Precious Herbs.
Good for dry and damaged hair.
Helps to reduce hair fall.
Gives fresh and voluminous hair every time.
Doesn't dry out hair like most shampoos.
Cleanses scalp good.
Keeps dandruff at bay.
Paraben Free.
Cons:
Contains Silicone & Sulphates.
Rating: 4.5/5
Would I recommend and repurchase? I am not looking for another shampoo other than this right now. I am on my 7th or 8th bottle so you can realize my obsession with this shampoo. But Everybody's hair is different so use the small size first. If that's suits you then move on to the bigger one. Overall, It's a great shampoo and my favourite among all the other Garnier Products.