Deodorants may not be an essential product for many, but it has been a part of my everyday routine even before I started taking care of my facial skin. If you follow my blog, you would have known that I've been into natural deodorants for quite a while now and have forgone using the chemical deos. I started off my journey with Vilvah Natural Deodorant, followed by Aroha Natural Deodorant and thirdly to this Caveman Naturals Deodorant. Caveman Naturals is a fairly new brand in the Indian market, which specialises in creating harmless natural deodorants. They do not have a wide range of products but just a handful of promising products. Let's see how this Deodorant worked for me.
Product Description:
Don't settle for artificial deo sprays or antiperspirants that cause toxin buildup in your body over time. Once you try this Natural Deodorant, you'll never want to go back to using anything else!
No Body Odor for 24 Hours
Aluminum-Free & Alcohol-Free & Synthetic Fragrance Free.
100% Natural & Organic Ingredients
Lasts 3-4 months with daily use
Doesn't block pores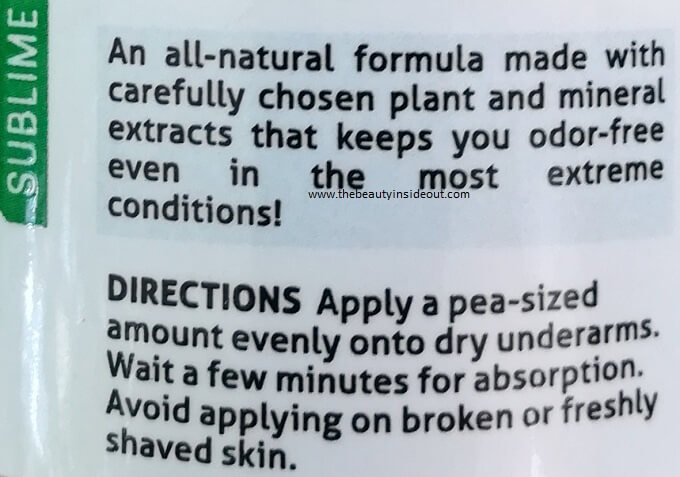 How To Use: Apply a small amount evenly onto dry underarms. Wait a few minutes for absorption.
How It Works: Unlike antiperspirants, this deodorant doesn't block your pores with harmful aluminum salts. Nor does it simply mask your body odor with synthetic perfumes like deo sprays do. Instead, it does exactly what its supposed to do, DE-ODOR-IZE, by neutralizing odor-causing bacteria.
Ingredient List: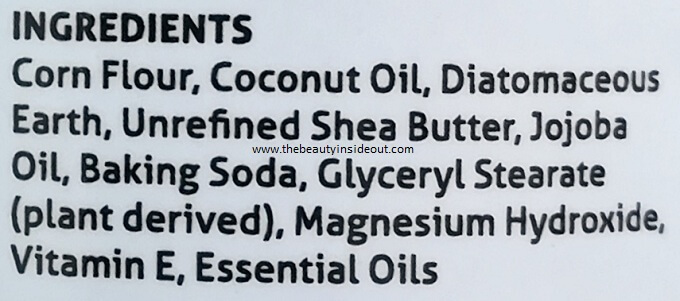 Caveman Naturals Deodorant Variants:
Sublime (Top note of Fresh Spearmint with a dash of lime)
Alpine (Top note of Eucalyptus with sweet notes in the base)
My take on Caveman Naturals Deodorant:
Starting off with the packaging. As you can see, the deodorant comes in a classy glass jar packaging which is eco-friendly and recyclable. The labeling is attractive and has details including the ingredient list. Jar packaging may be thought to be unhygienic to use, but I find such packaging much better than roll on types, in case of deodorants. Read on to know why in my other deodorant review.
I have been using this Caveman Naturals Deodorant in Sublime variant for more than two months now and it's not even half way through the jar. Only a little is needed for each use and this 50 gms will last long (atleast 4 months) making it a cost effective product.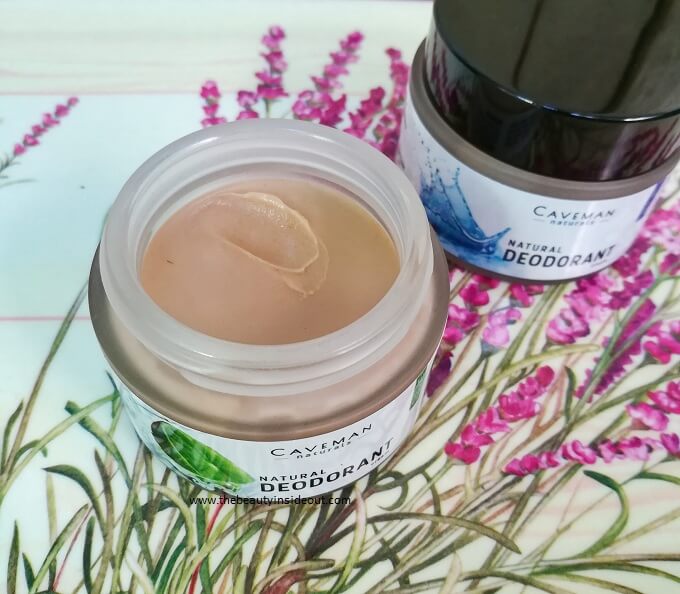 Caveman Naturals Deodorant has a clay base with a slight grainy texture, as that of baking soda. I just take a little on my fingertips and apply it on my underarms. I massage it well so that it spreads uniformly. Spreadability is much better than the Aroha's Deo, which may be because of the warmth of our fingertips we use to apply this deo. Baking soda particles cannot be absorbed into the skin, so they kind of sit on top of the skin. It is not much of a bother since I do not sense them, I could only feel them if I touch or rub my underarms. Also, they do not fall or transfer to clothes or anything like that. The deodorant is beige brown in color, so it does not have any whitish cast (which most natural deos have) and blends with the natural skin color.
Coming to the most important aspect of deodorizing. The deo is mildly fragranced, this is even milder than the Aroha Deodorant. Someone who like heavy scents may be disappointed with the low fragrance aspect. This deo doesn't smell like strong essential oils, but has an earthy muddy scent, similar to the aroma of clays. The freshness of the scent stays for 3-4 hours on me and doesn't attract people nearby me. It doesn't block my pores from sweating while still being able to deodorize bad odor from emanating. I don't stink whenever I use this deo at least once a day, usually after shower. Re-application wasn't necessary for me. I didn't experience any sorts of irritation or tingly sensation or itchiness due to this product. It is a very comfortable natural deo with good deodorizing ability. I liked using this product.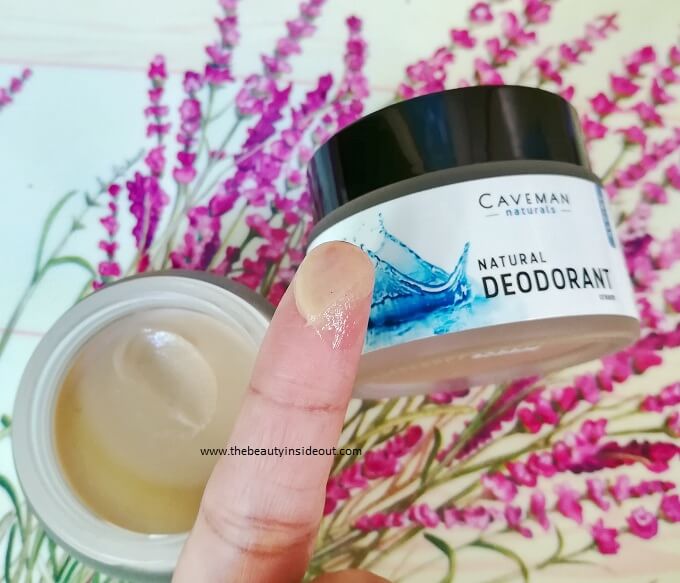 Pros:
Australian Certified Made Safe.
Free of aluminum, alcohol, synthetic ingredients.
Cruelty Free product.
100% Recyclable Packaging.
Dermatologically Tested
Gender Neutral Fragrances
Does not leave white cast.
Deodorizes body odor for a complete day.
Does block pores from sweating.
Did not cause me any skin irritations.
Cons:
Slight baking soda residue (which is common for natural deos, not a major con for me)
Rating: 4.9/5
Would I recommend? Yes, I liked it. It's mild, natural, lasts long and serves its purpose of deodorizing bad ordor. There isn't anything bad that I found with this deo.
Price & Availability:
Looking for other aluminum free deos? Find the List of Natural Deodorants available in the India.
Disclaimer: PR package. Unbiased Review as always.