Jewelries have innovated. Something that might be trendy ten years ago may not hold the same impact now. But, that's not always going to be the case. If you choose the right piece of jewelry, trust me, it will never go out of style. All you really need is an eye for quality and a genuine interest in what you're buying.
Whether you're buying it for your family as a sort of heirloom or making jewelries as an investment, it is important to consider what specific types of jewelry  you are going to buy.
To help you decide, here are some pieces that you should look into.
Hoop Earrings
Does the name "Cher" sounds familiar to you? If yes, then you will most likely know what hoop earrings are. It is a piece that came straight out of the '60s and has stood the test of time. It always comes out strong in terms of fashion trends, in any time of the year.
They're absolutely stylish. A great piece to add to your ensemble. They can come in big, dangling hoop earrings or mini hoops that will go great for your everyday look or for other special occasions.
Pearls
You can never go wrong with pearls. This timeless gem can add a very chic touch to any jewelry. However, since it is a popular gemstone, a lot of people are producing fake versions of it. Here are some ways to know if it is a real pearl:
They should have unique sizes and shape. No two pearls are identical.
A perfectly round shape pearl is rare.
They should not be warm or sticky when touched and rolled on your palm
When dropped, the rebound height should be around 35cm below
If you need more insight, then you should know that Coco Chanel was perhaps the number one fan of pearls. She loved them so much she added them to a lot of her designs.
Personalized Necklaces
Anything that was made specifically for you is something worth splurging on. Custom necklaces are often the best choice when thinking about personalized jewelry.
They are great for any occasion. Since they are customizable, you have the freedom to select what kind of stone, material, and cut you like to have. Check it out, especially if you're someone who loves custom pieces.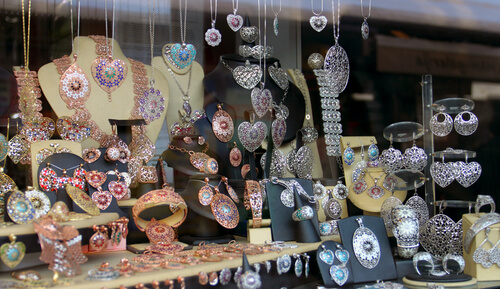 Cocktail rings
Cocktail rings, otherwise known as statement rings are huge with one large stone right in the middle and numerous other stones surrounding it. However, be sure to do the following steps to guarantee that your rings stay pristine:
Have the claws surrounding the stone inspected at least once a year to ensure that everything is still in place.
Make sure to clean it once every 6 months.
If it's an heirloom piece, be sure to buy insurance for it.
Never lift heavy objects when wearing it.
Avoid banging or bumping it.
Cocktail rings came from the '20s and saw a rise in popularity after the war. If you're looking forward to making a statement or a splash at any gatherings, then maybe you should consider having cocktail rings. They are head-turners.
Gold chains
If you don't want to wear stacks of jewelry around your neck, then a classic gold chain is perfect. It is simple and absolutely elegant. But don't just impulsively buy any necklace, look for something that suits your style. Here is a simple guide in choosing the right necklace:
Length – The length of a necklace is measured in inches and they usually start at 14". A shorter chain means a tighter fit.
Placement – Consider where you like it to fall in place when worn.
Style – Different styles call for different outfit and neckline.
Whether you're going somewhere formal or just going out to work, gold chain necklaces are a great way to put a pop in any outfit.
Stud Earrings
These may be small diamonds or stones, but they can surely pack a punch too. Choose the right cut and size, I am sure you will be able to wow anyone with this piece.
It's an everyday item that can probably match most of the clothes in your wardrobe. A must-have in any woman's jewelry box.
Conclusion
A great jewelry piece can last for a lifetime. Even long after you're gone, these things can still be enjoyed by the people you love. As the saying goes, "Every piece of jewelry tells a story." – so, tell people your story through style and of course, utter elegance.
Image Courtesy : Shutterstock