Call it a coping mechanism or simply my habits recently I got into using too many actives in my skincare routine which led to a broken skin barrier with red itchy skin. I rushed to my dermatologist and she first scolded me to stay away from EVERY ACTIVE in the market and suggested this cream be used at night for a month. Broken-hearted I came home, gave away all my skincare serums to my cousin, and started using the infamous Bioderma Cicabio Arnica+ Cream my derm recommended. Did I love it? Or I was still missing my AHA-BHAs which gave me translucent skin. Let's find out.
Product Description:
Formulated with AntalgicineTM Technology and a DAF patent, Bioderma Cicabio Arnica Cream is a skin treatment cream that quickly reduces feelings of discomfort on the skin.
Its lightweight, creamy formula is a dream to use. It penetrates deeper to offer optimal comfort.
Suitable for both face and body, the sensitive skin-friendly cream can be used by all including babies and children.
It is scientifically proven and stated by the brand that when using this product one can feel the comfort of soothing by 71% from the first usage.
Contains Arnica Extract which has excellent wound-healing properties to reduce inflammations, bruises, burns, swelling, and bumps.
Apigenin has antioxidant and anti-inflammatory properties to soothe and relieve discomfort.
It has Zinc which has anti-microbial properties and helps with fighting acne-causing bacteria.
Fragrance-free, Essential Oil Free, Alcohol-Free, and Non-Comedogenic.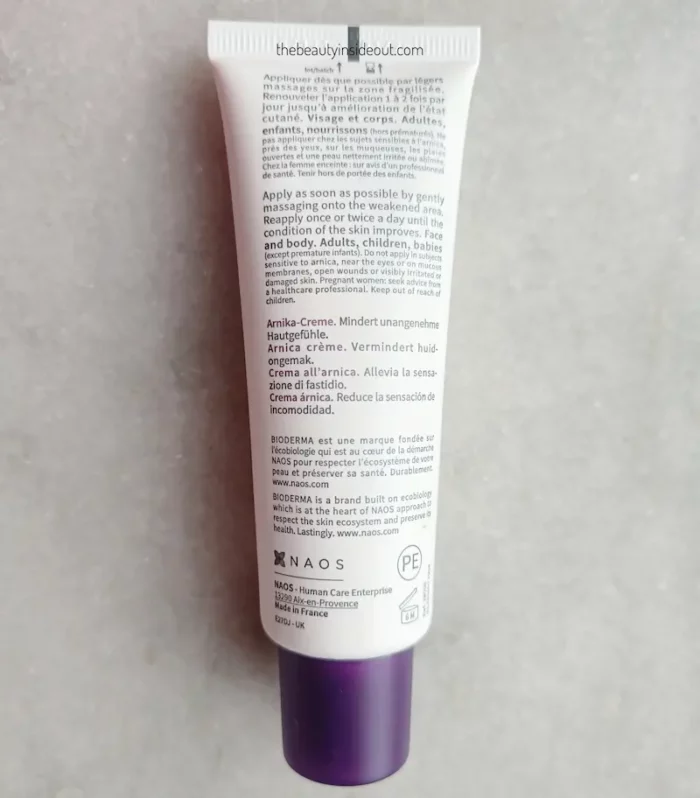 Bioderma Cicabio Arnica+ Cream Ingredients:
Aqua/Water/Eau, Glycerin, Dicaprylyl Carbonate, Caprylic/Capric Triglyceride, Propylene Glycol, Behenyl Alcohol, Capryloyl Glycine, Cetyl Palmitate, Arachidyl Alcohol, Sodium Acrylates Copolymer, Mannitol, Xylitol, Rhamnose, Fructooligosaccharides, Laminaria Ochroleuca Extract, Zinc Sulfate, Titanium Dioxide (Ci 77891), Arnica Montana Flower Extract, Apigenin, Acetyl Dipeptide-1 Cetyl Ester, Helianthus Annuus (Sunflower) Seed Oil, Phospholipids, Tocopherol, Sodium Citrate, Arachidyl Glucoside, Polyglyceryl-10 Stearate, Xanthan Gum, Laureth-3, Hydroxyethylcellulose, Hydrogenated Polyisobutene, Hydrogenated Lecithin, Butylene Glycol, Pentylene Glycol, Sodium Hydroxide, Potassium Sorbate.
How to use it?
Take a sufficient quantity of the cream and gently massage it on the skin until absorbed. Can be used multiple times a day for faster relief.
Bioderma Cicabio Arnica+ Cream Review
Packaging: The packaging is very simple. Bioderma has my heart for minimalistic yet sophisticated packaging. It also is very easy to carry around. The nozzle opening makes it perfect to dispense the desired amount of product. But my mother with very weak hands had problems squeezing out so it's not, particularly for the troubled.
Texture: The Bioderma Cicabio Arnica+ Cream has a white thin texture that is easy to spread and absorbs easily into the skin. It has more of a white pasty texture which is genuinely lightweight and doesn't add much weight to the skin after putting on. It also goes well with all of the serums and hydrating toners I use.
Fragrance: This cream is fragrance-free like most Bioderma products which are why this brand is always recommended by dermatologists and skin enthusiasts.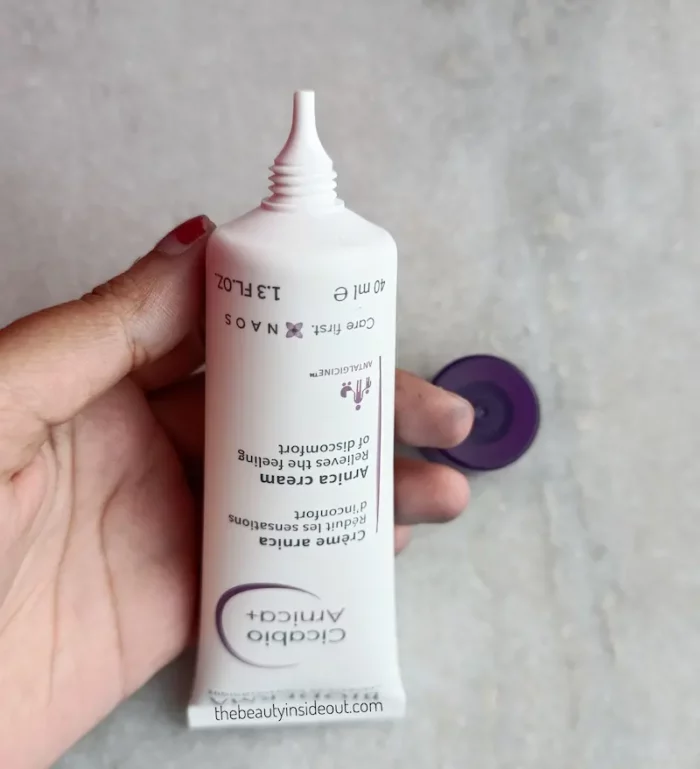 My Experience:
The Bioderma Cicabio Arnica+ Cream does what it's supposed to do. It healed and soothed my irritated skin very quickly. It also reduced inflammation that was caused by my chemical exfoliator. It's great to repair damaged skin barrier. It restores the skin to its natural state. The Arnica Cream also helped to reduce the redness of angry pimples and m to subside my tiny acne from the first usage.
What made me love this more – I recently got Dermatitis and my face got very rough; this cream gave me miracle results. It truly relieves skin discomfort and soothes the skin.
While Cermaide Creams have been popular among the masses for soothing the skin, I highly recommend trying this Bioderma Cicabio Arnica Cream for instant relief.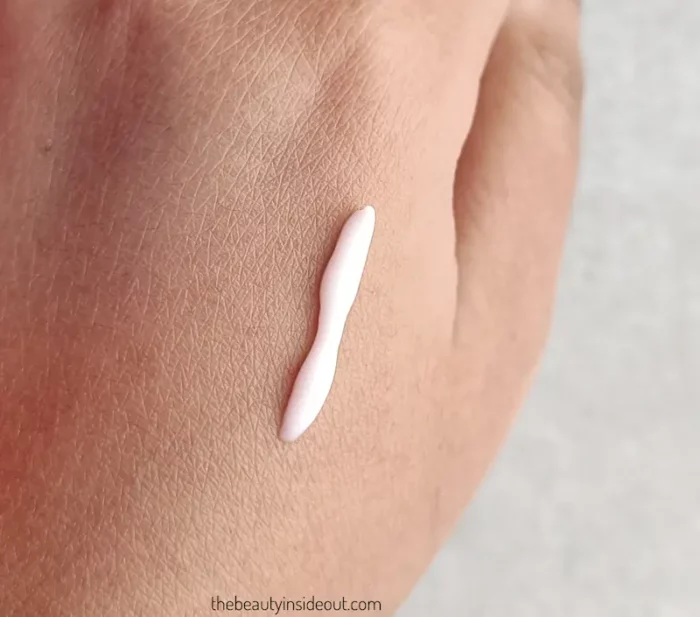 The only con I can say is that the product is not hydrating or moisturizing enough for my dry skin. I used Cetaphil DAM after this and still feel like my skin is kinda dry in the morning. So definitely use hydrating products with this cream, especially at night. This is a skin treatment cream, so consider it as one and follow your regular CTM (Cleanse-Tone-Moisturize) routine along with this product. Overall, a must-try if you have a damaged skin barrier.
Pros:
Excellent formulation with great ingredients.
Works wonder for broken skin barrier, redness, and sensitive skin.
Lightweight creamy texture.
pH-balanced and fragrance-free product.
You don't need a lot of products for each use.
Easy to spread and absorbs into the skin quickly.
Calms down inflammation and swelling.
Non Comedogenic.
Cons:
Not hydrating or moisturizing enough.
Can make your skin look dull if used in the morning.
Rating: 4/5
Would I recommend it? Yes, it's an excellent skin-soothing product that's great to keep handy for those who encounter skin irritations, and inflammation often.
Have you tried this underrated Bioderma Product? Share your thoughts with us.