Everybody has a favourite step in their face care regime; some people adore gliding in their serums, some enjoy wearing sunscreen, and I myself love cleansers. Why? Well, because you can't start anything without first cleansing properly. If you've been thoroughly cleansing, all that acne and skin texture may actually be minimised. Also, it is a really therapeutic step!
So today I'm going to review a cleanser. The Wishcare 2% Salicylic Acid Face Wash. I learned about it via Shamapti's review (she's my favourite skin YouTuber), and because Wishcare had just debuted a full line of active body care products, I had to give their cleanser a try. I'm so happy I did.
Product Description:
This product claims to have a non-drying formula that reduces blackheads and active acne and contains 2% Salicylic Acid, AHA, Green Tea, Chamomile, and Tea Tree. It is anti-inflammatory and anti-bacterial thanks to Chamomile and Green tea, which also soothes irritated skin. It is suggested for those with oily skin.
Ingredients: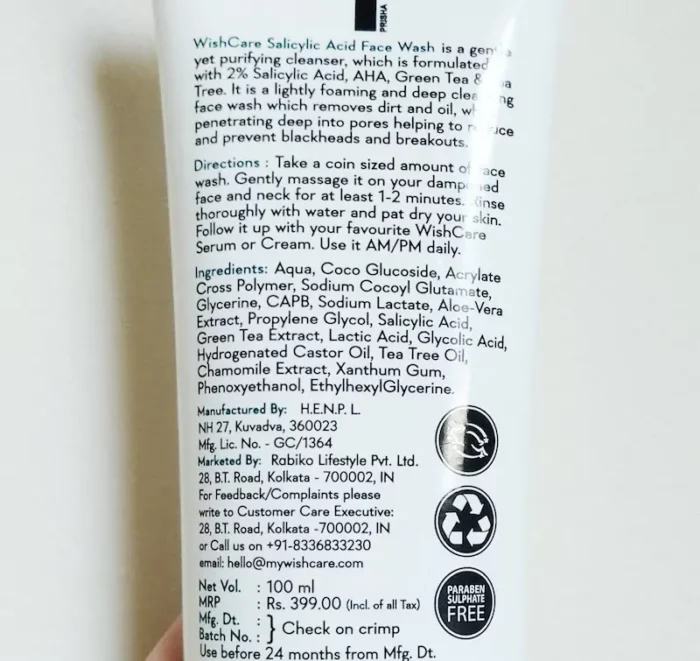 Wishcare Salicylic Acid Face Wash Review
Packaging: The packaging is a white plastic tube with a green flip cap. The ingredients, perks, and claims are all listed on the tube. There is no concern about the product leaking because of the highly sturdy packaging. On top of that, for some reason, I really dig the green colour design on the tube.
Texture & Fragrance: It has a clear transparent colour, and a slightly gooey texture, that turns milky white when you rub it between your palm. It's incredibly mild on my skin. I feel no burning or stinging sensation around my eyes. It washes off easily too. And there's no detectable fragrance to speak of.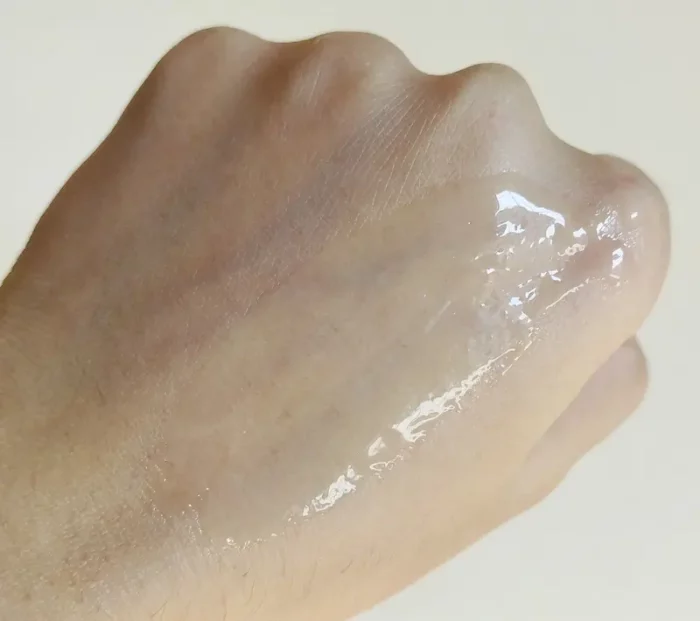 My Experience:
I should start by giving some background information about my skin. It is currently normal to slightly dry. During the peak summer months, it gets kinda greasy. I occasionally get hormonal acne around my chin, but last month I went through a nasal acne phase also, which was a real bummer but we got through it. I also purchased the cleanser around that time.
As 2% Salicylic Acid is typically drying to the skin, I initially used the cleanser twice a week before switching to alternative days. And I'm delighted to say that the cleanser is not at all drying! At least not on my normal-ish skin.
Now, regarding the improvements, I have noticed in my skin during the past month and a half. The major difference in Acne and Texture! It has significantly decreased the occurrence of acne. I witnessed one baby acne bump that vanished in two days during my hormonal acne phase, so the brand's definitely not making baseless assertions. That, my friends, is a significant feat. And sure, it cleared up the acne around my nose, for some time. I didn't use an exfoliant or a spot corrector to ensure that this really does assist with acne, and it indeed does. As I previously mentioned, thorough cleaning really makes a substantial difference in the skin's well-being.
I can't say if it's reduced my acne marks or not because they naturally fade away in a few weeks (or months) depending on their severity and how consistently I take care of my skin. But it has undoubtedly made my skin's texture smoother.
As cleansing is my favourite process, I really enjoy spending my time with it, making sure I'm not leaving any area untouched and concentrating especially on my chin and cheeks. So long as it's not a drying cleanser, I'll generally like using it. And I genuinely liked this one, so I'd suggest it to anyone with active acne and normally oily skin and even slightly dry skin.
Go for it because:
Extremely Gentle
Not at all drying
Great for acne
Evens skin
Reduces texture
No fragrance
Things that might put you off
My rating: 4.5/5
Would I recommend it? Yes, absolutely. It's one of the best salicylic acid face wash that I've tried. It cleanses and helps with acne significantly. The price point is also good.
What do you think of this Wishcare Salicylic Acid Face Wash? Have you tried it?