The first time I came across Saw Palmetto is when I was looking for supplements to treat hair loss. I've known about Biotin, the most common supplement for hair growth but it's side effects includes Acne which is why I never reach out for Biotin. On the other hand Saw Palmetto is trusted and used by many native Americans for its effectiveness in treating hair loss, but do you known that Saw Palmetto has much more proven benefits than this? Read on to know more about it.
Let me begin with, What is Saw Palmetto?
Saw Palmetto is a small, bushy palm like tree often grown in southeastern United States. Most of these trees have been living for more than 700 years, so imagine about its nutritional value! Saw Palmetto yields purplish black berries that can be very well consumed in its natural form like any other fruit but due to its unavailability, the extract of the fruit is made available as capsules for people living elsewhere.
Saw Palmetto is rich in fatty acids, phytosterols and other bioactive components that is known for its antioxidant and anti inflammatory health benefits. It also contains water soluble polysaccharides that is responsible for storing energy gained from consuming food. Decades of research support its benefits for prostrate health in men. Saw Palmetto helps in treating enlarged prostrate which is a result of low testosterone levels. Prostrate is actually a gland that is located below the bladder in men. As men age, some of them may likely suffer from inflammed and enlarged prostrate which inturn results in putting pressure on the urethra causing several complications such as incontinence, frequent urination, difficulty in urinating, bladder infections or bladder stones. Regular intake of Saw Palmetto supplements reduces the risk of prostrate cancer too as the herb inhibits growth of cancer causing tumor cells.
Saw Palmetto not only benefits men, it plays a vital role in women's health as well. Saw Palmetto has an effect on estrogen levels, those that are responsible for your monthly cycles. It helps to regulate them. It is also significant in alleviating abnormal facial and body hair growth by controlling testosterone levels.
Testosterone imbalance causes hair thinning, male-pattern baldness and intense hair fall in women. It also leads to excess production of oil in your skin which can ultimately lead to nasty breakouts and blackheads. Abnormal testosterone levels are also associated with polycystic ovarian syndrome, weakening of uterine and vaginal tissues. Saw Palmetto is a major care taker for all these problems.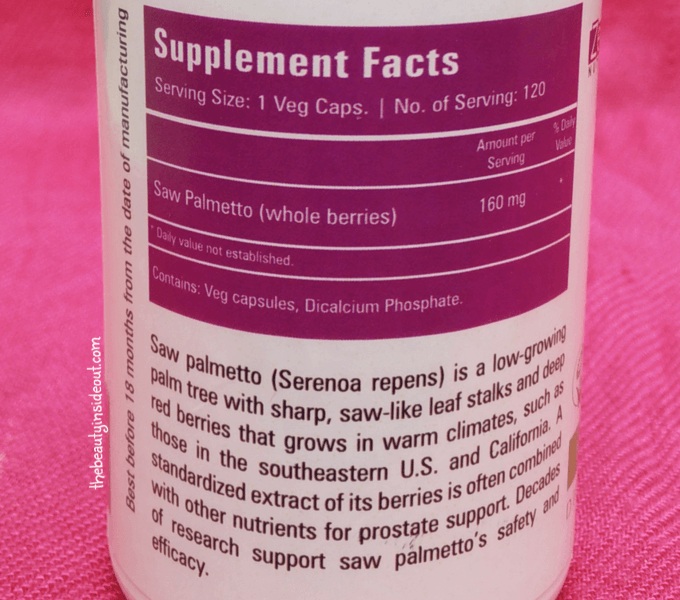 Zenith Nutrition Saw Palmetto Review
Zenith Nutrition have come up with Saw Palmetto Capsules that are 100% vegetarian and free of free of milk, eggs, tree nuts, fish, shellfish, soy, gluten and titanium dioxide. These capsules come in a regular white plastic bottle covered with a screw lid top. The bottle holds 120 capsules containing 160 mg of Saw Palmetto Extract. These capsules are translucent, so you can actually see the off white powder in it. Like any other dietary supplements, certain people are restricted to using them due to its interactions with other medical conditions. Also Saw Palmetto has an effect on your hormones, so it is advised to use it after consulting your physician.
Zenith Nutrition Saw Palmetto Capsules retails for 1020 INR , But you can buy them at a highly discounted rate HERE. All these capsules have a shelf life of 18 months.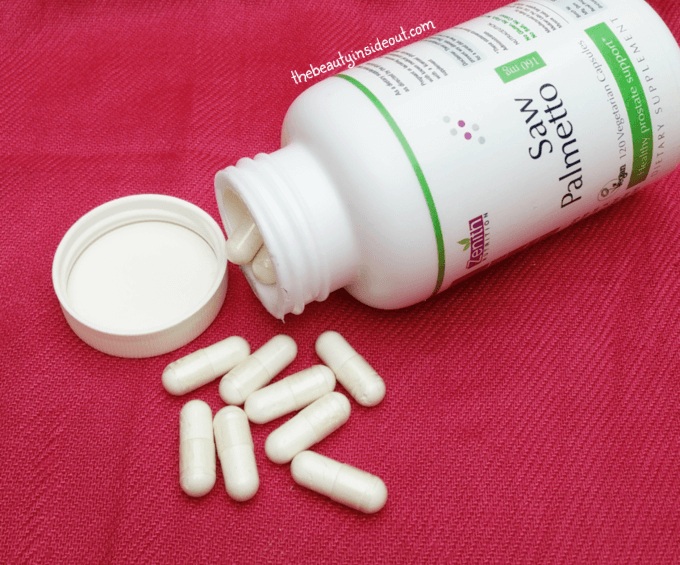 Pointing down the benefits of Saw Palmetto
Highly effective for treating prostate enlargement, provides support for prostrate health and prevents prostrate cancer in men.
It promotes kidney health and provides bladder  control and support for urinary tract problems. People with weak bladder and unable to control urine, having incontinence problems would be highly beneficial using Saw Palmetto.
Reduces hair thinning, hairfall and acne caused due to hormonal imbalance in both male and female.
Boosts the immune system due to its antiinflammatory activities in the body, specifically in the gut and urinary tract.
Saw Palmetto might help other health conditions like sore throats, cough, cold, bronchitis and migraines.
Some precautions to consider while taking Saw Palmetto Supplements:
Saw Palmetto may cause side effects such as diarrhea, constipation, nausea, headache etc on some people.
It acts as a blood thinner and slows blood clotting so people who are about to undergo surgery need to avoid this as it increases the chance of bleeding and bruising.
Saw Palmetto interacts with contraceptive birth control pills due to the presence of estrogen. So people taking these pills should avoid Saw Palmetto for the pills not to loose its effectiveness.
Overall, Though having numerous benefits, Zenith Nutrition Saw Palmetto Capsules are more significant in maintaining the prostrate health in men. If you are someone suffering from prostrate enlargement, weak bladder control and hairfall, this is the supplement that you have to look for.
Disclaimer: These statements have not been evaluated by the FDA. The product is not intended to cure, diagnose, treat or prevent any disease. The product should not be substituted for a varied diet. Please consult your doctor before taking these dietary supplements.