Today I'm up with another product from one of the most popular health and wellness brand. From the title you would have known, it's the Zenith Nutrition Glutathione. Without much talks, let's see what it is all about.
What is Glutathione?
Glutathione is an important antioxidant that is naturally produced in our body. It is the anti-oxidants that help us to protect our cells from various internal and external damages. They fight free radicals and prevent oxidative damage. The lack of anti-oxidants is the common cause of various cancers and heart diseases. That is why it is often saod to intake foods rich in anti-oxidants. Glutathione known to be the Mother Of all anti-oxidants protects our cells from within the body. Typically Glutathione is a simple peptide molecule composed of three amino acids such as cysteine, glycine and glutamine. It is present in all healthy human beings. However natural glutathione production can be easily disrupted and glutathione levels can be depleted in no time. All due to stress, poor diet, medications, infections and exposure to a lot of toxins. So having proper glutathione levels is not only an essential, it has become a need in the current environment that we live.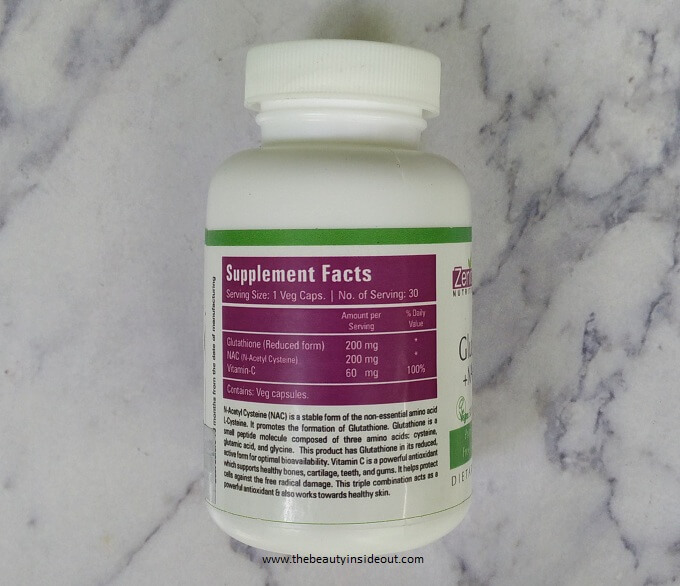 Benefits of Glutathione
Glutathione has a lot more benefits than what one might think. Here are a few of them.
Improves Immune System
Increases energy levels.
Fights against inflammations.
Improves atheleic performance.
Aids in detoxification of the body.
Improves skin health and delays signs of aging.
Why Zenith Nutrition Glutathione?
There are various food sources which can enhance your glutathione levels such as organic turmeric, fresh fruits and vegetables, eggs, red meat and so on. Still the cooking process kills 20-50% of Glutathione. In order to boost your glutathione levels, Zenith Nutrition brings it to you in its reduced, active form for optimal bioavailability. Zenith Nutrition Glutathione has added NAC and Vitamin C. N-Acetyl Cysteine (NAC) is a stable form of the non-essential amino acid L-Cysteine. It promotes the formation of Glutathione. And Vitamin C is a powerful antioxidant which supports healthy bones, cartilage, teeth and gums. It helps protect cells against the free radical damage. This triple combination of Glutathione, NAC and Vitamin C acts as a powerful antioxidant and works towards healthy skin. Glutathione is also known to be associated with skin whitening and brightening, which is why it is found in some skincare products.
Price: 1320 INR for 30 capsules. Buy HERE at a highly discounted rate.
Ingredients: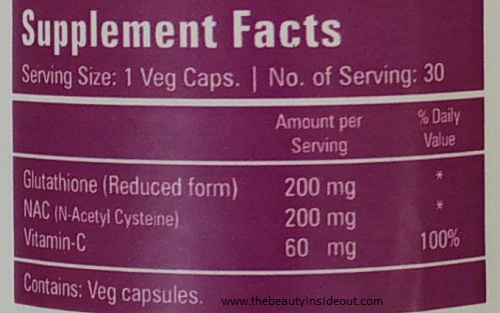 Dosage: As a dietary supplement, take 1 capsule daily or as directed by your physician.
Precautions: Pregnant or lactating women, diabetics, hypoglycaemic and people with known medical conditions and/or taking drugs, should consult with a licensed physician and/or pharmacist to taking dietary supplements.
Packaging: Zenith Nutrition Glutathione comes in the standard Zenith Nutrition sealed, white plastic bottle. The bottle holds 30 capsules which are 100% vegetarian and free of sugar, salt, gluten, fish, flavour and color. The bottle is travel friendly and contains details about the product on it's packaging. These capsules have a shelf life of 3 years from the date of manufacturing.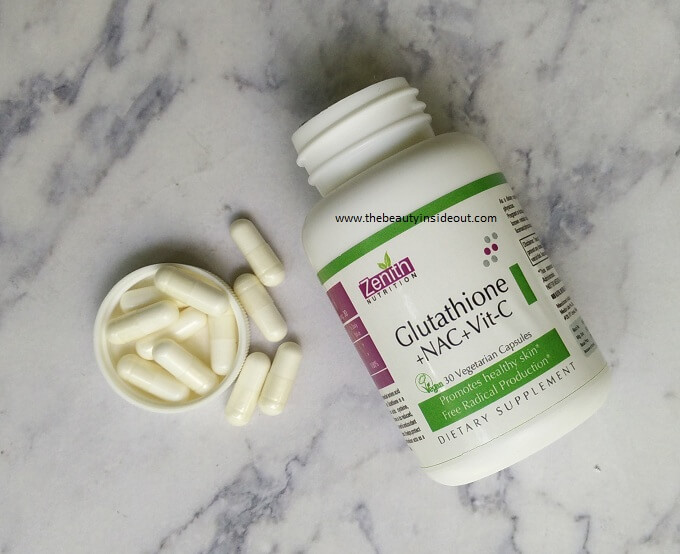 Summing up, the health and beauty benefits of Glutathione is innumerable. Taking Zenith Nutrition Glutathione as a dietary supplement can bring you healthy skin as its available in a reduced form for maximum absorbability. It also has the added benefits of NAC and Vitamin C. And Don't forget that Glutathiome is superior to all other antioxidants available.
Disclaimer: These statements have not been evaluated by the FDA and are solely for informational purposes only. These products are not intended to diagnose, treat, cure or prevent any disease. Always consult with your professional healthcare provider before changing any medication.