Today let's see about Zenith Nutrition Curcumin Plus, a wonderful health supplement that most of us are unaware of. The name Curcumin may be something you might not heard of before, but the source of it is surely known and used by most of us everyday. Curious to know what it is, then keep reading.
What is Curcumin?
Curcumin is an active ingredient of Turmeric. Yes Turmeric, the same spice which we use in our food preparations. The benefits of turmeric is vast and innumerable. It is often used for various health related problems due to its anti-septic and anti inflammatory properties. But did you know that Curcumin has much more benefits than Turmeric. Curcumin forms only 3% of a Turmeric Root and much lesser in Ginger Roots. In order to obtain the highest benefits of Curcumin, it is suggested to take it as a supplement.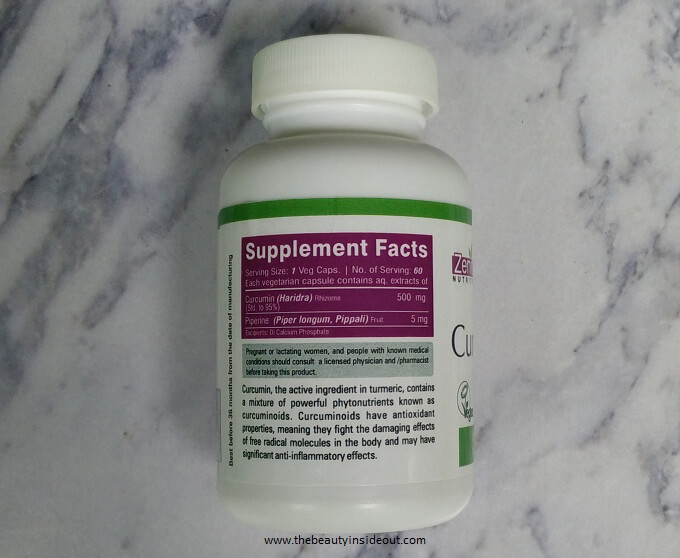 Why Curcumin?Benefits of Curcumin

Some of you might be still wondering what is so good about this curcumine, so let me give you a brief of its benefits
Curcumin is a powerful anti inflammatory compound which helps to maintain a healthy inflammatory response. It is known to be highly effective than commercial drugs like aspirin.
Curcumin is a power house of anti-oxidants. It protects our cells from free radical damage and delays the signs of aging.
Curcumin is highly beneficial for people suffering from arthritis. It greatly reduces joint pain and swelling that often occurs as we age.
Curcumin boosts brain functions. It protects brain cells and delays or reverses brain related diseases like Alzheimer's.
It helps to maintain healthy liver and kidneys even under challenging circumstances.
Curcumin is an amazing anti-cancer agent. Studies shows that it prevents and treats Breast, Colon, Brain, Pancreatic, Leukemia and Lung Cancers.
It helps with stress and depression. Popping up curcumine capsules act as an antidepressant.
Curcumin is good for your heart. It lowers the risk of heart related diseases.
It reduces blood sugar levels and hence a good option for those suffering from diabetes.
It is also effective in weight loss. Curcumin reduces fat growth hence helps with weight loss in obese people.
Why Zenith Nutrition Curcumin Plus?
Finding unadulterated, good quality supplements can be difficult. But Zenith Nutrition, the renowned health supplement brand offers us the best of all. Zenith Nutrition Curcumin Plus comes added with Peperine which enhances the absorption of Curcumin. Curcumin on its own is poorly absorbed into our body, so when you take the Zenith Nutrition Curcumin Plus you need not worry about that. Also these are 100% vegetarian and free of sugar, salt and lactose.
Price: 1980 INR for 60 capsules. You can buy it at a highly discounted rate HERE.
Ingredients: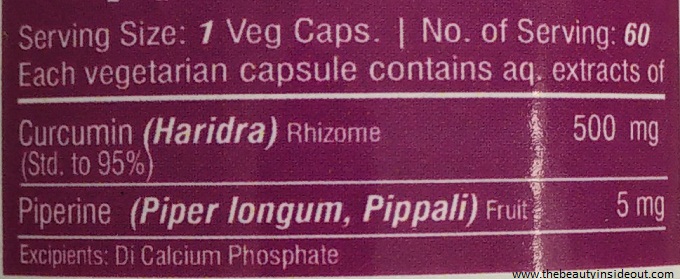 Dosage: 1 capsule a day or as directed by your physician.
Precautions: Pregnant or lactating women and people with known medical conditions should consult a licensed physician /and pharmacist before taking this product.
Packaging: Zenith Nutrition Curcumin Plus comes in an opaque white plastic bottle with a screw lid. The product came well packed and sealed with a plastic wrapper. Once I unscrew the bottle, the inner bottle is also sealed. I found the product packaging to be good and fuss free. It is also convenient to use and travel friendly. Apart from that, bottle has every details about the product starting from what is curcumin to the dosage instructions to precautions and expiry date.
Zenith Nutrition Curcumin Plus comes in transparent capsules and one could clearly see the inside of it – the beautiful yellow colored ground curcumin. Just like turmeric, it is stainable. When I took the capsule out, my fingers were stained. So one has to be careful while handling these capsules. Curcumin is fat soluble hence consuming it with a fatty meal can help to absorb better.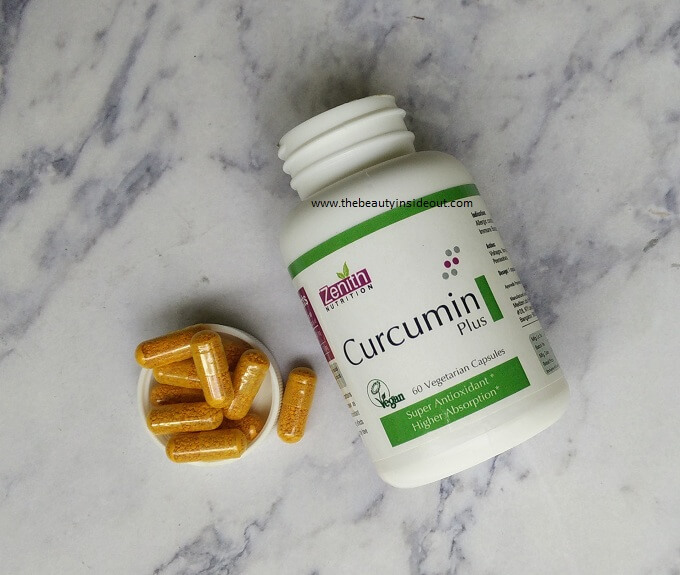 On an ending note, We all know how turmeric is so good for our health, so imagine how much more beneficial this Curcumin must be. I suggest getting the Zenith Nutrition Curcumin Plus if you are looking for a good quality Curcumin Supplement. It is available in its most purest and absorb-able form with the addition of Peperine. And forget not, Curcumin is a powerful antioxidant which is much needed to prevent all sorts of damage/diseases that occur in the current lifestyle and environment that we live.
Disclaimer: These statements have not been evaluated by the FDA. The product is not intended to cure, diagnose, treat or prevent any disease. The product should not be substituted for a varied diet. Please consult your doctor before taking these dietary supplements.