Most of you would have tried Multani Mitti masks especially if you are dealing with acne breakouts. I love using them too. Multani Mitti is such a remarkable product which works to pull out excess oil and clears out pores filled with dirt and bacteria. It is also the most sort out clay mask since it is very cheap and easily available everywhere in the market. Often considered as a drying product, those with dry skin types would have resisted trying them. But here comes a Multani Mitti mask that is suitable for dry skin types due to its non-drying formula. The product I'm talking about is The Nature's Co Fullers Earth Face Pack. Let's hop onto the product details without any delay.
About The Nature's Co Fullers Earth Face Pack: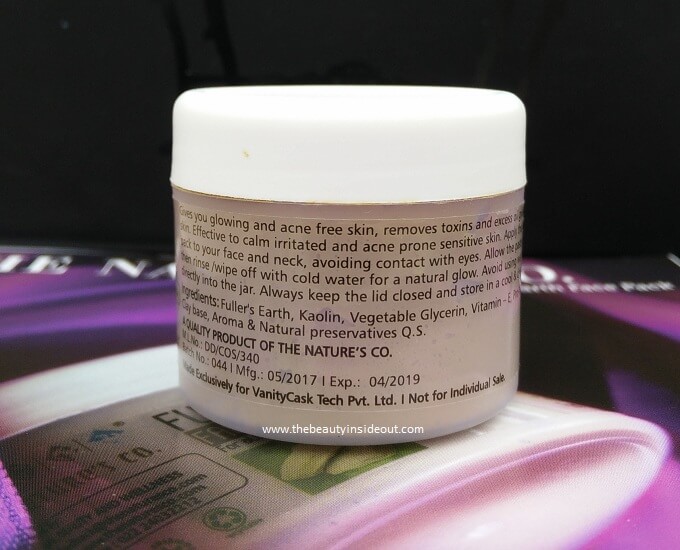 Ingredients: Fullers Earth, Pro Vitamin B5, Vitamin E, Kaolin, Vegetable Glycerin
Price: 2195 INR for 270 ml. Buy HERE at discounted rate.
My take on The Nature's Co Fullers Earth Face Pack:
Packaging: The one I have is a sample and it comes in a plastic tub with a screw cap. The full size product also comes in a tub form, but it is a lot bigger since it's a 200 ml pack. If I have had the full size product with me, I would have definitely hated the packaging, but this tiny sample tub is very handy and travel friendly. Sadly these aren't available for sale separately. The only way you can get such samples is to subscribe to subscription boxes. Tub form also means dipping your fingers, so hygiene factor gets a negative score here. They have all details about the product mentioned on the tub which includes ingredient list, expiry date etc.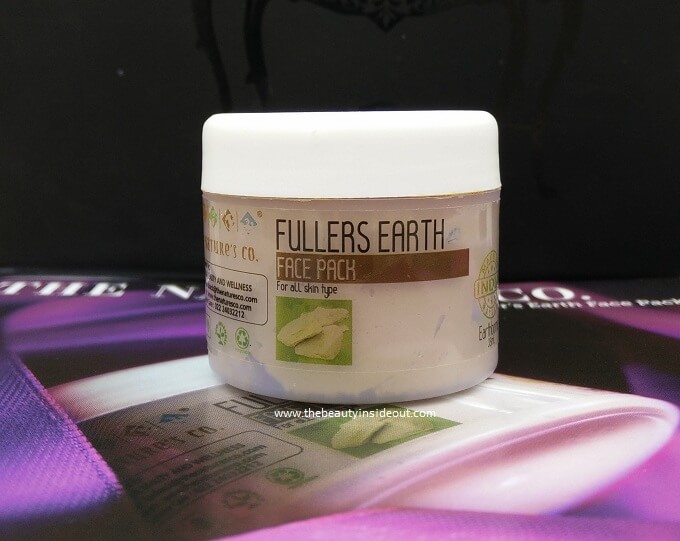 Fragrance: The Natures Co Fullers Earth Face Pack smells exactly like Mutani Mitti, very natural, earthy and muddy.
Color: What do you call this color? Is that pale yellow or brown? Nevermind, it has the color of pure Mutani Mitti. Just look at the swatch for the exact color.
Texture: The face pack has a very thick and creamy texture. This is supposed to be a ready to use face pack. But the almost semi-solid consistency needs to be thinned out so that it spreads easily on the skin. I either use rose water or plain water to make a thinner paste and then apply it on my face. It is not at all possible to use this face pack on its own without diluting.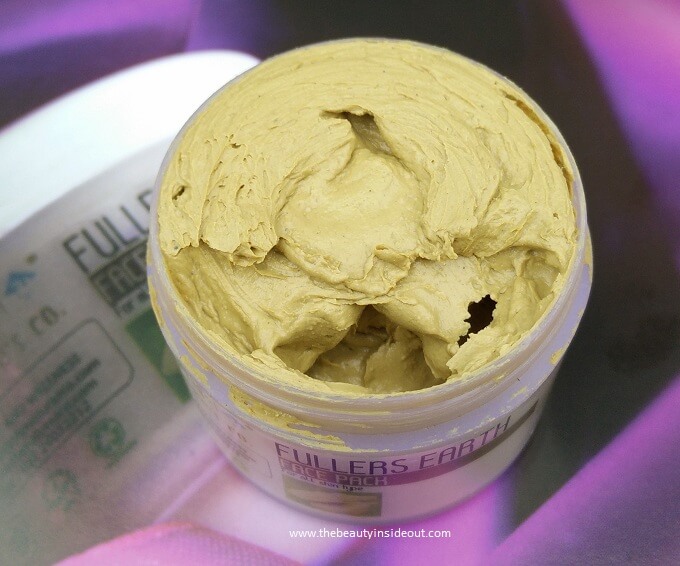 Efficacy: I've used this face pack for about 6-7 times in a month, averaging once a week. I usually apply this face pack after cleansing and exfoliating my skin. Once applied, it gives a mild sensation and the face pack completely dries down in about 10-15 minutes. Typically I remove it before it completely dries, in order to avoid excessive dryness post cleansing. Surprising this isn't a very drying face pack that leaves my skin stretchy. This isn't moisturizing too but can definitely be used by dry skin types. I love the instant smoothness and softness this face pack imparts on my skin. It doesn't do much for active acne or acne marks, but works wonders to keep my skin radiant for the next two days. I required only a pea sized amount each time, so this tiny tub has still lot many uses left. So imagine getting the full size product? Its going to last atleast a year if you are the sole user!!!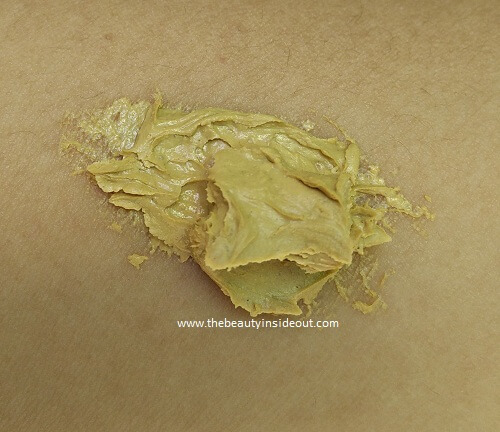 The claim to suit sensitive skin types is however not so true. I experienced redness on my whole face once, which I believe was the period when my skin was the most sensitive due to various harsh cleansers that I was using. I used ice cubes and aloe vera gel to calm down my skin and it took about two hours for the redness to completely die down. Though it was only once that I experienced this, I would still suggest sensitive skin types to stay away from this face pack.
In all, The Natures Co Fullers Earth Face Pack is a good face pack that gets rid of toxins, gives a glow and makes the skin look healthy. But it is not a miracle product for acne and the price is unquestionably hefty for a Mutani Mitti Face Pack.
Pros:
A little goes a long way.
Dries quickly, so can be used just before a special event.
Gives a clear and healthy looking skin.
Makes skin soft, smooth and radiant.
Does not cause excessive dryness of stretchy feel post masking.
Suitable for dry skin types.
Cons:
Expensive.
Not a ready to use face pack as stated.
Doesn't work extraordinarily for acne.
Not suitable for sensitive skin types.
Rating: 3/5
Recommendation: No. Its not worth an investment.
I hope you find this post helpful. Have you tried The Natures Co Fuller's Earth Face Pack? Share your thoughts.
Also check out
Until Next Time,
Stay Beautiful♥