Most Koreans are known to have flawless and radiant skin, all due to their extensive skincare regime. Heard about 10 step skincare routine? That had influenced them to innovative intriguing skincare products ranging from sleeping masks to snail creams. Lately we have seen Korean brands like Innisfree, The Face Shop being launched in India which gives us a way to try out their products. My favourite of them is definitely their sheet masks. And today I'll be sharing my experience with The Face Shop Real Nature Green Tea Sheet Mask which I got it in the Experience Kit.
About The Face Shop Real Nature Green Tea Sheet Mask :
The mask sheet drenched in serum with Green Tea soothes skin irritated by environmental stresses, refreshing and revitalizing it.
Ingredients:

Directions: 1. Wash face and apply toner. 2.Pull out mask and carefully place it on face. 3. Remove after 10 to 15 minutes and pat lightly to absorb remaining essence into the skin.
Priced at Rs.100 for 20 gm sachet, it comes in a  lot of varieties. You can buy them at discounted rates HERE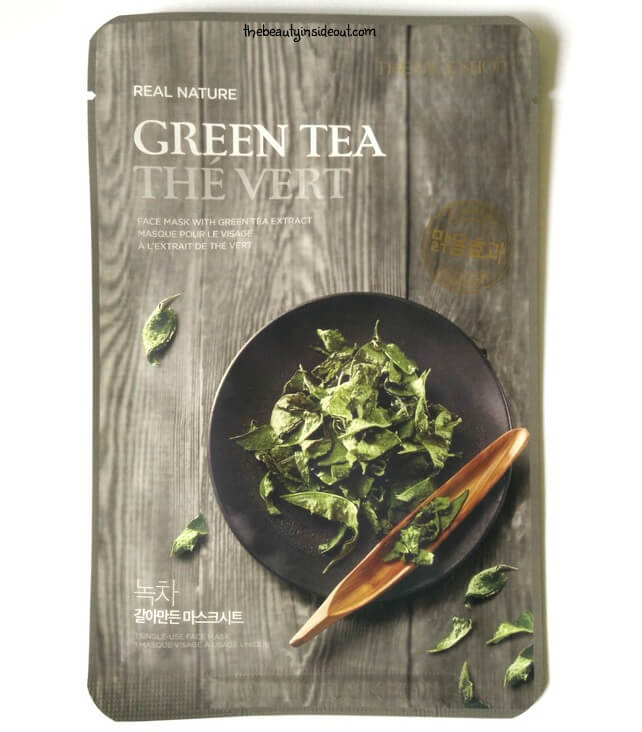 My experience with The Face Shop Real Nature Green Tea Sheet Mask :
The Face Shop Face Mask Sheet comes in a grey coloured, easily tearable pouch with bowl of green tea leaves print on the front side. The back side holds every details about the sheet mask from description to ingredients to how to use it. This is a one time use sheet mask and you can just toss it in your bag and use it during long travels if you wish.
The sheet mask is soaked in a viscous serum and has a mild chemical fragrance. The smell is not overpowering but certainly feels artificial. The sheet mask is made of a soft fabric that is slightly thicker when compared to The Solution Mask range. Once the sheet mask is out, there is about a tablespoon of serum left in the pouch which can be used for the neck and hands.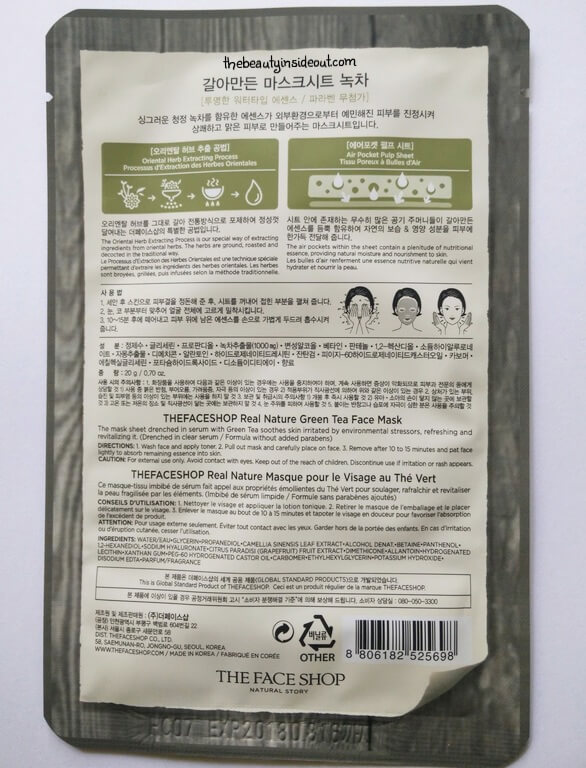 How I used it? After washing my face with Aroma Essentials Lavender Face Wash, I spritzed some Kama Ayurveda Rose Water which is a toner basically. On my clean face, I then placed the sheet mask. The serum helps to adhere the sheet mask onto the face well and I was able to walk around with ease. The mask does look big but fitted my oval face very well. Initially the mask felt cooling on my face and then I started feeling like heat is getting generated on my face. I don't know why but that's how I felt. I kept the mask on only for 10 minutes as I felt slightly uncomfortable with the effect it was giving. The mask was still wet when I removed it. After removing the mask, I was truly surprised. My face was one tone lighter, the mask doesn't claim to be a brightening one though. My skin felt sticky due to the left over serum yet I let the serum soak in for 5 minutes by gently patting my skin and then applied a layer of moisturizer. I used Fuschia Clarifying Gel to lock in moisture and went ahead to sleep. When I woke up the next day, my skin was brighter, well hydrated, supple and healthy looking. The brightness and suppleness lasted until the end of the day.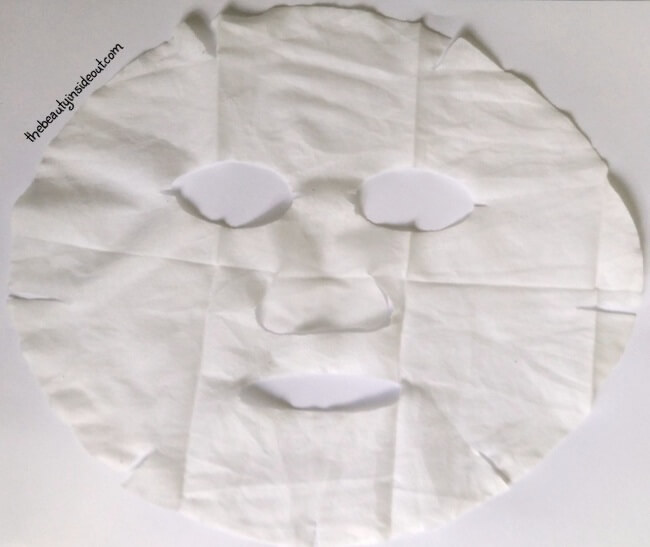 Pros:
Travel friendly packing.
Ease of use.
Good fitting and adheres to the face properly.
Quick to use, you just need 10 minutes to see the results.
Instantly brightens up the face that lasts for the while day.
Evens out the skin tone and makes it supple and healthy looking.
No allergic reactions.
Formulated without added parabens.
Suits all skin types.
Cons:
Temporary results.
Skin feels sticky once the mask is removed.
Artificial fragrance.
Contains alcohols and chemicals.
In all, I loved using The Face Shop Real Nature Green Tea Sheet Mask. It instantly brightened up my face and my skin looked healthy with no dryness. This mask would suit all skin types and the effects are very well noticeable. The real nature range is slightly cheaper than the The Solution range and I highly recommend trying out this range before trying out other ranges. And yeah I'm picking up a few more sheet masks from the same range in my next haul.
Rating: 4.5/5
So that was all about The Face Shop Real Nature Green Tea Sheet Mask. Have you tried this? Share your thoughts in the comments section below
Also checkout
Until Next Time
Stay Beautiful♥