Picking up the right moisturizer for oily skin can be as difficult as choosing a topping for your pizza. My 2 cents, when in doubt just pick up an aloe vera gel from a good brand. Today I'll be reviewing Fuschia Clarifying Face Gel which is nothing but an aloe vera gel added with powerful essential oils. This is my first product from the brand and I liked this gel much better than my all time favorite Rustic Art Aloe Vera Gel. Let's get into the details which is where the whole twist lies. Yes no proper description is mentioned on the packaging and I happened to check their website only when I started penning down this post. And you know what I have been using this gel in the wrong way all this time 🙁 But that's ok I loved the way I used it and didn't find any discomfort nor the ingredients caused me any irritation.
Let's have a look at what Fuschia says about this clarifying gel:
Orange and Lemon essential oil heal acne and hydrate the skin. Together they brighten dull skin & reduce fine lines of ageing.
Ingredients:
Aqua, Aloe Vera Gel, Marigold Flower Extract, Lemon Oi, Sweet Orange Oil, Grapefruit Oil, Carrot Seed Oil, Vitamin E.
And here comes the direction to use as per their website
Apply a layer of this mask evenly over your skin and relax for 15-20 minutes. Once dry, rinse with plain or cold water. Use this mask once or twice a week.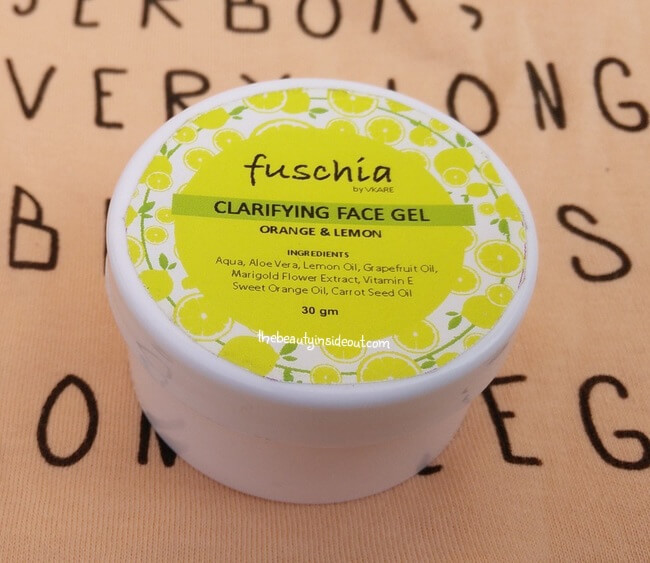 Priced at Rs.450 for 100 gm . You can buy it HERE.
My take on Fuschia Clarifying Face Gel with Orange & Lemon:
Fuschia Clarifying Gel comes in a travel friendly plastic tub. What goes inside the tub (read: ingredient list) is mentioned on the yellow label sticked to the top of the lid. A tub is a tub, so had to use fingers or a spatula to scoop out the gel. The gel is pale yellow in color and has a sweet citrusy fragrance. The scent is mild and definitely non-bothering. I liked it actually.
As I said earlier I didn't know it was supposed to be used as a mask and I used it as a moisturizer right after applying facial serums or after sheet mask sessions to lock in extra moisture. And it did serve the same purpose as any other Aloe Vera Gel. It is non-sticky and keeps my skin matte, oil free and shine free for several hours. It's brilliant in controlling excess sebum production and keeps my skin balanced with the right amount of hydration. However this might not be moisturizing enough for dry skin types. Realistically any aloe vera gel won't suffice for dry skin types as they are not highly moisturizing and they are more of oily skin friendly.
Anyhow I can't do justice to my readers without trying it out as per the orginial directions, so I had to delay this post and try it out as a face mask. I was half way through the tub and using it as a face mask made me curb on the quantity. The gel got used up fast as I required a lot of quantity as a mask compared to when applied as moisturizer.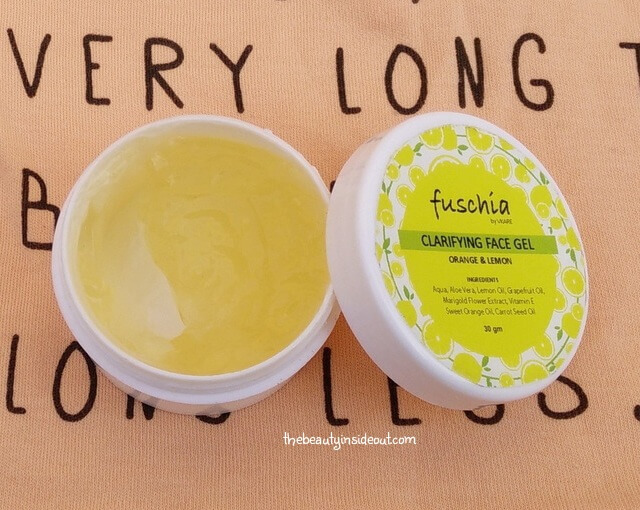 I washed my face and applied a layer of this gel on my face. I did not scrub or steam prior to using this mask. Immediately upon application, I could feel a cooling and tingling sensation which I didn't experience when I used it as a moisturizer. May be it was because I applied it as a thick layer. After 15 minutes, I washed it off with normal water when it was half dry. I try not to keep masks until they become totally dry as it could result in a very dry and stretchy skin and that's why I applied a generous layer. I could notice my tiny zit completely vanished and my skin was noticeably brighter than usual. Still my skin ended up being dry so had to slather on a moisturizer. I would say as a mask the gel did an excellent job too.
Pros:
Loaded with essential oils.
Pleasant citrusy scent.
Can be used both as a face gel and face mask.
Lightweight gel gets absorbed into the skin easily.
Provides the right amount of hydration and moisture for oily skin types.
Excellent oil control capability.
Brightens the skin when used as mask.
Takes care of zits and calms the skin.
Free from harmful chemicals.
Cruelty-free.
Cons:
No proper indications is mentioned on the packaging. Not everyone checks the website before using.
Not suitable for dry and extra dry skin.
In all, Fuschia Clarifying Face Gel is a product worth trying for oily skin types. If you are into Aloe Vera gels, you might like this. As for repurchase, I would not as I have a few more brands to try on my wishlist.
That was all about the Fuschia Clarifying Face Gel. Have you tried this? Have you encountered any product with no proper indications ? Share your thoughts below.
Also check out
Until Next Time,
Stay Beautiful♥