I am always loyal to aloe vera gels. It is one of the best beauty ingredients that I've ever come across. I have tried aloe gels from so many brands. And one day when I stumbled upon The Face Shop Damyang Bamboo Gel on Nykaa, I was enthralled to see so many people raving about this beauty which looked almost like Aloe Vera Gel to me. It was only then I learn't about the benefits and Uses of Bamboo Extracts. Before going into the review.
Let me share a little about Bamboo Extracts.
Bamboo Extracts are the richest sources of Organic Silica which is much needed to improve skin health.
It is not only an anti-oxidant but also a skin healer and helps with minor cuts and wounds.
Bamboo Extract is also a bit more moisturizing than Aloe Vera, hence can be used by all skin types.
Bamboo Extract reduces melanin production thereby helps to fade away dark spots and pigmentation faster.
These are some of the benefits of using Bamboo Extracts which you need to know. Also it is a great multipurpose product which can be used in various ways. I'll come to that a little later. Let's first see what The Face Shop has to say about its Damyang Bamboo Gel.
Product Description:
A soothing gel with moisture infused gel-type texture that gives a moisture massage to skin with cooling, soothing effects. This is a multi-use soothing gel that can be used on the face and body.
Ingredients:

Price:  Approx $12 or 390 INR for 300 ml. Available on Amazon.com
My take on The Face Shop Damyang Bamboo Gel:
Packaging: The Face Shop Damyang Bamboo Gel comes in a bulky green colored plastic tub. The tub contains 300 ml of product, hence it is likely to come in a huge packaging and be not so travel friendly. Still, the packaging looks really nice with designs of water droplets and the tub by itself looks like a freshly cut bamboo stem. The tub is secured with double lids, one is the outer screw lid and further by a transparent lid. The body of the tub has various details about the product printed on it, including ingredient list and expiry date. The only thing I would suggest the brand is to bring in smaller versions in tube packaging. That would be awesome for travel purposes without compromising on the hygiene factor!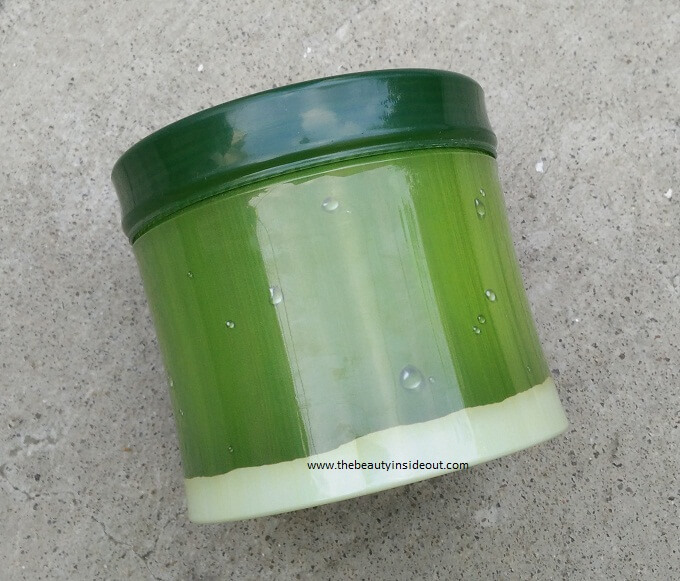 Fragrance: The Damyang Bamboo Gel has a sweet floral fragrance. A very pleasant scent that wouldn't be troublesome to anyone. It's very light and almost natural.
Color, Texture & Consistency : It is similar to Aloe Vera. Colourless with a smooth texture. It is not very liquidy and has the perfect consistency of a gel.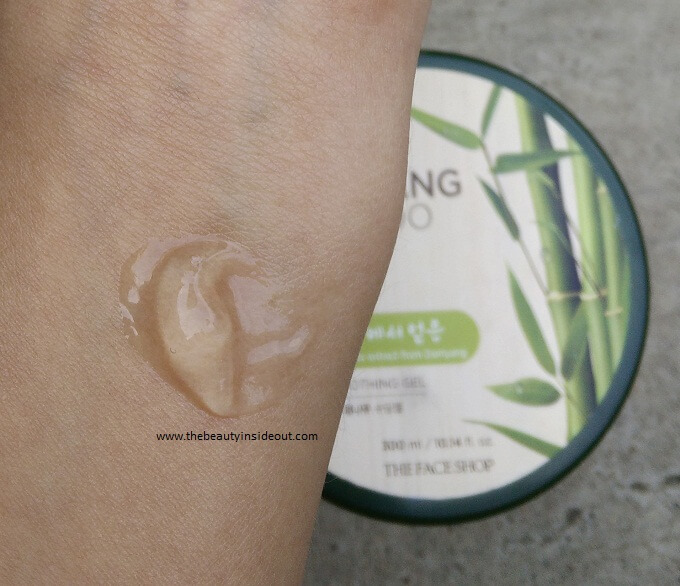 Ways to use the Damyang Bamboo Gel:
To be frank, I did not use the Bamboo Gel in multiple ways because it's a multi-use product. But because I wanted to get over this huge tub faster. It's like am digging the ground to find a treasure, the gel keeps on coming like it's never going to end. If you are someone who likes to experiment with many products, I bet you would be bored with this easily. On the other hand, if you are a keeper of skincare, you would love treasuring this tub.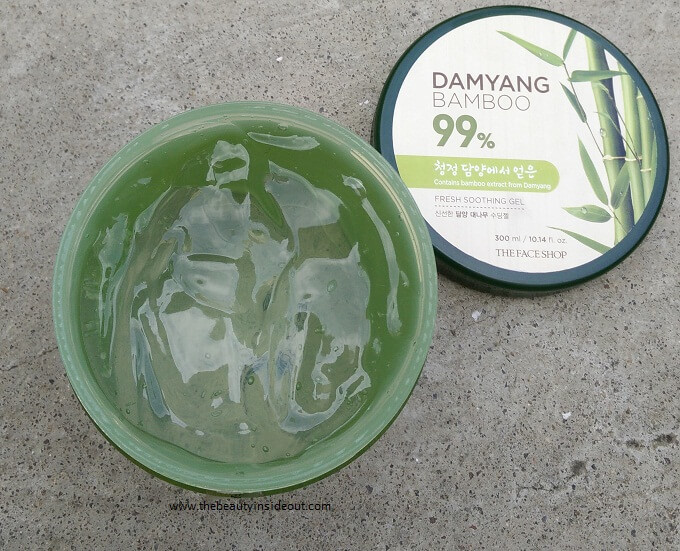 Coming to the ways in which I used the Damyang Bamboo Gel.
As a moisturizer: This is most basic use of this gel. After cleansing and toning, I just take a little of the gel and massage into the skin. It gets absorbed in few minutes leaving my skin moisturized and supple. Until I found my HG oil-free moisturizer, I used only aloe vera gels as a moisturizers. And when I replaced aloe gel to this bamboo gel, I felt this to be more moisturizing and hydrating. It forms a thin barrier just like Aloe and locks in moisture into the skin. I always suggest using a toner before using this as a moisturizer or atleast apply it on semi-damp skin for better results.
As an after sun wash off mask:

It's rightly named as soothing gel. It is very soothing on the skin especially when used after sun exposure. I apply a very thick layer of the bamboo gel on my sun-burnt skin and leave it on for 20 minutes. Just close your eyes and relax. I bet you would feel like you are in a spa session as the bamboo gel gives a cooling effect. It calms irritated skin and reverses mild tan by brightening up my face.

As a face mask mixed with DIY's : Apart from using the bamboo gel as a standalone wash off mask, I love mixing this with my DIY Masks. Often I use a combination of Besan, Curd and this Bamboo Gel as a face mask. This mask gives a clear, rejuvenated, soft skin. At times, I also like mixing the Damyang Gel into my go to DIY Cleanser along with Rose Water. The addition of this gel gives an extra coolness and calming effect to my skin.
As a sleeping mask: I just named it differently as a sleeping mask. But this is nothing but using the gel in my night time routine in the same way as a moisturizer. Just that I take a little more in quantity and apply a medium thick layer, just so it's comfortable on the skin and head to sleep. In morning, I wake up with a well hydrated and nourished skin. The Bamboo Gel helps to repair skin dryness and flakiness.
As an acne spot treatment: I also use this as a spot treatment on my active acne. I dab a blob of the gel on my angry acne and let it sit overnight. It majorly reduces redness of the pimple and helps with the healing process. 
As an after shave: Again as said earlier, the Damyang Bamboo Gel is extraordinary in calming and soothing irritated and inflamed skin. I apply this as a post shave gel. The coolness of the gel relieves pain or discomfort that was caused due to the razor.
As a hair detangler: On rare occasions, when I miss to pre-oil my hair, I tend to use the gel at the ends of my hair lengths to avoid split ends. Also, I take a little of the gel run through my mane to gently detangle my hair strands without breaking them. 
As a primer: The Damyang Bamboo Gel 

works amazingly well as a primer filling in pores without clogging. It forms a thin protecting layer and provides a smooth canvas for makeup. Although I did not see this helping much with the longevity of my makeup.

Mixed with foundation: Rather than a primer, I liked using this with foundations. I mix a pea sized of the gel with thick, fast drying formulas. By doing so, the foundation is thinned down and spreads easily providing additional moisture content to the skin. The coverage becomes lighter giving a more natural looking healthy finish.
These were the ways in which I tried finishing this huge tub of bamboo gel. My most favourite way among these is applying as a wash off mask. The brightening effect it gives is noticeably visible, although it's temporary. And I used this mask not only after a day out, but also before heading out to a special occasion.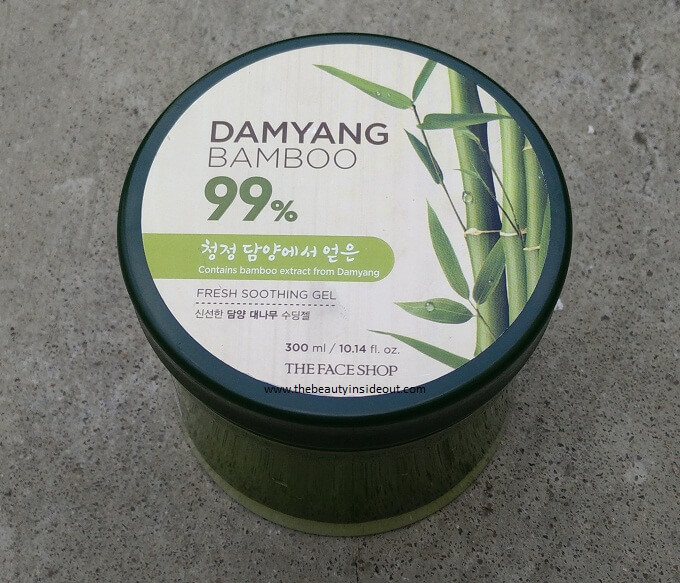 Pros:
Contains 99% Bamboo Extract.
Pleasant sweet fragrance.
Perfect consistency, spreads easily.
Hydrates and soothes irritated and sun-burnt skin.
Gives a brightening and glowing skin.
Removes dullness from tired skin instantly.
Price is justified for the quantity & quality offered.
Cons:
Huge Tub.
Contains Alcohol and other chemicals.
Rating: 4.7/5
Do I recommend? Yes, it's a great multipurpose product. If you are fond of aloe gels, you will love this too.
Also read: