O3+ is a professional salon range brand which is quite popular for their professional beauty treatments. The brand is seen endorsed by many Youtubers and has been featured in many reputed magazines which has always kept me wondered about this brand. My first stint with them was their White Day Cream which unfortunately didn't go well for me. Here is yet another not so convincing product which I received as a part of a subscription box. The product I'm talking about is the O3+ Derma Fresh Mask.
Product Description:
Give your skin a freshness booster with the O3+ Derma Fresh Mask that is enriched with brightening and calming properties.
• It helps in detoxifying and refreshing facial skin.
• It has brightening properties that will help remove tan and effectively brighten skin.
• It can be used twice/thrice a week.
• Suitable for both men and women.
O3+ believes in bringing the very best out of a person and through its range of extensive product, it aims to do just that. Derma Fresh Mask is your ideal choice to get a radiant glow from within.
Ingredients: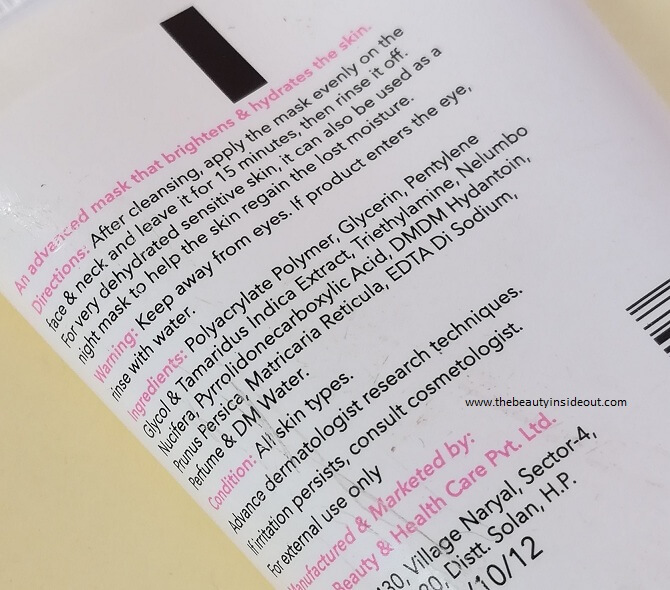 Price: 490 INR for 50 g.
My take on O3+ Derma Fresh Mask:
Packaging: The packaging of the O3+ Derma Fresh Mask is pretty basic, plain and boring. It comes in a white tube with a flip type cap. The packaging is travel friendly as well as convenient to use. There isn't much to complain about it, at the same nothing much to boost as well. The back side of the tube has details about the product mentioned on it.
Fragrance: It has a synthetic fragrance which is not my cup of tea. It is a little bothersome and I would have liked it if it was fragrance free.
Color & Texture: The texture is quite unique. It is a very light yellow colored mask with a gelatinous consistency having uneven, non gritty beads. The first time I took out the product, I thought the product has gone bad and was expired. The texture and fragrance gives off that vibe. But in actual, that is how the mask is made to be.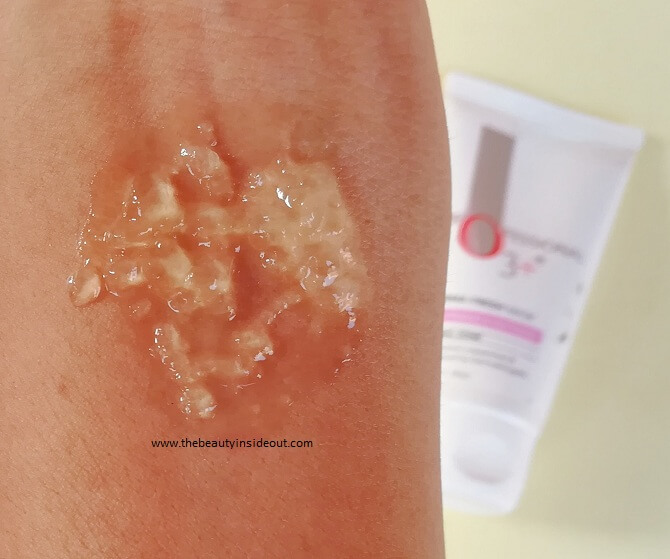 Experience: Since the mask has a thicker consistency, I always had to use more amount of product each time. Hence the tube gets finished up pretty soon. I apply the mask after cleansing while my skin is still damp to aid in easier spreadability. The mask dries up quickly so I let the mask on to work for less than 15 minutes, after which I rinse it off. The mask washes off easily with few splashes of water and does not leave that slippery feel which most gel masks leave. The mask is decently hydrating and leaves the skin fresh and soft to touch. However I was disappointed that it did not brighten up the skin nor remove tan even after using it twice a week for about a month. Although, it did not cause any skin irritation or acne breakouts, it did not help with skin dullness. The results of using this mask is same as that of using a face wash.
Considering all the aspects of the mask – its fragrance, texture and results, I did not like this mask at all and would not recommend to anyone.
Pros:
User friendly tube packaging.
Application is easy.
Rinses off easily with no slippery residue.
Imparts freshness and smoothness.
No skin irritations or breakouts experienced.
Cons:
Gets used up pretty fast.
Price is not justified for the results.
Fragrance and Texture is not great.
Does not brighten skin.
Rating: 1/5
Would I recommend? No. This is a below average mask that does not satisfy its claims of brightening the skin nor gives a relaxing masking session.
Looking for other face masks?