Next in line to my beginner and budget friendly makeup kit series is a product from Blue Heaven. Blue Heaven has entire range of make up products starting from foundation to eye shadows to lipsticks. Months ago when I was searching for some base makeup kind of product, the one which got my attention is this Blue Heaven Xpression Makeup Concealer Stick. The concept of stick impressed me due to its ease of application. Also back then only high end products were available in stick packaging which made me get this. Keep reading to know how this worked on me !!
Product Description:
Blue Heaven Xpression Makeup Concealer Stick is a creamy concealer in stick form, specially developed for face and body to provide you a youthful glow.
How to use Blue Heaven Xpression Makeup Concealer Stick ?
Apply the concealer stick under your liquid foundation, pan stick or powder. Apply to your dark circles under the eyes by taking a little concealer stick on your index fingertip and applying lightly to the dark circles. Stroke lightly to blend evenly over the dark circles. Repeat with the other eye. You can also apply this concealer as a base before applying your foundation. After concealer stick is applied, make up your face in normal way.
Ingredients:
Mineral Oil, Candellila Wax, Carnauba Wax, Paraffin Wax, MCT, Ethyl Hexyl Palmitate, Hydrated Magnesium Silicate, Aluminium Startch Octenyl Succinate, cl 77891, cl 77491, cl 77492, BHT, Permitted Preservatives and Perfume.
Price: 95 INR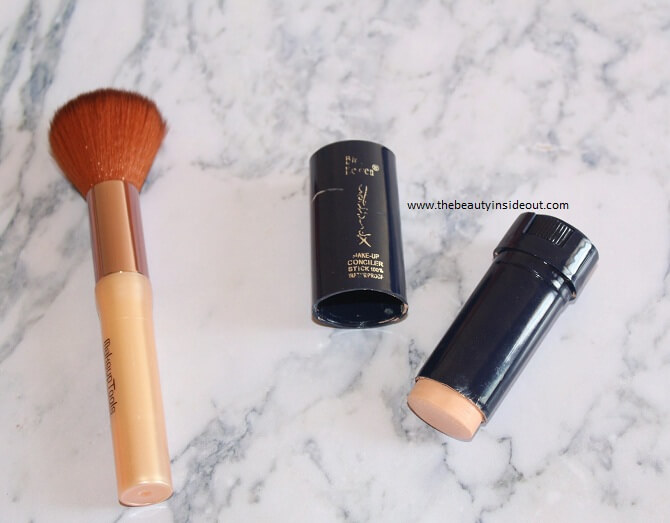 My take on Blue Heaven Xpression Makeup Concealer Stick:
Packaging : As the name suggests, Blue Heaven Xpression Makeup Concealer Stick comes in a retractable stick form, which is made of plastic. The stick packaging makes it convenient to use and carry around in my bag easily. The makeup stick came in an outer cardboard packaging which I had thrown away as it was bought long back. I remember the cardbox having various details about the product.
Texture: It has a smooth, creamy texture which glides easily without much effort. It also blends easily with just fingers.
Fragrance: The makeup stick has a mild cosmetic kind of fragrance, but that's not much bothering. Atleast to me!
Shades : Available in 6 different shades with the majority of them having pink undertones.
01 Rose
02 Blush
03 Natural
04 Natural Glow
05 Fair Glow
06 Pink Glow
The Shade I use is 03 Natural.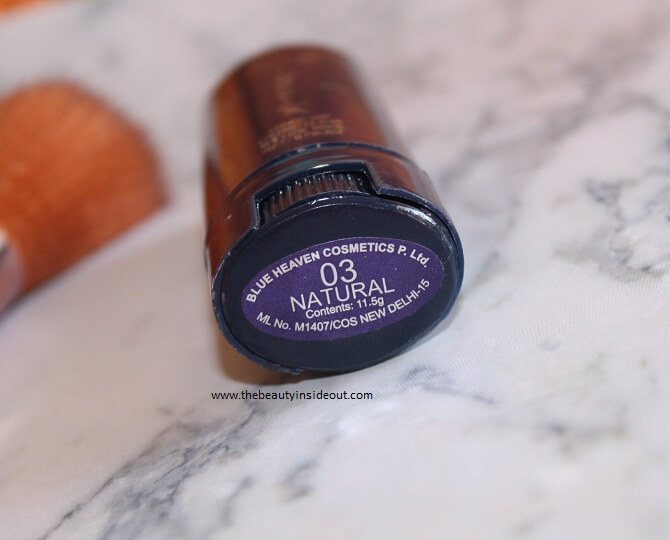 Experience: First time I tried using this as concealer but it failed miserably because of its pink under tone. It showed up very much evidently that the tone under the eyes was much different from my base makeup's tone.
Next time, I tried using this as base make up all over the face. This time it worked better and didn't disappoint to a greater extent as like the previous time. Few strokes all over the face and neck is very much sufficient to cover up minor imperfections. As this has pink undertone different from my yellow undertone, I use this minimally for a natural everyday makeup look. The makeup stick suited me for evening make overs and for functions with grand lights whereas it would appear too much for day look as if I have baked my face and forgot to dust off the powder. So it's a big Nay for me for day look !!!
The product claims to be waterproof as well. That's pretty much true as this doesn't melt with sweat easily like other BB/CC creams. The staying power is not long lasting, but is decent enough to last a quick outing. Basically there is no thumb rule as how to use this makeup stick. For me, this fared average as a base for my evening makeup whereas it failed miserably as a concealer, mainly because the shade didn't match my skintone.
Overall, I would say the Blue Heaven Xpression Makeup Concealer Stick has a decent formula for a makeup stick but the shade range is really poor. Unless you have pink undertones, you can skip this makeup stick. Rather, I would suggest you trying the Coloressence Panstick Concealer if you have medium yellow undertones.
Pros:
Super affordable.
Travel friendly packaging.
Easy application.
Covers minor flaws.
Waterproof to a certain extent.
Might work best for dry skin types.
Cons:
Fails as a concealer.
Makes oily skin much more greasy within hours of application.
Not for serious under under eye circles.
All of its shades has pink undertone which wouldn't suit ladies with yellow undertone.
Rating: 2.5/5
Would I recommend? May be. Buy it after testing it on you, whether the tone and texture suits you. If it suits you, well this is a steal at this very affordable price range.