When it comes to skin & body care, I'm a lover. Since I have a combination skin that is also sensitive, I've had my fair share of trials with body lotions, and it's safe to say that I'm always on the lookout for the best product which doesn't burn a hole in my pocket. And that's when I came across this Nivea Gel Body Lotion.
Nivea is an age-old German cosmetic brand whose products have taken over and are loved by the whole country. Nivea understands your skin like no one and they are known for their specially formulated skin products for different skin types, that cleanse, nourish, and protect the skin while keeping it radiant and beautiful. This Rose Water Gel Body Lotion is one of the latest launches from Nivea. It is a non-sticky body lotion apt for the summer. I've been using the product for a good two months now, so read on to know what I have to say about the product.
Product Description:
Say hello to one of Nivea's newest launches, the Rose Water Gel Body Lotion. It has a non-sticky formula that is specially curated for summer skin. The gel-based formula glides onto the skin like magic and gives refreshed skin along with great hydration. Get ready for smooth, soft, and nourished skin with the Nivea Rose Water Gel Body Lotion, which also contains rose water extracts, isn't that exciting?
Nivea Gel Body Lotion Ingredients: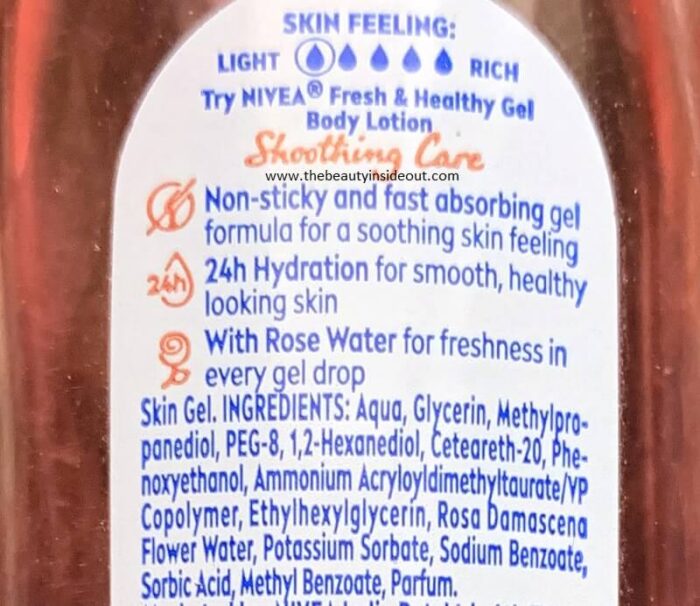 Aqua, Glycerin, Methylpropanediol, PEG-8, 1,2-Hexanediol, Ceteareth-20, Phenoxyethanol, Ammonium Acryloyldimethyltaurate/VP Copolymer, Ethylhexylglycerin, Rosa Damascena Flower Water, Potassium Sorbate, Sodium Benzoate.
Ingredient Benefits:
Aqua, the old good skin friend, works as the main solvent for other ingredients;
Glycerin, a natural moisturizer that keeps the skin cells in a healthy state and is awesome for treating extremely dry skin;
Methylpropanediol is another active ingredient that is well known for its antimicrobial properties and acts as a true preservative booster. It also helps with skin hydration, without making it feel sticky.
How to use Nivea Gel Body Lotion?
Dispense the Nivea Gel Body Lotion in your palm.
Apply the gel on your skin and spread it evenly.
Massage it gently and let it quickly absorb into your skin.
Use it regularly to see perfect results.
Where to buy? Amazon.in
Nivea Gel Body Lotion Rose Water Review
Packaging: The Nivea Gel Body Lotion comes in a sleek, transparent pinkish colored bottle from which the gel is clearly visible. It comes in three size variants, 75ml, 200ml, and 390ml. I have purchased the 75ml bottle which comes pretty handy while traveling. The bottle is quite user-friendly and has a normal flip-top cap to get the gel. However, the 390ml bottle comes with a pump, and might not be that travel-friendly, so I'd suggest you buy the 75ml one if you wish to carry it along on a day-to-day basis. I must say that the packaging of this product is pretty fascinating and would make you wanna give it a shot.
Colour & texture: The Nivea Gel Body Lotion in Rose Water is completely transparent and has a soothing gel-like formula. It has a non-sticky texture that makes it the perfect lotion for summer and for people who have extremely oily skin. This Nivea Gel has been specially curated to be absorbed real quickly into your skin, providing long-lasting hydration. Not only that, but it also consists of natural rose water extracts that make your skin really smooth, healthy, and glowing.
Fragrance: I have to say that fragrances are really important to me when it comes to skin & body care products, and I have to say that this one really won my heart. I prefer using products with subtle and natural fragrances instead of strong and artificial ones, and this Rose Water Gel by Nivea has the perfect notes of rose and flower water fragrances which makes using it an extremely soothing experience.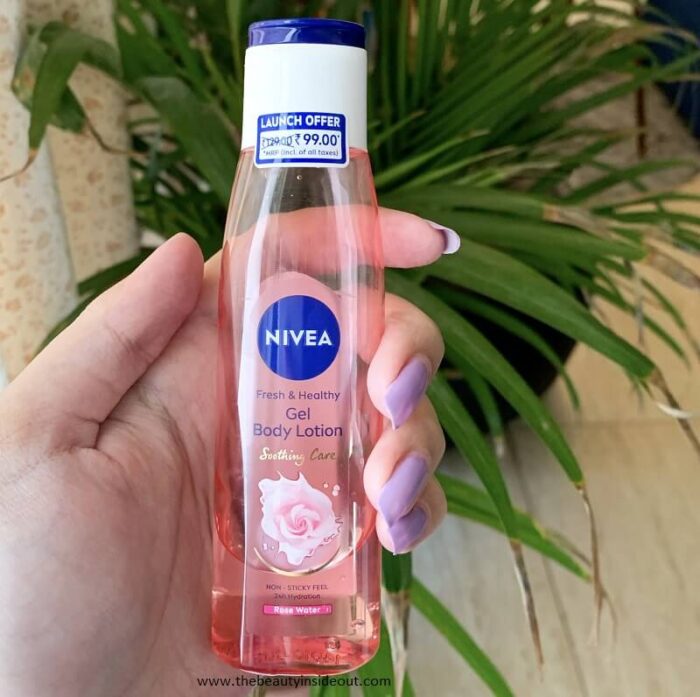 My Experience:
I love experimenting with different body care products, and since I have a combination-oily skin type, most of the body lotions available in the market make my skin really greasy and sticky. Recently, I got my hands on one of the new launches of Nivea, its Rose Water Gel Body Lotion and there has been no looking back ever since I started using it.
It suits my skin type perfectly and gives the exact amount of hydration and moisture that's needed. Not only that, it doesn't even grease up the skin or make it sticky, thanks to its gel-based formulation. One of the many things that impressed me the most about this product is its calming fragrance. Trust me, it can really make up for a bad day.
In fact, I even made my mom and sister try out this Nivea Gel Body Lotion, and they both loved it too. So I can happily say that this is hands down one of the best products by Nivea that I've tried and my skin absolutely loved it.
Some might wonder if you can use the Nivea Gel Body Lotion on the face. Why not? It's exactly like a gel-based moisturizer and one could use it on the face. Unless you try it you will not know if it suits you.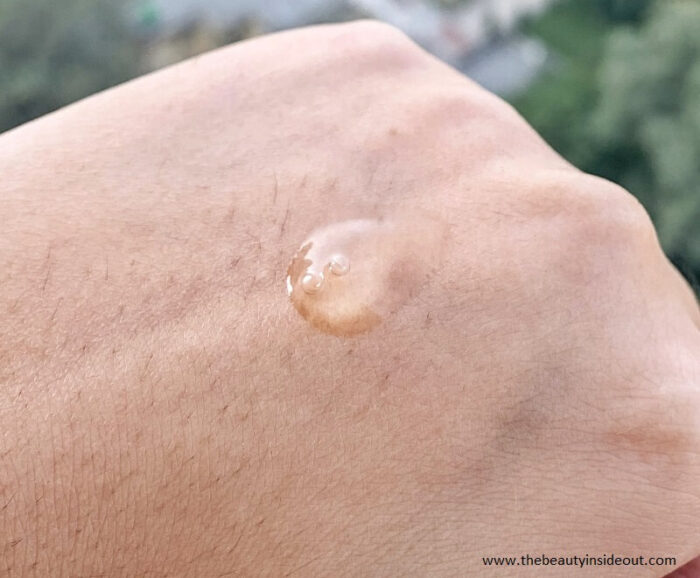 Pros:
Comes with a non-sticky gel formula.
Gives great hydration that lasts long.
Has an amazing fragrance.
Best for oily-combination skin type.
Ultra-affordable compared to its qualities.
Easily available online and offline.
Cons:
Not suitable for dry skin type.
Contains paraben.
Rating: 4/5
Would I recommend it? Yes. If you're someone who's tired of using mundane sicky body lotions and want to try something soothing and fresh, definitely go for this one and you won't regret it. The long-lasting freshness and smooth skin this Nivea product gives you will win your heart.
Where to buy? Amazon.in
What do you think about this Nivea Rose Water Gel Lotion? Have you tried this before? And what do you think about Nivea products, in general? Let us know in the comments!
Written By Anushka Manik