When it comes to using soap bars, it's been ages since I've used one, and have completely shifted to shower gels, simply because they're more convenient to use and carry. However, the age-old formulation of soaps is something that I miss and it makes me nostalgic. Today's review is going to be about a soap bar only, the Forest Essentials Soap in the variant Rose & Cardamom.
For those who don't know, Forest Essentials is an Indian cosmetic, skincare, and perfume brand that specializes in Ayurvedic preparations for its products. It claims to be a combination of ancient beauty rituals and modern science to make products that calm and heal the mind. Recently, I got a chance to try out one of Forest Essentials' Products, i.e. Luxury Sugar Soap in the fragrance of Rose & Cardamom. Let's see what I have to say about the product and read on to know my experience with it.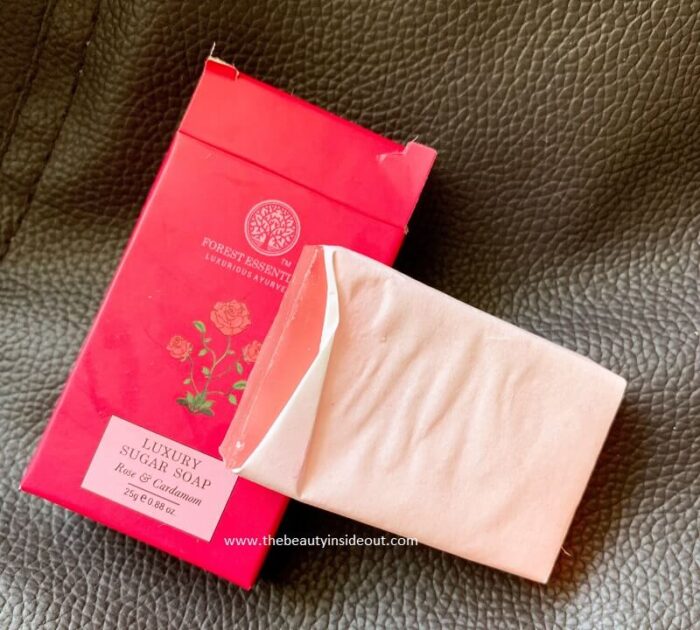 Product Description:
The Forest Essentials Soap Rose & Cardamom is a handmade product, prepared using ancient gem products. It is infused with pure unprocessed Raw Cane Sugar, which is a natural humectant that helps retain moisture and cool the skin. The Forest Essentials Soap is infused with the rich fragrance of Rose and the heady aroma of fresh Cardamom. It is a sulfate-free, certified organic product that gently cleans the skin and retails its natural oils. On top of that, it leaves the skin with a mellow fragrance that lasts almost all day long and calms your mind.
Forest Essentials Soap Ingredients: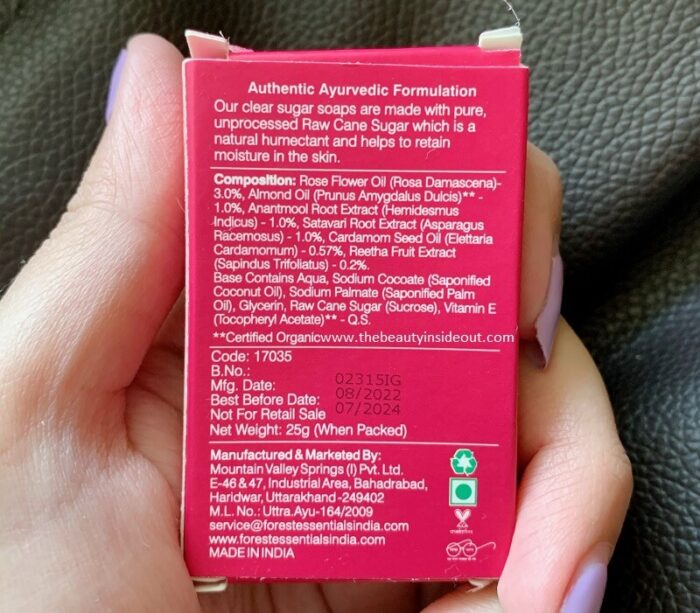 The 125 gm variant of this Forest Essential Luxury Sugar Soap retails for Rs.550.
Multiple Benefits of Forest Essentials Soap:
Cleanse: It cleans the skin so well. Use it in the shower for better results.
Exfoliate: it also removes the dead skin cell from the skin.
Moisturize: It adds natural oils to the skin.
Refresh: It provides you with long-lasting freshness and fragrance to make your day.
My Experience:
The Forest Essentials Soap is handcrafted into gorgeous bright-pink packaging. The soap comes wrapped in a white-colored paper. When I saw the hot-pink-colored soap bar, I was so tempted to use it immediately. And honestly, it has been one of my best purchases. I never thought that I would use a soap bar ever since I switched to shower gels, but here I am now.
The soap has transformed my regular shower experience into a spa session in the comfort of my home; the heavenly scent takes all the stress out of my mind and my skin feels relaxed instantly. It has no chemical substance, so it causes zero irritation and anyone can use this product. The soap produces a good enough lather to clean the skin properly and doesn't leave any residue behind. You just need to keep the soap in a soap case to make it last longer.
If you wondering if you can use the Forest Essentials Soap on the face? No, the brand has stated that they have formulated this soap using natural ingredients that suit one's body skin and it might be harsh for the skin on the face. They recommend using their face washes for facial use.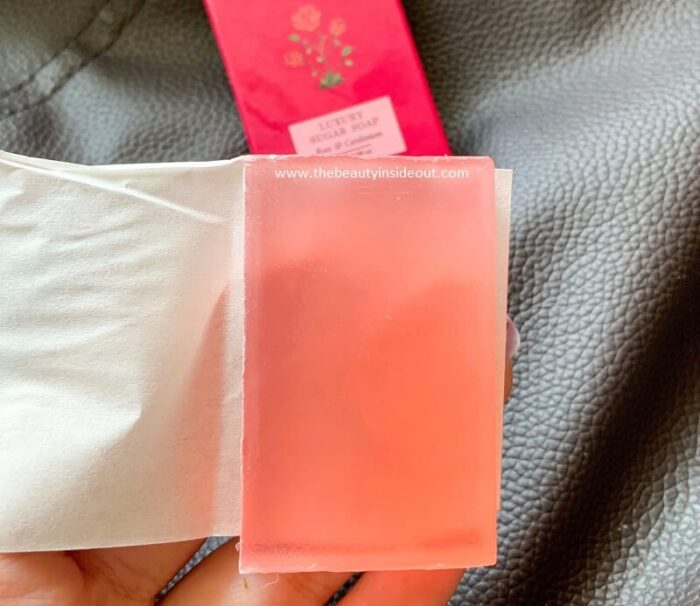 Pros:
Adds natural oils to the skin.
Handcrafted with organic ingredients.
Hydrates and decently scents the skin.
Eco-friendly packaging.
Cons:
Highly-priced.
Rating: 4/5
Would I Recommend it? Yes. Although it's a bit high on the budget side, if you're someone who is willing to spend this much on a spa-like experience, please go ahead and buy this amazing Forest Essentials Soap that has changed the shower game for me.
Where to buy? Amazon.in
Let us know what you think about this product in the comments below!