I am back with one of the much-raved Face Wash from the unicorn brand – yes, is the Mamaearth Ubtan Face Wash. Traditionally, Ubtans are used as an ayurvedic beauty treatment for skin brightening. It's loved by generations and generations of people. It's usually made at home with a combination of ayurvedic ingredients such as Besan, Turmeric, Milk, etc. Now we have Ubtan-based products readily available in the market. And this face wash is one of the top-rated products on Amazon. Read on to know my thoughts and experiences with this Ubtan Face Wash.
Product Description:
Crafted with the natural goodness of Turmeric and Saffron, Mamaearth Ubtan Face Wash revives your dull, tired skin to feel fresh and clean. It helps to undo the effects of sun damage, removes tan, and brightens the skin. Pamper your skin with this old-age Ubtan in a modern formulation.
Mamaearth Ubtan Face Wash Ingredients: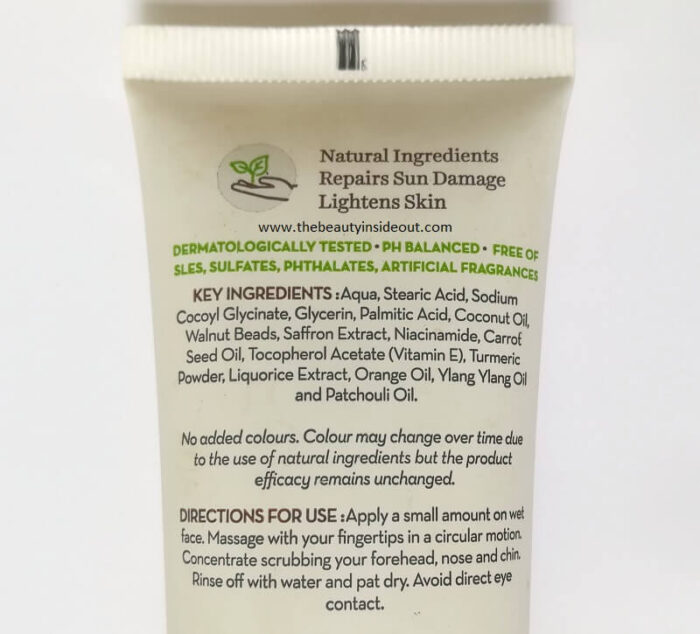 Mamaearth Ubtan Face Wash is a Sulphate Free and Paraben Free Face Wash. It is considered safe to use as it is free of toxic chemicals such as silicones, dyes, phthalates, mineral oil, etc. Initially, when the brand launched, it only stated the key ingredients on the packaging. With the awareness of "what goes into skincare products" among beauty product consumers, the brand has started mentioning the full ingredient list. Sure we love brands that are transparent about their ingredient list.
I have the older packaging, so mine only mentions the key ingredients. The full ingredient list as per their website is as follows:
Full Ingredient List: Aqua, Stearic Acid, Sodium Methyl Cocyl Taurate, Cocamidopropyl Betaine, Caprylyl/Capryl Glucoside, Sodium Lauroyl Sarcosinate, Ethylene Glycol Monostearate, Myristic Acid, Carbomer, Phenoxyethanol, Ethylehexylglycerin, Glycerin, Palmitic Acid, Lauric Acid, Cetiol® HE, Sodium Cocoyl Isethionate, Potassium Hydroxide, Polysorbate 20, Sodium Hydroxide, Cetyl Alcohol, Polyquaternium-7, Titanium Dioxide, Vitamin E, Aloe Vera Extract, Turmeric Extract, Coconut Oil, walnut Beads, Saffrin Extract, niacinamide, Carrot Seed Oil, Tocopherol Acetate, IFRA Certified Allergen Free Fragrance, Sodium Benzoate, Licorice Extract.
I believe they have removed the essential oils (Orange Oil, Ylang Ylang Oil, and Patchouli Oil) in the new formulation. This is a good thing as some might be sensitive to essential oils.
Mamaearth Ubtan Face Wash Review
Packaging: Mamearth Ubtan Face Wash comes in a basic plastic tube with a flip cap. I have no qualms with it. It's simple and convenient to use – travel-friendly as well. It's color-coded with the other products in the Ubtan Range. The tube came packed in a carton box. Both the tube and box have all the details of the product. You wouldn't miss out on anything if you throw away the box.
Color & Texture: I'll give it to the brand. The face wash does look like an Ubtan paste with a beige-brown color. The texture is like a creamy paste. It's medium-thick in consistency and has tiny granules in it. This product reminds me of the popular Tan Removal Scrub from Biotique.
Fragrance: One would expect this to smell like an ubtan with that natural scent of turmeric and saffron. But it smells nothing like that. It has an artificial synthetic fragrance. It's not bad or overpowering, just that I am not a fan of it.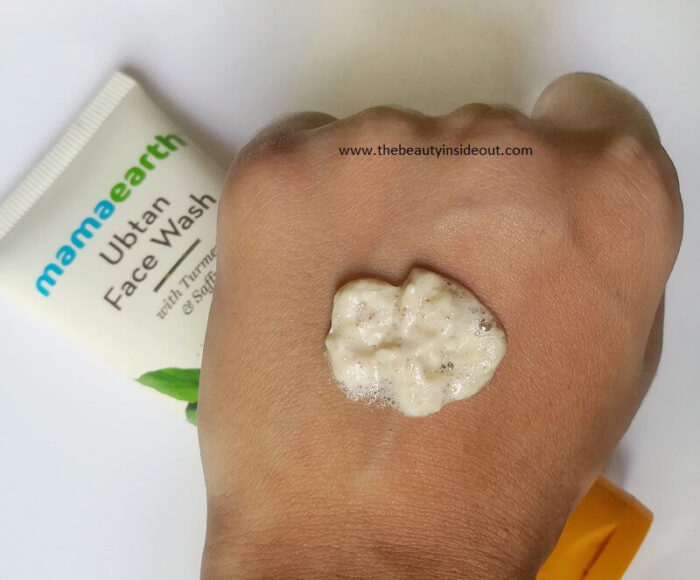 My Experience:
How to use Mamaearth Ubtan Face Wash?
Mamaearth Ubtan Face Wash is basically a face scrub in a creamy base. The tiny scrubbing particles, which I suppose are Walnut Beads, are sparsely packed and are not sharp. Hence they do not feel harsh on the skin when massaging.
I generally take a doll-up of the wash and gently massage it on damp skin. It barely forms a creamy lather when I add more water. The face wash gives a nice cleansing effect and washes off best when used with a wet sponge or cloth.
I like the after-effect of using this face wash. My skin looks squeaky clean, clear, and bright. It does not leave the skin very dry or stretchy, but you definitely need a good moisturizer to go after cleansing. Normal, Oily, and Combination Skin Types will love this face wash.
Does Mamaearth Ubtan Face Wash work as claimed?
For Tan Removal:
Mamaearth Ubtan Face Wash is targeted for Tan Removal. It definitely gives an instant brightening effect with a very refreshing feel. I used it on my body tan, which significantly helped remove dullness and sun tan. The face wash indeed has a lot of great skin brightening ingredients such as Licorice Extract, Niacinamide, Turmeric, Saffron, etc. to brighten the skin.
For Pimples & Acne:
These ingredients are overall good for reducing pimples too. But the formulation of the Mamaearth Ubtan Face Wash is such that it may not be helpful for pimples due to the scrubbing beads. Such particles can aggravate the pimples more. So I wouldn't recommend the Ubtan Face Wash for Acne-Prone Skin. In addition, it contains Coconut Oil which is a comedogenic ingredient that can cause pimple breakouts.
When to use Mamaearth Ubtan Face Wash?
The brand recommends using the Ubtan Face Wash twice every day. Personally, I feel that would be harsh on the skin. Despite the granules being gentle, they would still have an exfoliating effect. Exfoliating daily is not good for the skin, especially physical exfoliation, as it can lead to micro-tears on the skin, which in turn can damage your skin barrier and cause sensitivities.
Bottom Line
Overall, I liked the Ubtan Face Wash its gentle exfoliation. But it's definitely not an everyday face wash. I reach out for this product more on days when I need some thorough cleansing action. And it works decently well to remove sun tan.
Summarizing the pros and cons,
Pros:
Made with natural ingredients such as Turmeric, Saffron, Licorice, etc
Free from sulphates, parabens, and other toxic chemicals.
Cleans the skin thoroughly.
Not overly drying.
Gives an instant brightening effect.
Great for the body and feet.
Helps with tan removal.
Cons:
Walnut exfoliating beads can be harsh for everyday use.
Not for dry, sensitive, and acne-prone skin.
What do you think of Mamaearth Ubtan Face Wash? Have you tried it?
Let us know in the comments section below.