I picked up the Biotique Bio Papaya Revitalizing Tan Removal Scrub during the hot summers when my skin was highly tanned. Having Papaya in it is what made me go for this as I have so much love for them. If you want to know how much I love them, you can read one of my DIY Face Pack for Glowing Skin using Papaya HERE. So let's see how this one fared for me.
What the company says about Biotique Bio Papaya Revitalizing Tan Removal Scrub: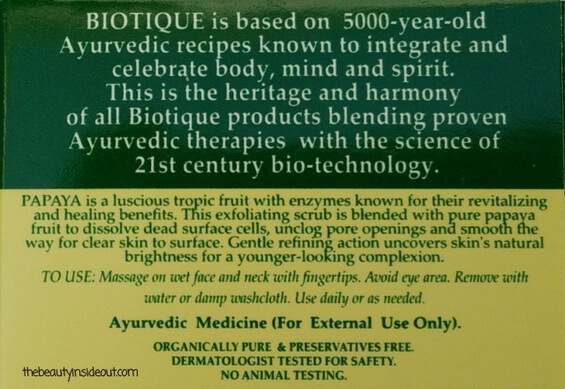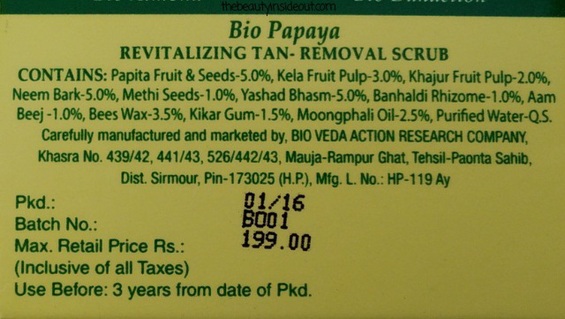 Priced at Rs.199 for 75 gm. You can buy it from HERE.
My take on Biotique Bio Papaya Revitalizing Tan Removal Scrub:
The scrub comes in Biotique's regular white plastic tub with a green screw cap. It has an inner lid that secures the product even further. I find the tub to be little bulky but sturdy enough to take it for travel. The scrub is muddy gray in color and has a mild herbal and fruity fragrance. Is it papaya? It's pleasant and not at all bothersome.
The consistency is thick and creamy and at the first sight of it, you can very well tell that it has fullers earth base. The scrub has small black granular particles that is not too abrasive yet I would suggest to always use a light hand while scrubbing, be it any skin type.
Being a thick scrub, it does not spread easily on its own. So I use it on my dripping wet face, or mix a little water with the scrub. An almond sized amount is enough for the entire face and neck so the tub is going to last you long. The granules are very effective in removing blackheads and you could feel the scrub doing its work of exfoliation efficiently while massaging.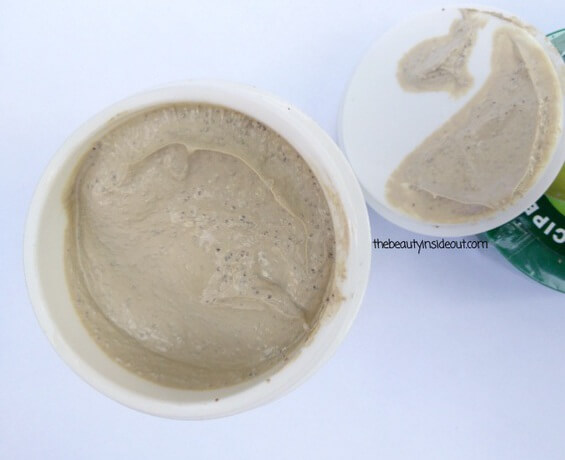 Since I have oily skin, I was skeptical whether this creamy scrub would be heavy for my skin. Yet it gave my skin enough hydration that I didn't feel like having a moisture overload. My skin looked soft, supple and healthy post washing. Sometimes I double this up as a face pack. After scrubbing I let it sit for a few more minutes and then simply wash it off with water. It gives a polished look revitalizing my lifeless dull skin.
On its claim of tan removal, I tried this scrub when my skin was tanned, I would say it DOES reduce fresh tan in a couple of uses. I like to use this scrub on my feet too to get rid of all the dirt, tan and dullness. This exfoliates much better than the Vedic Line Foot Scrub which I have been using, making my feet brighter and giving some life to them. Overall, I love this scrub a looooot. It's the Best for Tanned and Pigmented Skin !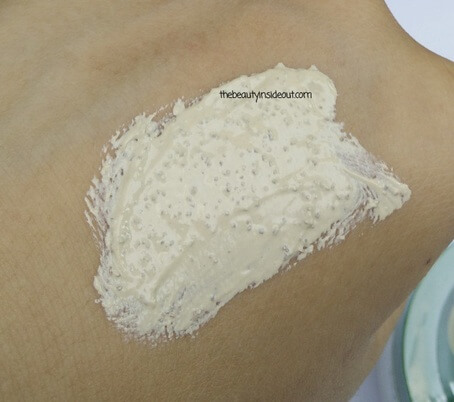 Pros:
Made with Natural Ingredients.
Mild herbal scent that is not bothersome.
Great at exfoliation.
The granules are not harsh on the skin.
Leaves skin hydrated without making it overly dry or oily.
True to its claim of tan removal.
Doubles up as a face pack.
Can be used as a body scrub and foot scrub.
Cons:
Tub packaging.
Might not suit extremely sensitive skin.
Rating: 4.9/5
Overall, Biotique Bio Papaya Revitalizing Tan Removal Scrub is one of the BEST scrub I have used so far. With so many products making tall claims, it's one of its kind that kept true to its claim of removing tan and revatilizing the skin. I would Highly Recommend to give this a try.
That's all about the Biotique Bio Papaya Revitalizing Tan Removal Scrub. Have you used this?Share your thoughts in the comments section below. See you again, take care and,
Stay Beautiful♥