Nothing can beat a warm shower and a moisturizing scrub in the current cold weather. Today's review will be one such wintery product, the Skin Yoga Coffee Body Scrub which again is a possession from one of my Fab Bags. This basic yet effective body scrub costs a bomb. Yes it retails for Rs.845 for 100 gm of product which will last around 4-5 uses when used all over the body. You can buy it from skinyoga.in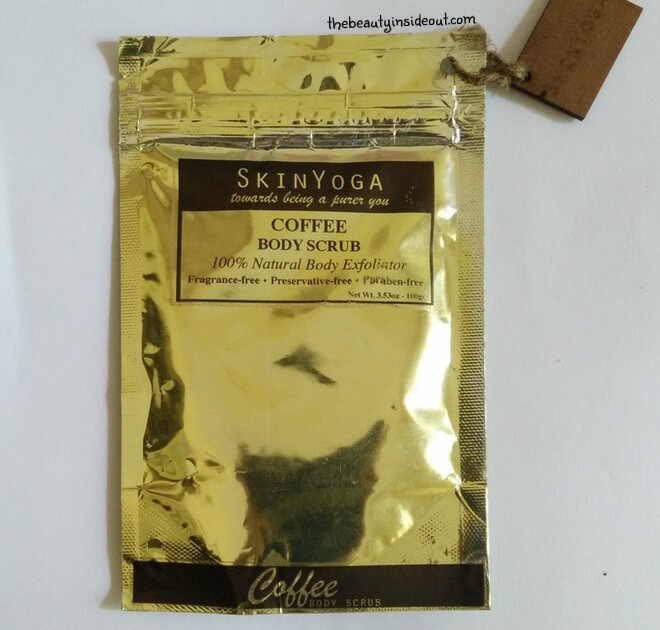 There is no product description mentioned on the packaging so I looked on to their official website and this is what the company says about the body scrub.
"The caffeine enhances fat metabolism and removes liquid and fat from your skin, ultimately reducing the appearance of cellulite and stretch marks. The natural oil moisturizes and nourishes your skin. This scrub also treats inflammation and protects your skin from sun damage."
The ingredient list is pretty simple with Ground coffee beans, Pure Coconut oil and Pure Sesame oil which makes me question 'why would I pay so much when I can make it myself?'
The usage instructions:

Packaging: Skin Yoga Coffee Body Scrub is packed in a golden yellow pouch which indeed looks luxurious. Since natural products tends to degrade its quality when exposed to air, I like how thoughtfully they have sealed the product in a zip locker packet. For the price tag, they did not fail in their packaging and I truly appreciate that.
Fragrance: As soon as I opened the packet, I was bombarded with the glorious aroma of roasted coffee beans. It smells so amazing that coffee lovers won't be able to resist this. It's strong and overwhelming that it made my whole bathroom into a coffee factory. The fragrance lingers for an hour post washing.
Texture: The scrub is in a semi-dry form with lots of bumps and lumps. The coffee grounds are neither finely milled or too coarse that it would hurt your skin. I would say it has the perfect texture for exfoliation.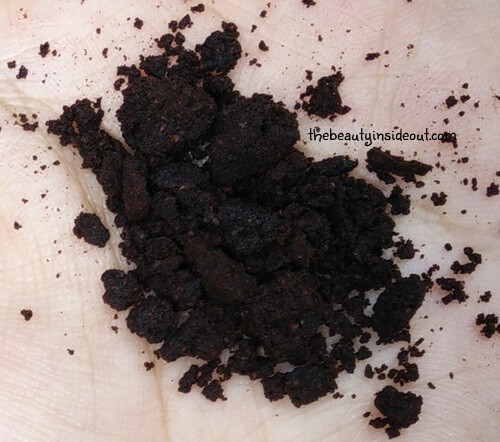 How I use it? Since this is a moisturizing scrub, it doesn't clear out sweat and dirt from my body. So like they say I wash my body like I normally do with a soap or shower gel. And then proceed with the scrub. As the scrub is a dry mixture , just wetting my skin was not enough, so I just added few drops of water into the mixture and then started scrubbing. I could feel that it exfoliated well and sheds dead cells rejuvenating my skin. Once scrubbing is over, I just wash if off with plain water. Even though the scrubbing itself gives a luxurious and relaxing bathing experience, the whole process makes my bathroom into a messy scene. The scrub feels gentle on the skin and does not cause any skin irritation.
Since the scrub contains oils, when washing it off I could feel the oil still on my skin. Its not a con as such. It is normal for scrubs with oils to be like that. I have the habit of using sugar and olive oil scrub and I could totally relate to that. Once patted down with a towel, the oiliness reduces and in about 15 minutes the remaining oils completely soaks into my skin, and I am left with a well hydrated, butter smooth and supple skin with absolutely no stickiness or greasiness. Yes my extremely dry skin drinks up all the oils in just 15 minutes. Throughout the day I didn't have the need to moisturize my skin at all. Oily skin ladies might feel the moisturization to be heavy, still one can give it a try during this winter season.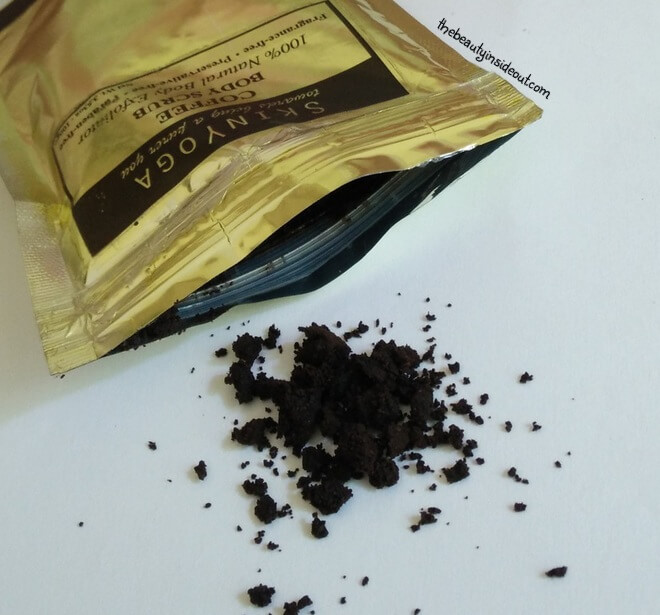 Coming to its claims on reducing appearance of cellulite and stretch marks, with just a few uses I can't confirm that it does so but my skin definitely feels tighter and firmer. Since this is formulated with organic coffee beans, it should help with cellulite over continuous usage. The moisturizing and nourishing part, yes its true that people with dry skin will absolutely love it. On treating inflammation and protecting from sun damage, I don't know how a scrub would do that. Weird claim! Overall I had a pleasant experience with this scrub and I am liking it too. Though I would not recommend buying it as its too expensive for a coffee scrub which can be easily made by yourself at home.
Pros:
Air tight zip locker pouch.
Paraben free and preservative free.
Irresistible aroma of coffee.
Scrub is not too abrasive on the skin.
Intensely nourishing and moisturizing.
Sheds dead cells making skin look healthier.
Skin feels tighter, firmer and butter smooth.
Cons:
Rating: 4.5/5
So that's all about Skin Yoga Coffee Body Scrub. Have you used this? Share your thoughts in the comments section below. See you and,
Stay Beautiful♥