This Shampoo has been lying around in my stash for quite sometime, so I just decided to give it to use few weeks back. I got the BON Organics Aloe Vera Shampoo in my OH CUTE BOX sometime back in May. It was only a deluxe sized sample which lasted me for 3 weeks, upto 6 uses and I would like to post my first impressions and thoughts on this.
Product Description:
Infused with citrus oils and organic aloe vera extract, our Aloe Vera shampoo is an organic delight for the hair. Aloe Vera is plentiful in beneficial qualities to the hair such as hair softening, smoothening and naturally volumizing with a light weight effect. This Gentle yet effective cleanser is also an energizing hair volume enhancer. This artistic craft is a 100% Handmade Shampoo. It's paraben free and bio degradable.
Ingredients:
Safe surfocants invigorated with, Organic Aloe Vera, Organic Essential oils of chamomile, Vitamin E, Blueberry. Natural conditioner. Contains No Harsh Chemicals, No alcohol, No animal products, no Paraben or sulphates.
Price & Quantity: Rs.126 for 100 gm , Rs.246 for 200 gm.
Availability: Available offine in organic shops
My take on the product:
The sample product comes in a sturdy transparent plastic bottle with a flip top cap that is easy to carry around. Even the full sized product has that same kind of packaging, just that it's a bigger bottle. BON Organics Aloe Vera Shampoo has clear gel consistency and the fragrance is nice and mild. Its smells slightly floral. Upon rubbing in between my hands, it produces moderate lather so a dollop quantity was enough for my waist length mane. I only shampoo my scalp and just run the remains onto my lengths. So the tiny bottle lasted long for me. The shampoo cleans my scalp thoroughly both on oiled and non-oiled hair. It washes off easily without leaving any residue or slippery feeling behind. It does not feel silicony when washing since it's made sans silicones. Yet once dried, my hair feels sooo soft and smooth. It also adds a bit of shine and lustre to my locks.
The shampoo didn't dry out my hair rather it mildly conditioned without weighing down my thin hair. Also it didn't make my tresses oily or greasy even after 3 days. Normally I shed a lot of hair strands due to tangles, with this shampoo I could notice my hairfall to be very minimal as it does not cause any unnecessary tangling and my hair was very manageable. This is what I want a shampoo to do! Yes clean, condition, no weighing down and no tangling. This shampoo does all. It's been ages since I've tried a really good shampoo and I'm truly happy with this shampoo. Once I'm finished with other shampoos on my testing table(I picked up a few in a verge to control my post pregnancy hairfall), I'm surely getting this. I would highly recommend everyone to try this one. It's damn good.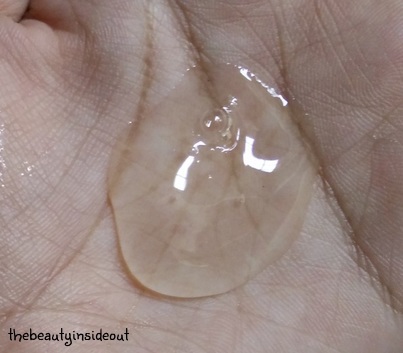 Pros:
USDA ceritifed organic, cruelty free and handmade brand.
Formulated with zero nasty chemicals.
Cleans the hair thoroughly leaving no residue behind.
Does not strip off moisture and keeps hair hydrated.
Gives a bouncy look to my thin hair.
Minimal tangling post washing
Gives a healthy looking mane.
No need to use a separate conditioner.
Cons:
Rating: 5/5
In short, BON Organics Aloe Vera Shampoo is an all natural handmade Aloe Vera shampoo that cleans, conditions and makes hair more manageable. It is very gentle on the hair that it does not dry out your hair. This is a must try sulphate& paraben free shampoo. Go for it !
That's all about BON Organics Aloe Vera Shampoo. Have you tried this? Share your thoughts below. See you, and
Stay Beautiful ♥