Soaking yourself in a tub of soothing and aromatic warm water is sure going to calm your senses and relax those tired muscles after a tiring hectic day. For this whole purpose, bath salts exits. Bath salts commonly consist of Epsom Salt, a mineral compound whose benefits are vast. Epsom salt is basically Magnesium Sulphate which finds its uses in numerous health, beauty, household and gardening related uses. You can also check out this post where I've talked about the importance of Magnesium for our health. It's the depletion of this wonderful nutrient in our soils that our body fails to absorb them through food and we end up being deficient in Magnesium. When topically applied, though not in large quantities, magnesium do get absorbed into our body. Today's review is about a product that is loaded with this amazing ingredient Epsom Salt. From the title you would have known, it's the Mamaearth Epsom Bath Salt for relaxation and pain relief. Let's get started with the product details
About Mamaearth Epsom Bath Salt: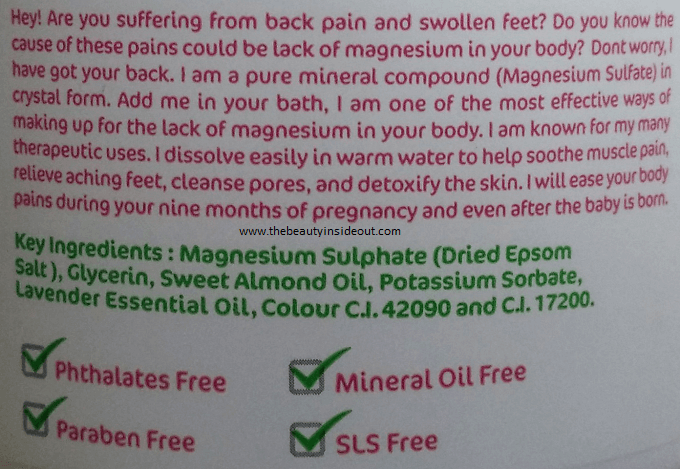 How to use Mamaearth Epsom Bath Salt: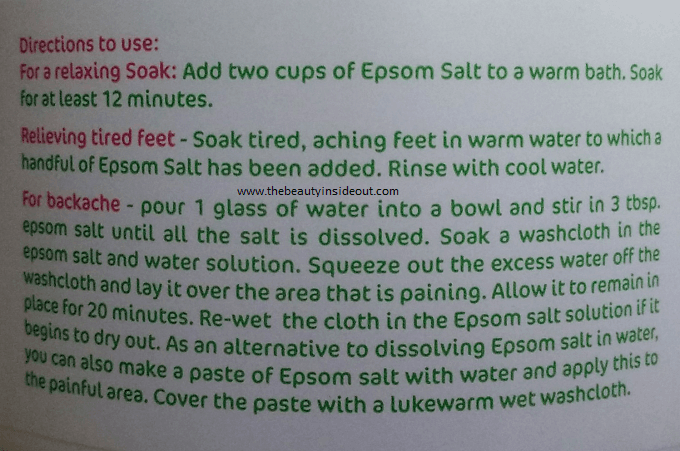 Price: 399 INR for 20o gm. You can buy it from HERE.
My take on Mamaearth Epsom Bath Salt:
Packaging: As you can see it comes in a tub packaging similar to their Argan Hair Mask. The tub beautifully sits in my bath shelf with its attractive white and pink printing. The tub has an inner lid to secure the bath salts from spillage. Though it does not leak or spill while traveling, I find the tub to be bulky and heavy and it does occupy a lot of space in my travel bag.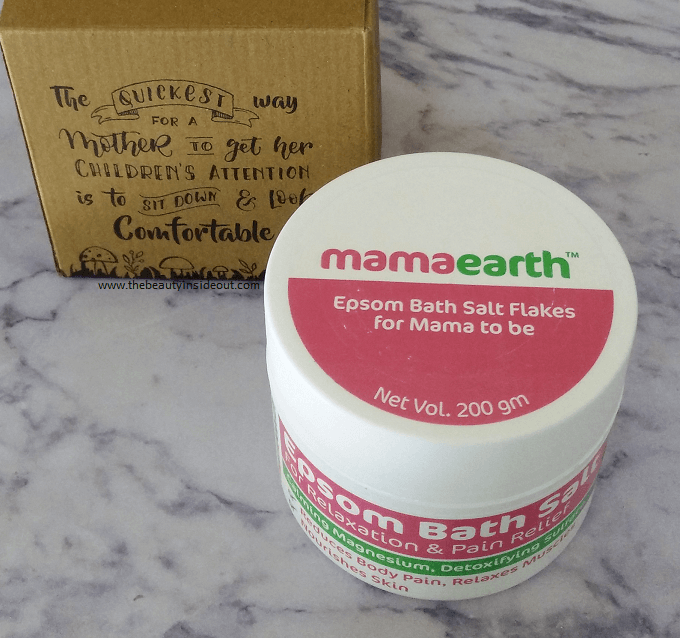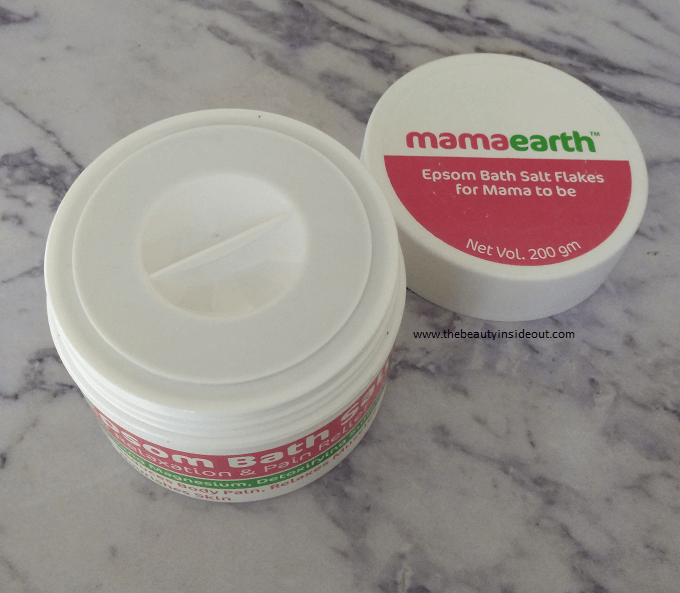 Color, Fragrance & Texture : The bath salt looks beautiful with its lavender color and does not seem to have any lavender fragrance. It just has the fragrance of Epsom salt if you closely sniff it. The bath salt has a grainy texture and quickly gets dissolved in water. It turns my bath into an alluring lavender hue within a few seconds.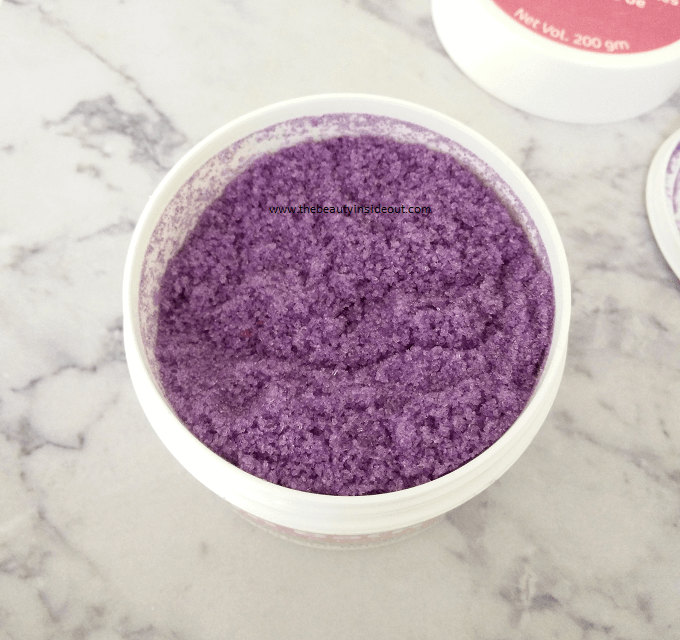 How I used it?
I've tried all the three methods mentioned in the usage instructions and here am sharing my experience.
As a warm soak : Adding two cups of the bath salt into a tub of warm water and then soaking in few a minutes truly gives you a relaxed feeling. Though the bath does not emit any aroma, the epsom salt infused water totally de-stresses my mind and body. And once I'm out of the bath, it feels like I had a spa session, so tranquilizing.
As a foot soak : My feet gets sore and tired almost everyday after running around my kid the whole day. So at the end of the day, I like to have my feet immersed in a warm foot soak. I usually add a tablespoon of the bath salt and rest my feet for atleast 15 minutes. It relieves aches, reduces soreness and relaxes my joints. It also removes dirt and callus from my heels.
As a treatment: I often suffer from shoulder pain, so I tried the third method once. I took a handful of Epsom salt, mixed with a little water to make it into a paste and then applied on my shoulders. And then covered with warm washcloth. Though messy, it was worth trying. It alleviated my shoulder pain to a great extent.
As a body scrub : Since the bath salt looked like a scrub, I tried it as a scrub. I mixed the bath salt with a little of olive oil and scrubbed my body. It melts really fast but it does provide mild exfoliation and leaves my skin super soft and smooth.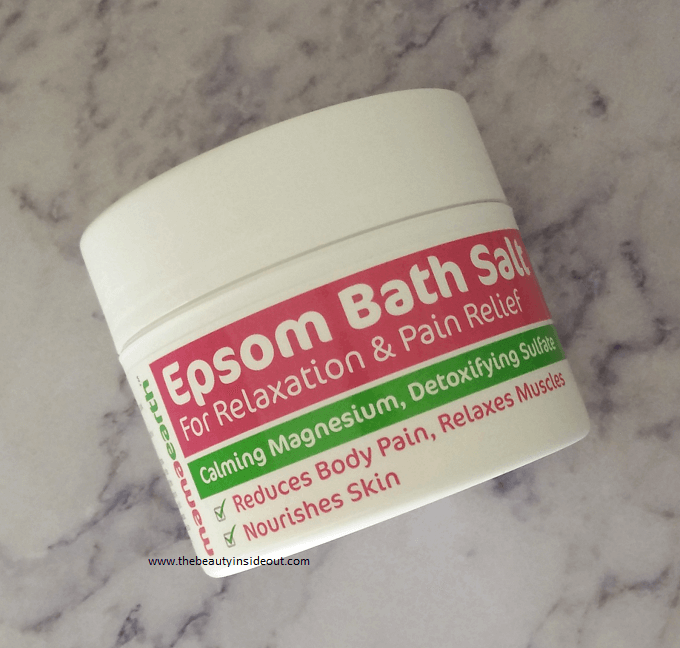 Overall, I liked the product. Mamaearth Epsom Bath Salt is so good that it alleviates body pain, relaxes muscles, loosens stiff joints and soothes abdominal and muscle cramps. Whenever I use this I feel refreshed and rejuvenated.
Pros:
The color: it looks absolutely beautiful.
Enriched with toxin free ingredients.
Relieves body pain, aching feet, muscle sores, joints stiffness and backache.
Epsom salt detoxifies your skin and clears pores
Can be used in multiple ways.
Gives a refreshed feel every time.
Cons:
Packaging could have been better.
I wish it had some mild aroma.
Rating: 4/5
Recommendation: Yes, this is a nice product that relieves body pain and gives you a spa like experience.
I hope you find this post helpful. Have you tried this product ? Share your thoughts in the comments section below
Also check out
Until next time,
Stay Beautiful♥
* PR Sample, Unbiased review.