In my last blog on Why you need to ditch these 5 everyday products from your life, I did talk about Aluminum, a heavy metal that is commonly found in deodorants and anti perspirants and the bad effects of it. I wanted to let go of my habit of using deos and my search for a natural deo began since then. I came across only a handful of brands that make natural deos and zeroed in on this brand after stumbling upon it on Qtrove.com. So let's see how the Vilvah Natural Deodorant fared for me. Was it a hit or a miss? Read on.
About Vilvah Store:

Vilvah Store is an all natural skincare and cosmetics brand which makes Skincare Goodies with freshest organic ingredients. They bring you the right mix of foods to nourish your skin by embracing the simple yet effective properties of the ingredients. Produce obtained in its purest form, without any preservatives, additives, synthetic oils, or perfumes are the very basis of Vilvah Store.
About Vilvah Natural Deodorant:
Make your armpits happy with our natural deodorant. Our deodorants won't stop you from sweating but they'll help balance perspiration and keep you smelling fresh.
Available in 5 variants:
Rose & Vanilla
Lavender & Sage
Grapefruit & Ylang Ylang
Orange & Cinnamon
Lemongrass & Rosemary
Ingredients: Shea Butter, Virgin Coconut Oil, Cocoa Butter, Arrow Root Powder, Baking Soda, Lemongrass essential oil, Rosemary essential oil, Vit E oil, Kaolin Clay and Beeswax.
Price: 495 INR for 60 gm . Buy it from Qtrove.com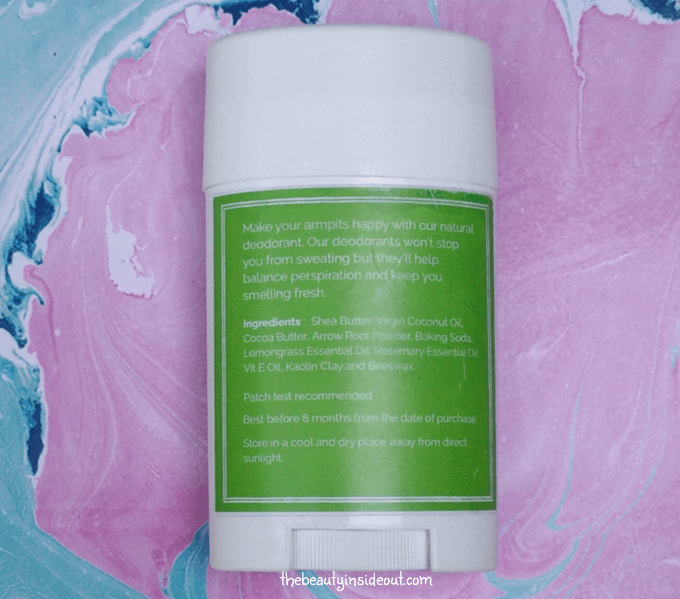 My take on Vilvah Natural Deodorant :
Apart from being natural, one of the key aspect for me to pick up this deodorant was its packaging. Most of the natural deos I came across were in a tub form wherein I will need to dip my fingers and apply it on my armpits. I'm not very fond of such a packaging. But the Vilvah Natural Deodorant comes with a convenient twist up mechanism. You just need to twist open the deo and swipe across your armpits. Easy to use and easy to carry around!
The one I bought has a strong fragrance of Lemongrass and Rosemary essential oils. The scent is gingery and overpowering. The bold scent stays loud for a minimum of three hours and people staying next to you are sure going to be disturbed. I would suggest going for any other variant according to your choice of essential oil, may be the rose and vanilla!?! This lemongrass and rosemary variant is definitely not my cup of tea, it is wayyy tooo strong for my liking.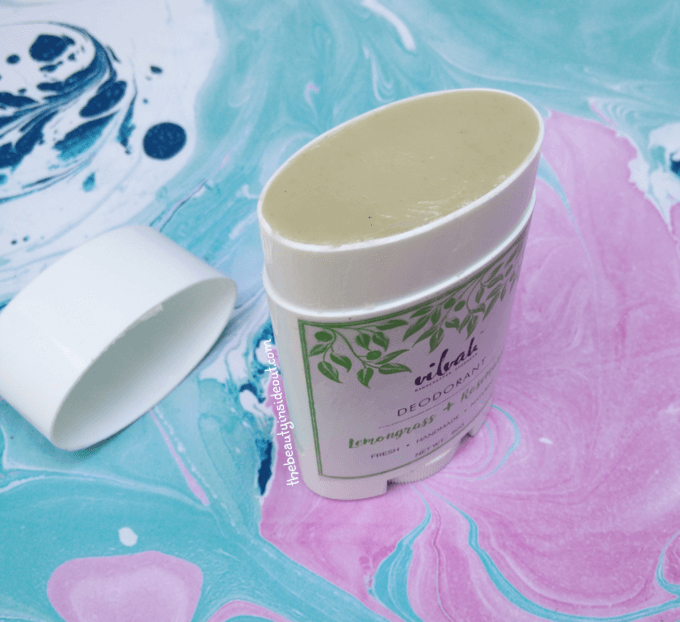 The weather is always very humid in my place and when the deo arrived, it was about to melt and lose its shape. Ok, after all it is a natural, so just ignore it ! I stored this in my refrigerator to preserve its shape. When it comes in contact with my underarms, the heat in the body naturally melts the deo and aids in effortless application.
The formula is a bit grainy due to the presence of baking soda. Since the deo is enriched with butters & oils, it makes my armpits oily. But I couldn't feel the oiliness unless I touch my armpits. The oils do not get absorbed into the body and just sits on top of my underarms. So if are used to antiperspirants that leaves your underarms dry, then you might not like this.
You should keep in mind that this is not an antiperspirant and you shouldn't expect it to control your underarm sweat production, it just neutralizes the body odor with its odor combating ingredients.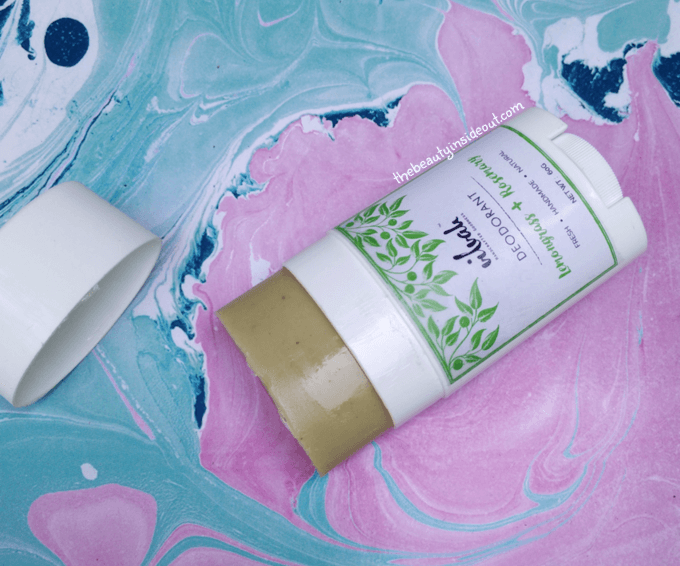 The first two days I tried this, immediately after application, my underarms were stinging and I had the need to wipe it off. My underarms usually do not react to any chemical deos, but this was my first attempt with natural deos, so I think some ingredient (Essential oils?) didn't suit me. I'm sure it's not the baking soda which is often known to be harsh on the skin, as I've used baking soda on my underarms before and I'm not allergic to it. A patch test is always recommended before trying a new product especially if you have sensitive skin. I would suggest to skip this deo on days prior and after to shaving or waxing or epilating!
After lying idle in my refrigerator for more than two weeks, I decided to give it a try again. This time it did sting my underarms but it was a lot minimal than last time, so I just let it stay to test it on how it goes. The stinging subsided after an hour and after that I was good to go. As I said, the fragrance is on higher note so it deodorizes and conceals the bad odor from your armpits and makes you smell 'fresh' ( if you like the scent) for long hours.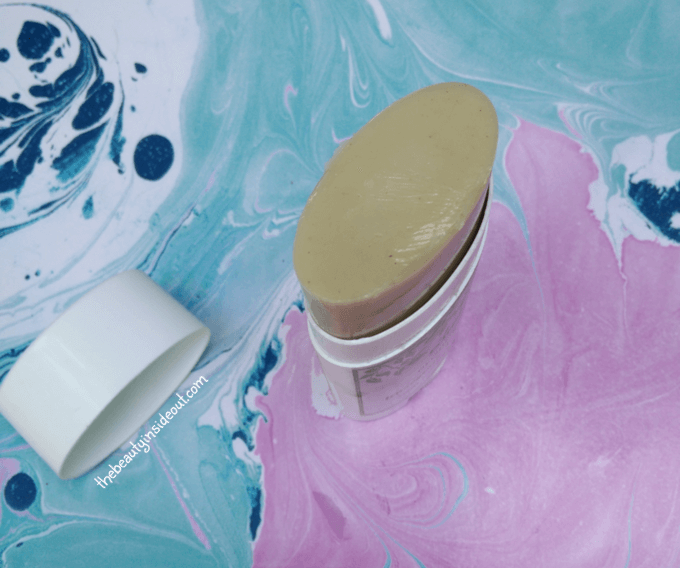 Overall, if you ask me 'Did I like the product?' 'Welll… Not really' . Although the USP of the product is quite impressive with being natural and all, I hated the stinging it caused and the fragrance is too gingery. Someone even asked me why do I smell like ginger garlic paste? Face palm 🙁 This is a product that I so wanted to work, but then it's disappointment! It's still lying in my refrigerator not even half used and I can't even give it away to anyone due to hygiene factors.
Pros:
Convenient twist up packaging.
Made with all natural ingredients and contains no aluminum, no parabens, no preservatives.
Makes you smell aromatic like essential oil all day long (a pro and a con, depending on your liking for the EO you choose)
Conceals your body odor with its strong fragrance.
Cons:
Overwhelming fragrance.
Not suitable for sensitive armpits as it stings.
Needs to be stored in a refrigerator.
Pricey.
Rating: 2/5
Recommendation: If you are fine with strong fragrance and do not have sensitive skin, probably you can give it a try.
Repurchase: As for me, I would not repurchase as this product didn't suit me!
I hope you find this review on Vilvah Natural Deodorant helpful. Have you tried any natural deos? Do you have any suggestions for alternatives to chemical deos? Share your thoughts in the comments section below.
Also check out
Until next time,
Stay Beautiful♥