Detoxification! A term that I stumbled upon after entering into the beauty world. Every brand that I came across had a product called Detox Mask or Scrub and I had pondered what is it? Why do we need it? what does it do? My research for it began and I went through many articles on it and came to know the effects toxins can cause to us. We may not know it but we encounter toxins everyday in our life through the food we eat, the air we inhale and many more things that we are not aware of. Finally a day comes where we are hit with health issues whose root cause may be toxins. Our body piles up toxins slowly causing us various health problems. Hence regular detoxification is really essential to keep our body clean and free of toxins. Detoxification helps to strengthen our immune system and stave off diseases and improve the quality of our life too. It can be done internally by following a detox diet and externally by application of detoxifying ingredients. Today I would like to share with you all a DIY Detox Face Mask using Bentonite Clay.
Why Bentonite Clay?
Bentonite Clay is a wonderful healing clay obtained from volcanic ashes that has settled on the earth beds. Its benefits have be known since ages and has been used widely for its therapeutic properties. Bentonite Clay contains more than 67 trace minerals including calcium, magnesium, potassium, sodium and iron. Natural clays are so good for your skin that they not only absorb impurities and get rid of toxins but also heals and soothes your skin. I got a jar of Bentonite in my BlendItRaw Beauty Box, a DIY Beauty Subscription Box and have been experimenting with it since then.
Let's move on to how to make the DIY Detox Face Mask. But before that, here are few key points to keep in mind.
Bentonite Clay has a pH of 7-8 which is more than the balanced pH of our skin which can be anywhere around 4.2 to 5.6 .Hence I've used Lemon Juice which is acidic having a pH value of 2.
It is ideal to test DIY recipes for their pH value with a pH strip or litmus paper so that you don't ruin your skin's acid mantle. Adjust ingredients accordingly.
Bentonite clay should not come in contact with metals as it has a negative charge and can lose its effectiveness. So use a glass jar to make the face mask.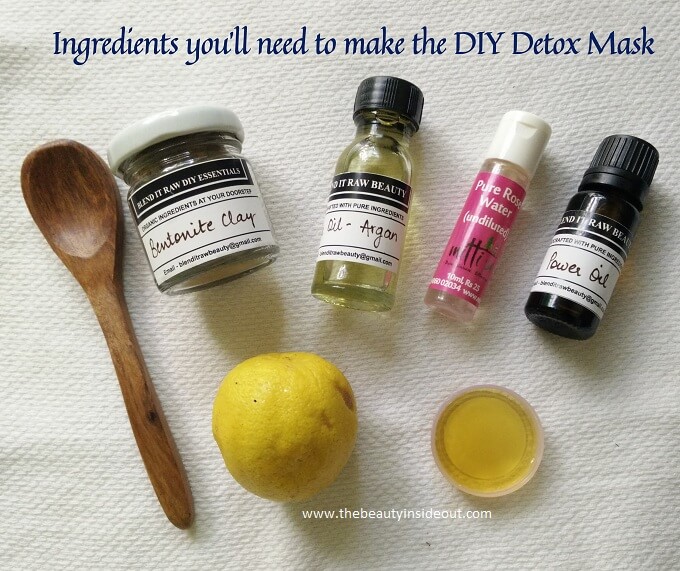 Ingredients that you will need to make the DIY Detox Face Mask:

Bentonite Clay – 1 tbsp
Lemon Juice – 2 tsp
Carrier Oil – 1 tsp – I'm using Argan Oil as I have acne prone skin. You can also use Coconut Oil if that suits your skin.
Essential Oil of your choice – 3 drops – I'm using the power oil blend from BlendItRaw Beauty Box which is a blend of essential oils.
Organic Rose Water (Buy HERE) – as required
Raw Honey – 1 tsp
Mix all the above ingredients in a glass bowl and your detox mask is ready. Leave it on your skin for 15-20 minutes and clean it with a damp warm cloth which will provide mild exfoliation and then wash your face with cold water to close your pores. This face mask gives your skin a fresh, clean and healthy glow.
PIN THIS

Lazy to make this face mask? Here is an easy alternative detox mask using just 2 ingredients.
You'll need
Bentonite Clay
Apple Cidar Vinegar
Mix both and your detox mask is ready. Apple Cidar vinegar is highly acidic and balances the alkalinity of bentonite clay hence maintains the pH of your skin. Don't forget to test your DIY recipe for it's pH value and adjust the quantity of ACV accordingly.
Do try both the DIY's and let me know which one worked for you. Also let us know how do you detox your skin? Share your favourite detox mask with us.
Also check out
Also read:
Until Next Time,
Stay Beautiful♥