A so called herbal shampoo lead me to have severe dandruff and hairfall issues which I didn't have to begin with. Hence I had to hunt for an anti dandruff shampoo. At first I had plans of getting the Scalpe Plus Shampoo which is a medicated anti dandruff shampoo which is quite popular for treating dandruff and recommended by most dermatologist. But due to its unavailability in my locality, I picked up the Lever Ayush Anti Dandruff Neem Shampoo after being reminded of Siddharth's TV ad on the day I went shopping. As you can see I did not buy the full size bottle instead I went with sachets. I have my own reasons for that. Anyways let's see how this product fared for me.
Product Description:
Lever Ayush Anti Dandruff Neem Shampoo is formulated with 5000 years of Ayurvedic Wisdom. Neem is known in Ayurveda to gently cleanse the scalp and prevent dandruff while Rosemary Tailam is known to provide hair with nourishment for growth.
Ingredients:

Composition: Amla – 4.4 mg, Tulsi – 8.8 mg, Shikakai – 6.6mg, Madayantika(Henna) – 11mg, Neem – 11 mg, Rosemary – 20 mg.
Excipients: Shampoo Base Q.S.
Preservatives: DMDM Hydantoin, Methylchloroispthiazolinone and Methylisothiazolinone.
Price: 130 INR for 175 ml. Buy HERE
My take on Lever Ayush Anti Dandruff Neem Shampoo:
Packaging: Most of us would have used shampoos in sachets at least once in their life time. Although such sachet packaging is not the most likeable when it comes to skin care products, but for shampoos, these are the best! You need not worry about the quantity control also these are super cheap costing just 2 rupees. And you can just throw them anywhere in your travel bag.
I particularly went for sachets for such ease of use. I just have to tear open and that's it. On the other hand, the full size product comes in a bottle with a flip top, similar to the packaging of the Ayush Anti Damage Shampoo. The sachets I got had details about the product on the backside of it.
Color: I was expecting it to be green in color due to the color of the packaging and the presence of Neem in it. Surprisingly this is a deep honey-brown colored gel shampoo. On a closer look, it seems to have some fine black particles in it which are smooth though.
Fragrance: It has a herbal scent to it. Nothing like Neem or Rosemary but certainly a refreshing one. The fragrance also tend to linger for more than 2 days depending upon how much other hair products you use and also controls bad odor from sweaty scalp.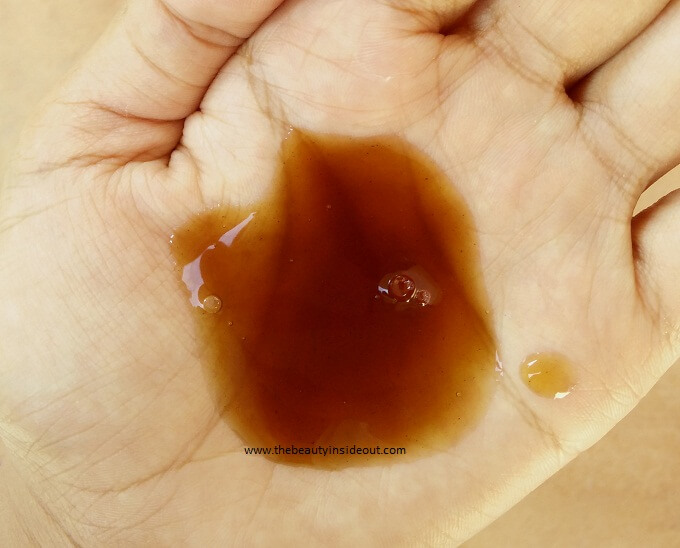 Efficacy: I have been using the shampoo for a month now and my overall experience with the shampoo has been decent so far. I still have many sachets left with me as I normally shampoo only twice a week, at the max thrice a week if the weather is hot and humid.
The formula of the shampoo is really good. One sachet is enough for my medium length hair (the image above depicts product inside one sachet). The shampoo lathers well and rinses off easily. Since I got this to mainly treat my dandruff I did not dilute the shampoo before usage. I directly apply the shampoo on my wet scalp and massage it for a few minutes to work on my dandruff and then rinse off. The shampoo cleans my hair thoroughly removing dirt and impurities. I repeat shampooing if I had heavily oiled my hair just few hours before wash as the shampoo is quite gentle and does not remove oils completely. On days when I oil overnight or when I hadn't oiled and my hair does not feel very greasy, one wash is enough for me.
Post shampooing and drying, my hair is left naturally soft. The shampoo by itself is slightly nourishing, but still my hair ends become slightly dry later on. But I'm glad that it does not tangle my hair heavily and make them knotty. Tangled hair always make me lose so much of hair so I always try to use a serum or a few drops of any oil on the ends of my hair. The dryness can also be easily sorted out by using a mild conditioner. As for dandruff, the shampoo works okay-ish. I could see dandruff flakes on the next day of wash.
So Lever Ayush Anti Dandruff Neem Shampoo doesn't really eradicate dandruff from your scalp but is a decent herbal shampoo if you are looking for cleaner and softer hair. Soon, I will also be trying out the Himalaya Anti-Dandruff Shampoo which was picked up by my family and compare both these shampoos on their performance. So Stay Tuned!
Pros:
Price is reasonable.
Available as sachets as well as bottles.
Formula is gentle and does not dry out hair severely.
Lathers well and rinses off easily.
Makes hair soft and tangle free.
Does not cause additional hair-fall.
Cons:
Does not eradicate dandruff completely.
Not completely free of chemicals.
Conditioner is required for very dry hair types.
Rating: 3/5

Do I recommend? Not for dandruff. I made a good choice of not buying the full size bottle but I might save few sachets for my travel purposes.

Looking for other shampoos?