I'm excited to share my first ever haul post on the blog. I've made huge hauls before but never had the time to wait and click pictures together. But this time I waited for all of them to arrive; I ordered them from various portals, hence the wait. So without much talks let's see what I got for myself in the late summer skincare haircare haul.
BON Organics Aloe Vera and Herbal Shampoo ( Rs.126 for 100 ml each)
I've been going back and forth between sulphate and non sulphate free shampoos. But finally after seeing huge amounts of hair sheds I've promised myself to never go back to chemical laden shampoos. So I picked up both the Aloe Vera and Herbal Shampoos from Bon Organics. I've used the Aloe variant before and liked it very much so I got it again. I was also curious to try the herbal one, so picked up that also.
BON Organics Organic Loffah ( Rs.33 per piece)
This was a random purchase. I've always wanted to buy a natural loffah so when I saw this on their website I just added it to my cart. I got all the BON Organics products from their official website. What I loved the most of them is that they offer free shipping with no minimum purchase limit and I received the products on the very next day of placing my order. Pretty impressive !
Aroma Magic Juniper Berry oil-free moisturizer ( Rs.225 for 100 ml)
Aloe based gels are the only moisturizes that I've been using for the past couple of years, for a change I wanted to try something else. After I came to know about this water based moisturizer I wanted to give it a try. It is made with Juniper Berry, Cucumber, Patchouli and Lemon essential oil. It is also enriched with SPF 15 which is decent enough for a person like me who works indoors most of the time.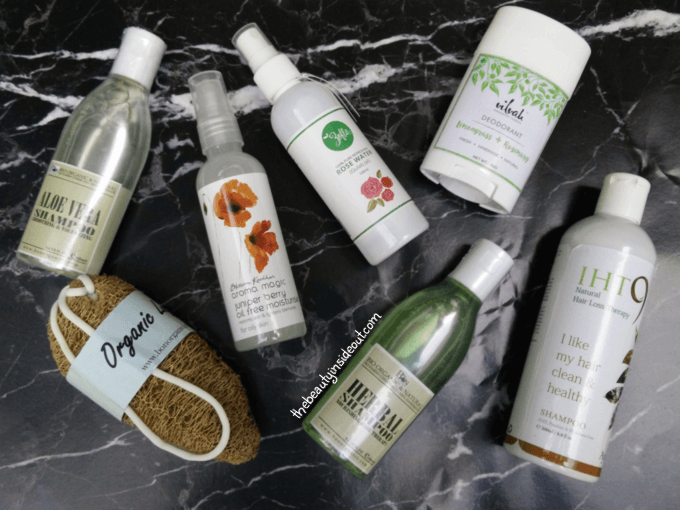 Zofla Rose Water ( Rs.160 for 100 ml )
I'm loving my current Cucumber Organics Toner but since its on the verge of getting over and is little pricey for a toner, I wanted to stock a budget friendly rose water. I found this Zofla Rose Water to be an affordable option and also the brands Q-factor attracted me to get this. So let's see how this works. I got this from Amazon, you can buy it from HERE.
Vilvah Natural Deodorant ( Rs.495 for 60 gm )
Since the beginning of summers its been really hard to keep up with body odor and finally I am glad to find a brand that offers a chemical free deo. I got the one in Lemongrass and Rosemary Variant. They also have four more variants. I bought this from Qtrove.com, you can check it out there if you would like to buy.
Lass Naturals Ayurvedic Shampoo ( Rs.275 for 200 ml )
Lastly I repurchased my first ever sulphate free shampoo that I used some 3 years back. When I decided to go sulphate free I wanted to get this. I remember it took me sometime to get used to this shampoo but I quite enjoyed using this. I believe nothing has changed in terms of the formula or the fragrance. Lets see, I will try this again and let you guys know.
So that was all about my late summer skincare haircare haul. I hope you enjoyed reading it. Have you tried any of these and what was your experience with them ? Share your thoughts in the comments section below.
Also don't forget to check out these trending posts
Until next time,
Stay Beautiful♥