I love pampering my skin just like you all. But when it comes to facials, Salons or Spa's are not in my league and I prefer doing it on my own at the comfort of my home. My home facials have always been with products that I carefully chose from various brands. I've never tried any kit as such and the VLCC Papaya Fruit Facial Kit is the first ever kit that I purchased for myself.
My home facial usually involves Cleansing, Exfoliation, Steaming and Face Mask. But this kit involves two face masks which I found it fascinating and intrigued me to try.
A little about my skin condition before using the VLCC Papaya Fruit Facial Kit. At the time of trying the facial kit, my skin was slightly tanned; the reason for picking up this blemish free kit. I also had blackheads, one huge acne mark on my chin area, No active acne or whiteheads.
Starting off with prepping my skin, I cleansed my skin with Just Herbs Silksplash Face Wash prior to the first step in the facial kit as there was no cleanser in it and then proceeded with the following.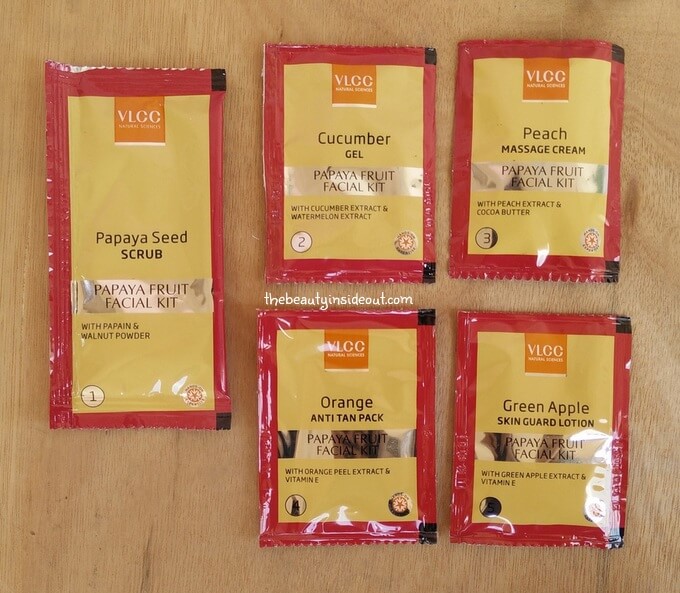 VLCC Papaya Fruit Facial Kit Review
Step 1 – Papaya Seed Scrub
This is the first step in the kit and it is a finely milled powder scrub with tiny scrubbing particles. The granules are neither mild nor harsh, just right enough to provide the needed exfoliation without being scratchy on the skin. The fragrance is citric and slightly strong. I mixed the powder with water to make it into a smooth paste, applied a thin layer and left it on for 5 minutes. I then gently scrubbed my facial skin for 2 more minutes and washed it off with cold water.  It deeply cleansed my pores and my blackheads were reduced in number.
Ingredients: Papain, Trihlose. Yogurtene Powder, Walnut Powder, Citric Acid, Vitamin E, Aloe Vera Extract.
Step 2 – Cucumber Gel
The cucumber gel forms the second step. This is like a gel face pack which has to be left on the skin for sometime and then wipe off. The cucumber gel is green colored and has an artificial cucumber fragrance. Immediately after applying on the skin, I could feel a cooling and soothing sensation that lasted the entire time I had it on my skin. I then wiped it off with a cotton ball. Post this step, my skin did not feel dry or stetchy rather it was smooth and soft.
Ingredients: Bihidana Extract, Agar Agra Extract, Watermelon Extract, Aloe Vera Extract, Cucumber Extract, Gel Base Q.S
Step 3 – Peach Massage Cream
Then comes the massage cream. It smells like peach and is white in color. The cream is quite thick and heavy and does not spread very easily. So I had to moisten my face slightly to aid in effortless massaging. I took a tiny amount of the cream, applied it all over the face with light circular movement and massaged it till it got absorbed into the skin completely. This improves blood circulation and makes the skin more radiant. The cream leaves the skin highly moisturized sans greasiness.
Ingredients: Peach Extracts, Olive Oil, Beeswax, Cocoa Butter, Vitamin E, Glycerin, Silicone Based Cellulose.
Step 4- Orange Anti-Tan Pack
This is a semi-dry pack that has to be mixed with any liquid medium. It smells orang-y and feels slightly oily upon mixing with water. I applied it like any other face pack and rinsed it off with water after 15 minutes. The face pack does not dry out the skin and leaves the skin rejuvenated, glowing and well hydrated.
Ingredients: Orange Peel Extract, Silicone Blend, Vitamin E, Glycerine, Kaolin, Titanium Dioxide, CMC Sodium, Gum Acacia, Magnesium Carbonate, Bentonite
Step 5 – Green Apple Skin Guard Lotion
The final step involves application of this Green Apple Skin Guard Lotion. It is a zinc oxide based lotion, so basically this acts a sunscreen and you don't need to go for any other sunscreen, But it highly recommended to stay away from direct sunlight post any facial. The green apple skin guard is a very lightweight gel that gets absorbed into the skin in a jiff. I required only a dollup for the entire face and neck, so this sachet would easily last for 8-10 uses.
Ingredients: Apple fruit extracts, Allantonin, Polyquarternium, Glycerin, Silicone Blend, Zinc Oxide, Trehlose, Vitamin E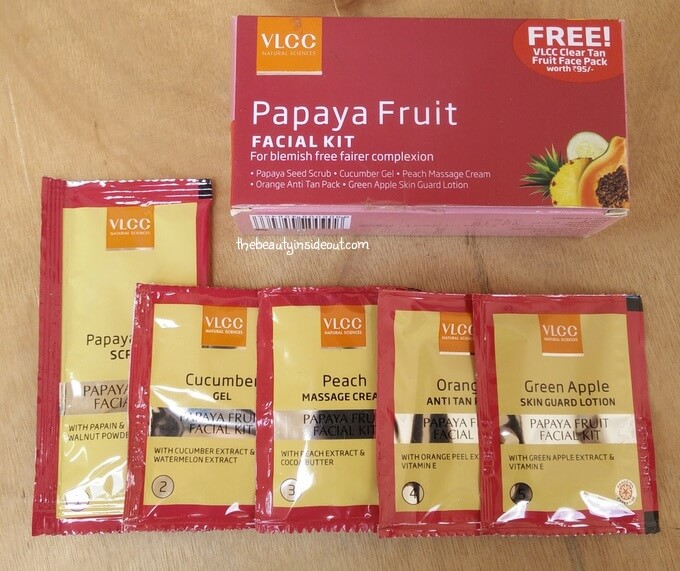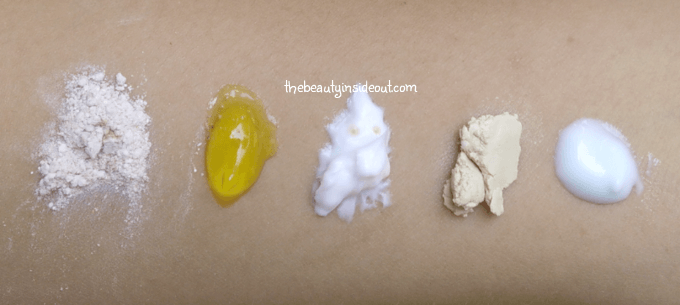 The end result : It beautifully evened out my skin tone and made my skin glowy, radiant and brightened to some extent. The fresh acne mark on my chin did not vanish but was faded to some extent, say 40% . Finally my skin was soft to touch, smooth and balanced with the right amount of hydration and moisturization. Overall, I loved using the VLCC Papaya Fruit Facial Kit. Go for it if your are looking for an affordable facial kit, it is worth trying.
It retails for 250 INR, but you can buy it at a highly discounted rate HERE. The VLCC Papaya Fruit Facial Kit is also easily available everywhere both offline as well as online.
Pros:
Proper direction of use mentioned on the packaging.
Fruity fragrance.
No skin irritation or allergic reactions.
Suitable for all skin types.
Makes skin radiant and glowing.
Removes tan to a certain extent and evens out the skin tone.
Comes for more than one usage.
Affordable and ease of availability.
Cons:
Incomplete ingredient list.
Difficult to store left over product in the sachets.
Rating: 4.7/5
That was all about my experience with the VLCC Papaya Fruit Facial Kit. Have you used them? Share your thoughts.
Also check out:
Until next time,
Stay Beautiful♥