Hello everyone. I'm back with a review from the brand Just Herbs. Previously I have reviewed their Nosun Gel which I liked a lot. Today I'm going to review Just Herbs Silksplash Neem-Orange Rehydrant Face Wash. Just Herbs Products have always been a hit for me. It works wonderfully for my skin. I came across this brand from the fab bag when I received the 6-step organic skincare routine kit. Let's see how this face wash worked for me.
Product Description:
An Ayurvedic face wash with the natural goodness of neem, Chandan(sandalwood), and honey. It gently removes the last traces of dust, grime, and make-up residue, yet retaining the inherent moisture of the skin.
Ayurveda states that Sandal Wood is moisturizing and anti-inflammatory, Calendula acts as a natural antiseptic and antibacterial agent with sun radiation protective properties.  Ayurvedic ingredients such as Aloe Vera, Honey, and Orange peel deeply moisturize leaving the skin with an amazing sense of freshness and a velvety sheen all day long.
Just Herbs Face Wash Ingredients: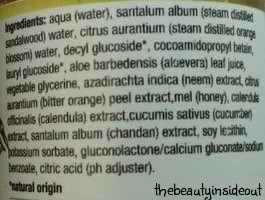 How to use:
Apply on wet skin. Rinse with water and pat dry. Use twice a day.
Just Herbs Silksplash Neem-Orange Rehydrant Face Wash Review
Packaging: The face wash comes in a sturdy plastic bottle with a pump dispenser which is convenient to use. I like that they have improved the packaging. Previously the packaging was different. It didn't have a pump dispenser, just a screw cap with a wide-mouthed opening which was difficult to control the amount of product that comes out of it.
The product has a shelf life of 6 months from the date of opening.
Texture: The Face wash is golden in color which resembles honey and has a gel consistency that is slightly on the runny side.
Fragrance: The fragrance is very nice and refreshing. It smells of natural ingredients, especially sandalwood.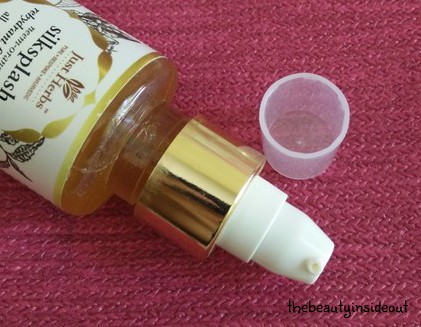 My Experience with Just Herbs Face Wash:
I use two pumps to wash my entire face. The face wash lathers well even though it is made sans chemicals. I use it as a morning face wash when my skin is free of makeup as it mild face cleanser and it might not remove heavy makeup. But it does remove light makeup residues after using a makeup remover.
I like to use this face wash, especially during the summers when my skin becomes too oily. It effectively cleanses my skin from impurities making it soft and smooth. This face wash is gentle on the skin and improves the overall texture when used regularly. It does not strip my skin of natural oils making it overly dry. It is ideal for normal to oily skin.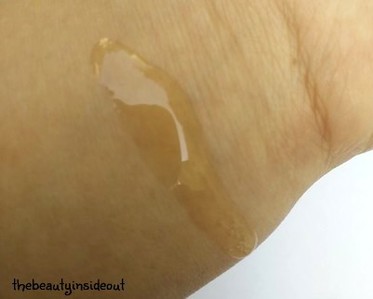 The face wash does not mention anything about acne control, but this face wash has surely calmed my acne and did not cause me any further breakouts. The price might be considered high for 100ml but considering that one bottle will last long, it is not a con for me.
Pros:
Mild Cleanser.
Paraben and SLS/SLES free.
Complete Ingredient List.
Effectively cleanses the skin.
Imparts a healthy glow on regular usage.
No breakouts.
Sturdy packaging.
Just herbs products are cruelty-free.
Cons:
Final Word:
Just Herbs Silksplash Neem-Orange Rehydrant Face Wash is one of the best herbal face wash in India. It is a very mild face wash made with natural ingredients suitable for normal to oily skin types. It effectively cleanses the skin from impurities, dirt, and grime leaving the skin smooth & refreshed. I'm very much in love with this face wash and I'm definitely repurchasing it again.
Rating: 4.7/5
Have you tried Just Herbs Silksplash Neem-Orange Rehydrant Face Wash? 
What is your favorite herbal face wash? Share your thoughts in the comments section below.