Be it any season, I have always picked up aloe or gel based moisturizers for my oily skin. Creams and oils never suited my skin and this particular product being gel based and 'organic' my eyes were on it and I was keen on trying it. Last month I subscribed for the VanityCask Flawless Edition Box solely for the reason that the Gulnare Skincare Aloe & Vit E Face Cream has been included in it. Since then, I've been using this cream on and off. Lets see how this product went for me.
About Gulnare Skincare Aloe & Vit E Face Cream:
Aloe Vera has been used for centuries to heal and protect skin. This hydrating gel based cream is a lightweight solution humid weather and oily skin. It contains cucumber which gives a cooling sensation along with Vitamin E oil to restore and rejuvenate dehydrated skin.
Usage Directions: Massage into damp skin in upward and outward motions. Combine with SPF during the day
Ingredients: Cucumber, Aloe Vera Gel, Vitamin E
Price: 700 INR for 50 gms. You can buy it from www.gulnareskincare.com
My take on Gulnare Skincare Aloe & Vit E Face Cream:
Starting off with the packaging, as you can see, the product comes in a plastic tub with an attractive top lid. If I ignore the dip my finger- oh so unhygienic factor, there isn't much to my disliking. The tub is of good quality, is sturdy, travel friendly and looks great among other products in my vanity. This is the packaging of the 30 gm sample that I have. However, in their website I can see that the full size product comes in a glass jar! So it won't be that good to take it for travel.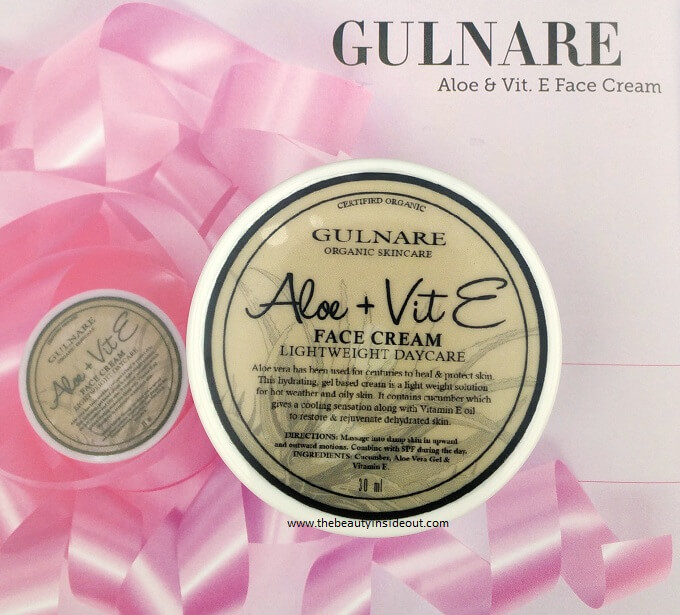 Gulnare Skincare Aloe & Vitamin E cream is light green in color and has a faint cucumber fragrance to it. It's a pleasant and non-lingering scent. The product is gel based and the consistency is slightly thicker than the Just Herbs Aloe Massage Gel which worked great on my skin as a daily moisturizer. Unlike plain aloe gels that sits on top of the skin, Gulnare Aloe Cream gets absorbed into the skin after a few minutes.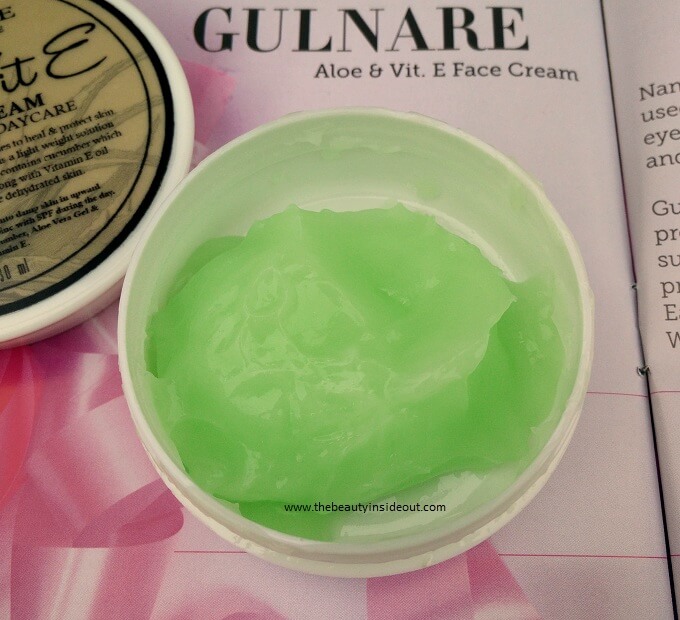 A dollup of the gel is enough for my oily skin and would suffice for other skin types as well. The gel spreads quite easily on damp skin and gives you a dewy and slightly sticky feel post application. It takes about half an hour for the stickiness to settle down and then the skin looks immensely hydrated and moisturized throughout the day. I skipped using it on very humid days, as I found the moisturization to be a tad bit heavier, also I'm a more of matte person and I don't have a great liking for the dewy finish that it gives. Nonetheless, it fairs well as a night cream. Every time I use this I wake up with a soft, supple and healthy looking skin. I also used this as a under eye gel and it helps to keep them nourished throughout the night. The gel causes no breakouts!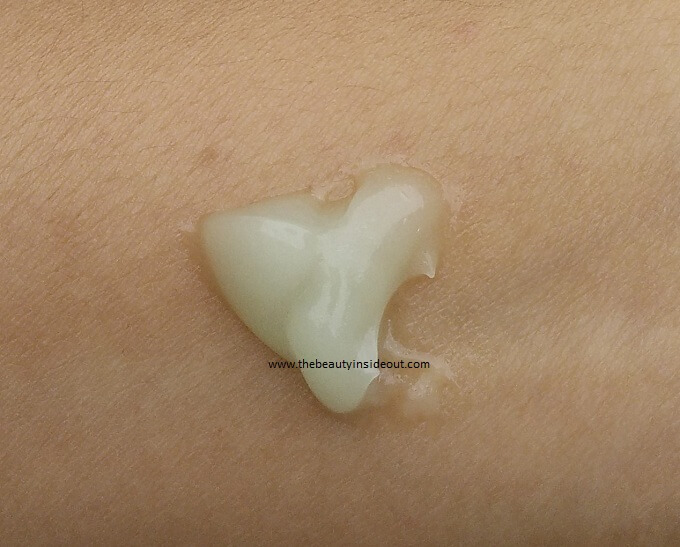 The gel gives a mild cooling effect once it comes in contact with the skin. And this being an aloe cream, works amazingly well as an after sun treatment to calm down the skin.
This claims to be a lightweight gel, but it isn't super lightweight like the Aroma Magic Juniper Berry Moisturizer and Lotus Herbals Acnegel. I think it's because Gulnare Aloe & Vitamin E cream falls in the category of gel based cream product rather than runny watery gel kind of products that are ultra lightweight on the skin(if you can understand what I mean).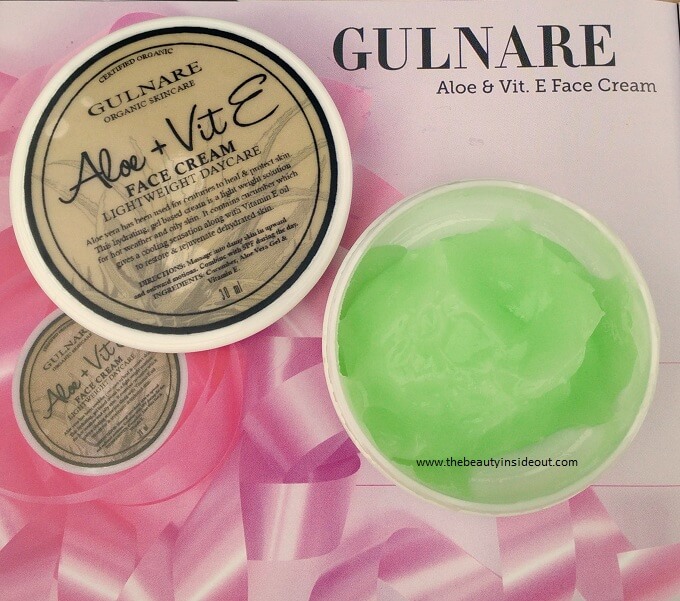 Summing up, Gulnare Skincare Aloe & Vit E Face Cream is a basic, natural, gel based moisturizer that does it job of providing hydration and moisture to the skin perfectly. However with the ingredients being pretty basic with aloe, cucumber and Vitamin E, the pricing is too high. The price of full size product was 550 INR earlier and now after the GST effect it is 700 INR!!!
Pros:
Cute packaging.
Organic Skincare Brand.
Mild pleasing fragrance.
Gives a cooling and soothing sensation to the skin.
Immensely hydrates and moisturizes the skin.
Calms irritated and sun burnt skin.
It's a multipurpose cream. Can be used as a day cream, night cream, under eye cream and after-sun treatment.
Suitable for almost all skin types.
Not tested on animals.
Cons:
Hefty price.
Available only online.
Skin feels slightly sticky initially.
Gives a dewy finish.
Rating: 4/5
Recommendation: Not really, though this is a nice product, you can definitely get better moisturizers at lower prices.
I hope you find this review helpful. Have you tried Gulnare Skincare Aloe & Vit E Face Cream? Share your thoughts in the comments section below.
Also check out
Until next time,
Stay Beautiful♥