Today I am reviewing the Neelbhringadi Taila from Iraya. The Neelbhringadi Taila is an ayurvedic recipe to solve hair problems like premature greying, baldness, dandruff and split ends. This oil is a mixture of several oils, milks, juices and extracts but its two main ingredients are Indigo or Neel and Bhringaraj. I have curly wavy hair which is very dry by nature. Non-sticky hair oils fail to provide for my hair's nourishment needs. That is why this time I wanted something ayurvedic and side-effect free for my hair. My quests lead me to Iraya Neelbhringadi Taila which has been a recent re-launch from Iraya. I am using this product for 4 weeks now and here is what I found about this product.
About Iraya Neelbhringadi Taila:
Iraya Neelbhringadi Taila recipe finds its reference to an ancient Indian scripture 'Sahasrayogam'. This unique blend of cold-pressed oils promotes hair growth and helps fight hair fall.
Why should this oil be in your hair care regimen?
It brings together pure ayurvedic recipes blended with finest quality herbs and virgin cold-pressed oils.
This oil is made through a time-trusted authentic process which ensures full potency of the herbs and oils.
It gives soothing, nourishing and loving care to the hair.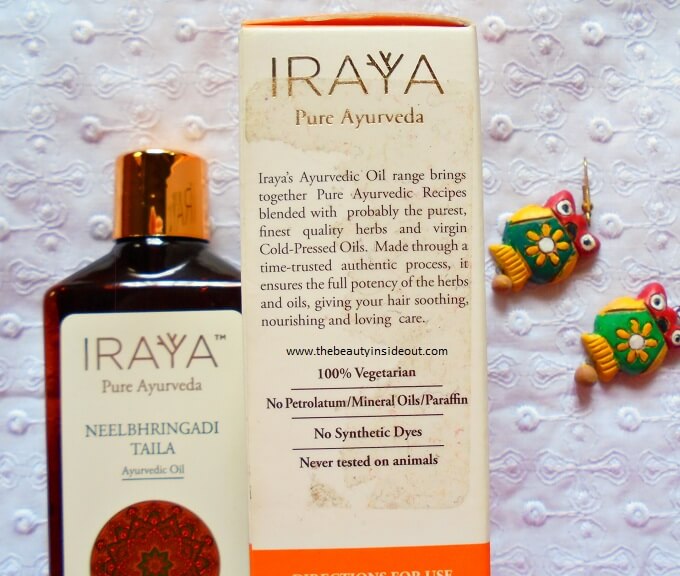 Ingredients: [Each 100ml contains] Sesame Oil (Sesamum Indicum) 50ml, Coconut Oil (Cocos Nucifera) 50ml, Nilika Swaras (Indigofera Tinctoria) 30ml, Amala Swaras (Emblica Officinalis) 20ml, Bhringraj Swaras (Eclipta Alba) 20ml, Coconut Milk (Cocos Nucifera) 5ml, Jeshthamadh (Glycyrrhiza Glabra) 4g, Gunja (Abrus Precatorius) 4g, Daruhaldi (Berberis Aristata) 4g, Cow's Milk 1ml, Essential Oil Of Lavender.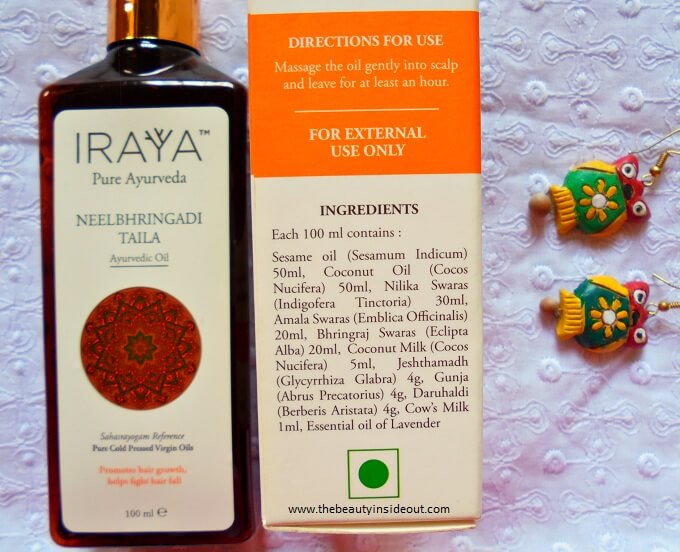 Shelf Life: 36 months from the date of packaging
Price: Rs.200 for 100ml. You can buy HERE at a highly discounted rate.
My Take on Iraya Neelbhringadi Taila:
This oil comes in a tinted deep brown rectangular plastic bottle with a metal screw cap. This plastic bottle is sold inside an off-white and orange cardboard outer packaging. Both the bottle and the outer pack hold all the details regarding the product. So, if you lose the outer box by chance, you are not missing anything. The packaging is quite travel-friendly, sturdy and sober looking.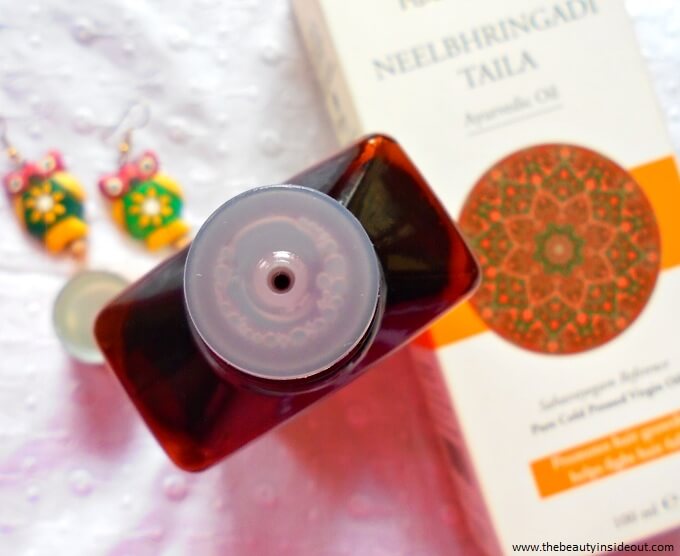 The Neelbhringadi oil is bluish-purple in colour and pretty dense in consistency. The oil can feel a bit sticky to someone who is not that much into nourishing hair oils.
This oil has a mild herbal fragrance. The fragrance is very difficult to express in words because to prepare this oil the ingredients are blended in a manner that they have become almost impossible to differentiate.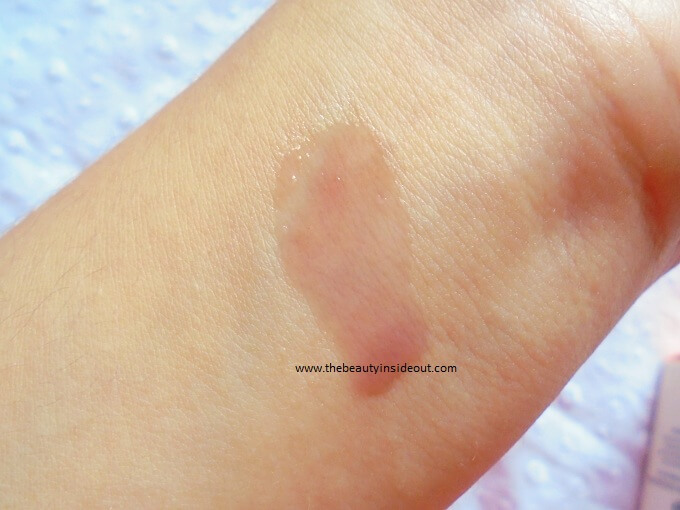 I generally massage the oil gently into scalp and leave it for at least 5-6 hours or overnight. The next morning I wash my hair with a mild herbal shampoo and condition properly. It brings shine to my hair and controls my unmanageable hair to a noticeable extent after each application. Naturally, my hair looks healthy and the curls can define themselves nicely. I take special care to wash the oil off my hair and scalp completely otherwise hair falls flat from the first day after hair wash. This oil is very heavy. It causes new pimples every time I keep it on my hair for long but my hair certainly needs deep conditioning once in a while. That is why I always make it a point to tie up my hair immediately after applying the oil. This oil claims to control hair fall but it failed to do that in my case. I have seen no change in my hair growth rate with this oil either.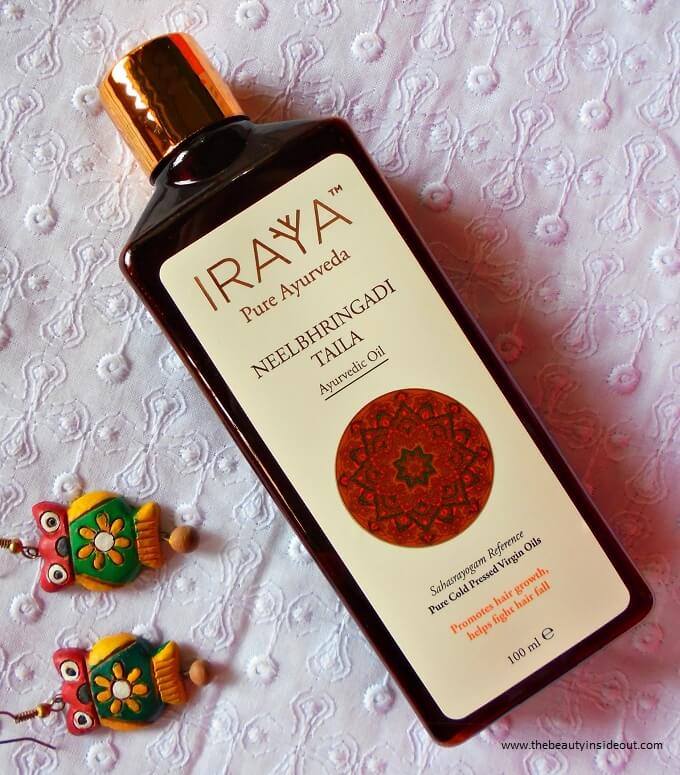 Pros:
Nourishes my dry hair very well
Reduces frizziness problem
There is no harmful chemical, no mineral oil and no dye in the formula
Makes it easy for my curls to define themselves
Contains the goodness of many potent natural oils like sesame oil and extracts of Indigo plant
Pocket-friendly & travel-safe
Cons:
Smell is not that good
Formula may feel sticky to some
Hairfall control problem needs long time treatment with this oil to show some effective result
Worsens existing acne
Rating: 3/5
Recommendation: I will recommend this oil to anyone with dry, damaged, undernourished hair and normal to dry skin who wants a 100% natural ayurvedic nourishing and deep conditioning hair oil in an affordable price point.
Will I Repurchase? This hair oil from Iraya has raised my interest on ayurvedic hair treatments. So, I would like to try the other variants of hair oils from the same brand. If no other oil can satify me like this one, then I will make another purchase of this oil.
I hope you find this review helpful. Have you tried this Iraya Hair Oil? Which hair oil has worked for your hairfall? Share your thoughts in the comments section below.
Also check out other posts
Until Next Time,
Stay Beautiful♥
Guest Author: Sreeparna