After Covid-19 we have all been looking for quick makeup fixes. And masks seem to be taking us away from that all-dewy wet makeup trend we have been loving in recent years. That's how powder foundations come to play. They work as coverage and setting products all in one. It's easy to put on, stays all day for its powder nature, and looks even more gorgeous as the days pass by. Makeup artists have been using powder foundations since the 60s to have that extra coverage but mainstream companies are now jumping on the bandwagon. There have been a few good launches but I specifically was interested in the Elf Camo Powder Foundation. So If you are interested in knowing my opinion please keep on reading.
Product Description:
Primer Infused, medium to full coverage foundation which will last you all day. Elf Camo Powder Foundation is a high-definition powder for a more defined look with a non-comedogenic formula that is also talc and paraben-free.
Elf Camo Powder Foundation Ingredients: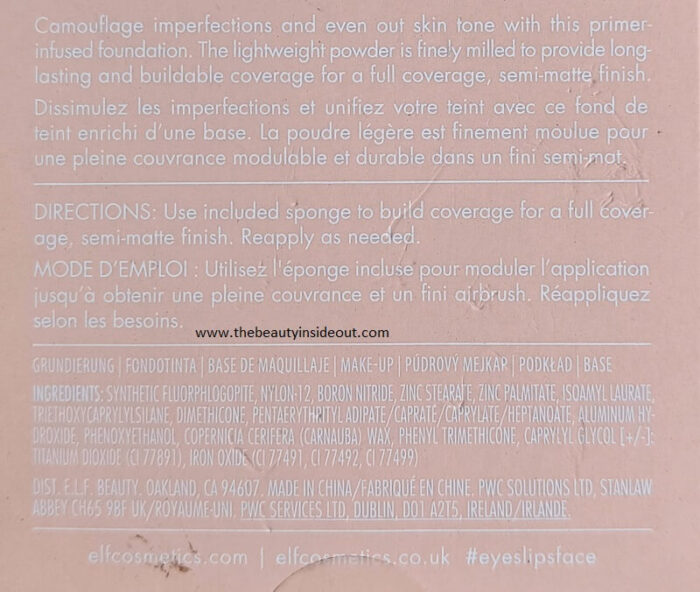 Elf Camo Powder Foundation Shades
The Elf Camo Powder Foundation is available in whooping 30 shades.
It is categorized as Fair, Light, Medium, Deep, and Rich and caters to Cool, Neutral and Warm undertones.
Elf Camo Powder Foundation Review
Packaging: Elf Camo Powder Foundation comes in sleek white packaging with a powder sponge. The packaging does not look cheap and we get a small mirror in the sponge department. It is easy to carry around in purses as it doesn't take up much space and is great for quick makeup fixes. Safe to say I like the packaging.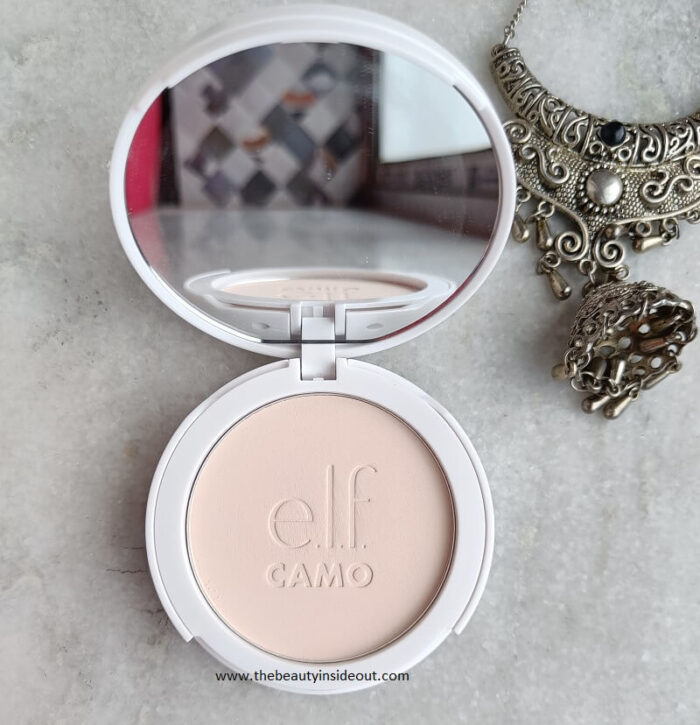 Texture: The texture is soft and airy to the touch but it is prone to a hard pan if you dip your dampened sponge in the product. One should use a dense brush for a full-coverage application. Otherwise, a fluffy brush can be used if you are looking for coverage.
Fragrance: The Elf Camo Powder Foundation doesn't have any fragrances. Not even a faint one. And I am not even complaining about it. I think more and more makeup companies should think about this when creating their products.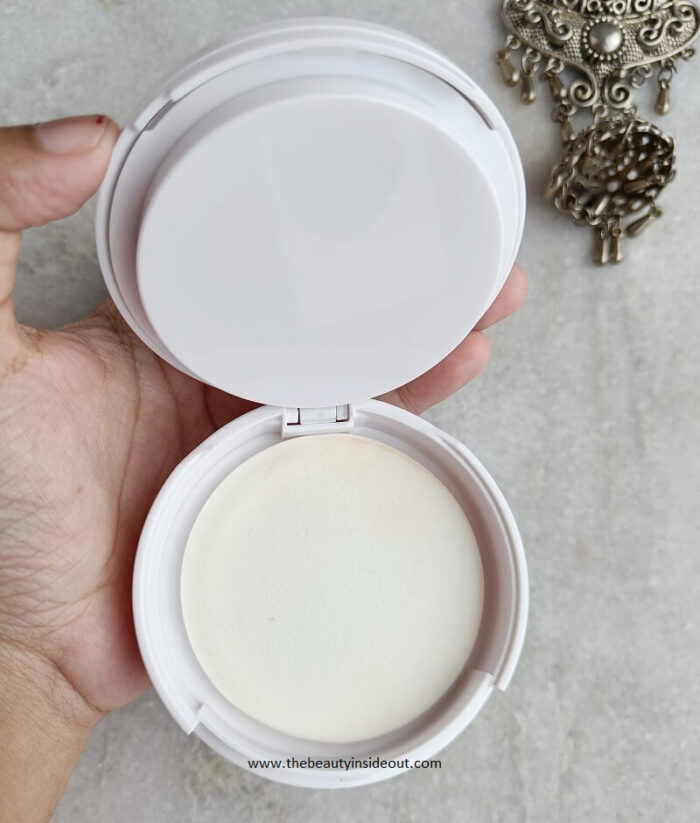 My Experience:
Elf Camo Powder Foundation does live up to its claims. It doesn't have an overly shiny or overly matte texture. It lasts all day and doesn't look cakey even if you use it as a full-coverage product. You can build up the coverage as you like.
After 2-3 hours when my skin is naturally producing oils, the powder foundation looks just like skin. And one thing about this product I very much like is that the shade doesn't oxidize at all.
My fine lines do also look great after a full day. But the product settles quickly and after it sets you can't blend the product at all and it looks like a flaw on the skin. It also becomes very patchy and looks like a cakey mess if you are using it on top of a wet foundation. So I suggest one take some time and let the wet foundation settle. Overall it's a nice powder foundation that is great for long-wearing.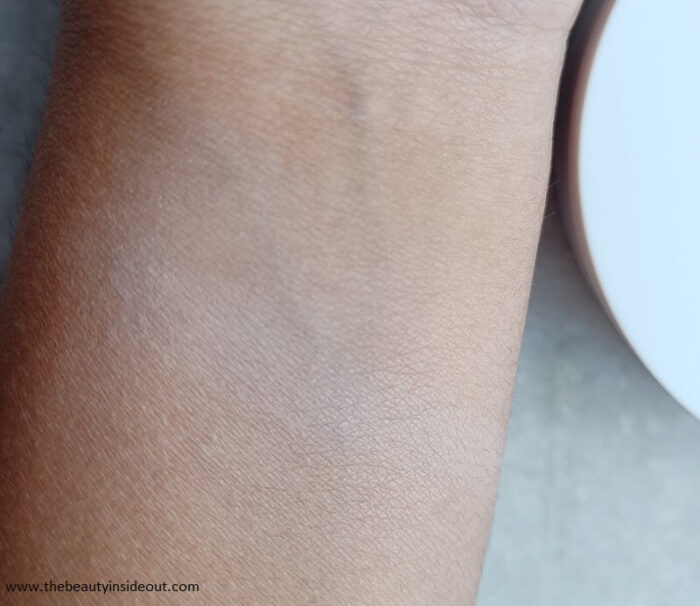 Pros:
Lasts all day.
Can be used only as a foundation on top of sunscreen.
Have a great converge.
Can be used as a setting powder as well, One just has to use it with a light hand.
Doesn't look cakey and breaks up on the skin after being out in the sun.
Cons:
Settles quickly so have to blend faster.
Can be very matte for dry skin beauties.
Becomes patchy if you use it over wet foundations.
Doesn't blend liquid blush and bronzer on top of the foundation.
Rating: 3/5
Would I recommend it? Although I am not going to repurchase it if you are looking for a good powder foundation on a budget I suggest you give this one a try.
What do you think of powder foundations? Have you tried them?