It's been ages since I ditched using bar soaps and completely shifted to using shower gels as they are more convenient to use and store. That is until recently, when I had the chance to try few handmade soaps, my thought about bars soaps totally changed and I have found a new love for handmade soaps, that I might not even get back to shower gels going forward 😉 Today I would like to share my experience with a handmade soap from Do Bandar, a brand that I haven't tried before. The soap is named Do Bandar Patchouli Soap, from the name you would have guessed what is the key ingredient.
Ok let's quickly see the complete ingredient list in the picture below.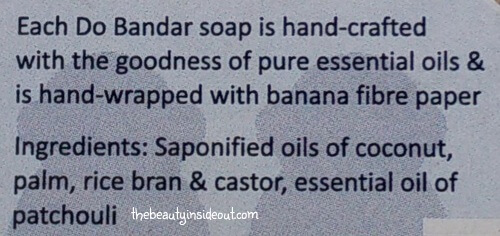 Price: Rs.150 for 100 gm
Availability: Buy from dobandar.in
Shelf Life: 12 months from date of mfg.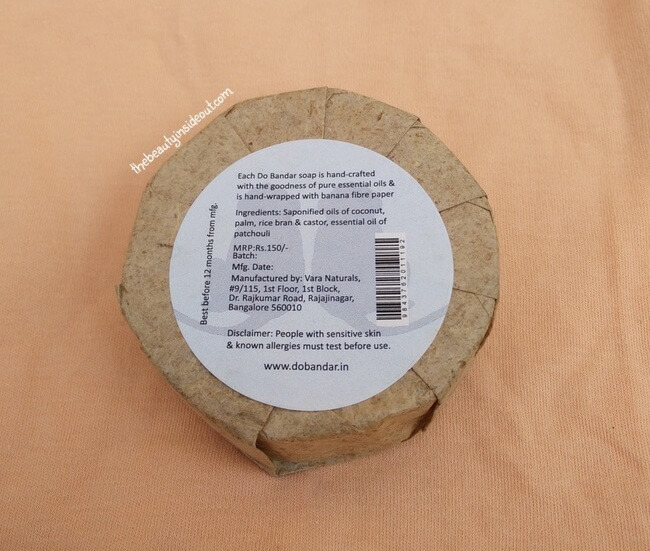 My take on Do Bandar Patchouli Soap :
Do Bandar Patchouli Soap is a handcrafted  round shaped soap which is enclosed in a banana fibre paper. I love the packaging, it's neat, recyclable and eco-friendly. The soap is off-white in color and has an amazing patchouli fragrance. It reminds of the fragrance of Bio Bloom After Bath Oil, but this one is much more pleasant and divine. I totally love the smell of this soap.
Coming to its efficacy, the soap produces good lather enough to clean the skin effectively and washes off easily with no residue or slippery feeling left behind. The soap does not dry out the skin but at the same time it is not moisturizing either. The skin feels super cleaned with a refreshed effect which is what I expect from a soap.
Some soaps cause me itchiness due to the dryness it causes, but I didn't face any such problems with this Patchouli Soap. I store my soap in a slotted soap box to allow ventilation so that the soap dries quicker and does not get gooey with the water in the soap box. With proper storage, the soap lasted me for a month with liberal usage. I only wished the smell lingered post washing, apart from that, I don't have any major complaints with this soap. I would say I had a pleasurable shower time with Do Bandar Patchouli Soap.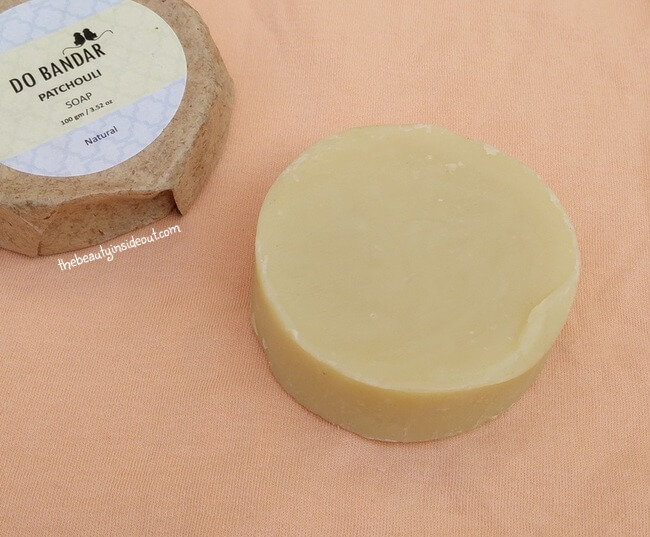 Pros:
Completely handmade.
Recyclable packaging.
Amazing aroma of patchouli.
Lathers well and washes off easily.
Gives a super cleaned skin with no untoward dryness.
Does not cause any skin irritation or itchiness.
Cons:
Rating: 4.7/5
In short, Do Bandar Patchouli Soap is a handmade soap crafted with pure natural ingredients that cleanses the skin effectively and smells absolutely lovely. If you are into handmade soaps and love the aroma of Patchouli give it a try. You will love it.
So that's all about Do Bandar Patchouli Soap. Have you tried this soap? Share your thoughts in the comments section below.
Also Check out my other posts on
Until next time,
Stay Beautiful♥