For the lazy person that I am, I was always a face wash person. I love trying out various new cleansers, be it commercial ones or the so-called organic ones, but at the end of the day, all they do is cleanse while drying out my skin. Many times the usage of these harsh cleansers is the source for my skin sensitivity, the reason why many other products that I try do not suit my skin and cause skin irritation and redness. There are hardly few face washes that are acne skin-friendly yet non-drying on the skin. So I decided to make my own natural and organic Homemade Cleanser.
I've been trying to keep my morning skincare routine minimal with products that are mild and hydrating. I told you guys how I loved using plain rose water as my morning cleanser in one of my previous posts. Following that, I thought it would be good to slowly incorporate a mild powdered cleanser and this Homemade Cleanser was a result of that.
Again I did not want to overload with many ingredients at a time, so I'm using just 4 ingredients. This cleanser is suitable for everyday use and every skin type. Let's get started with the DIY Homemade Cleanser.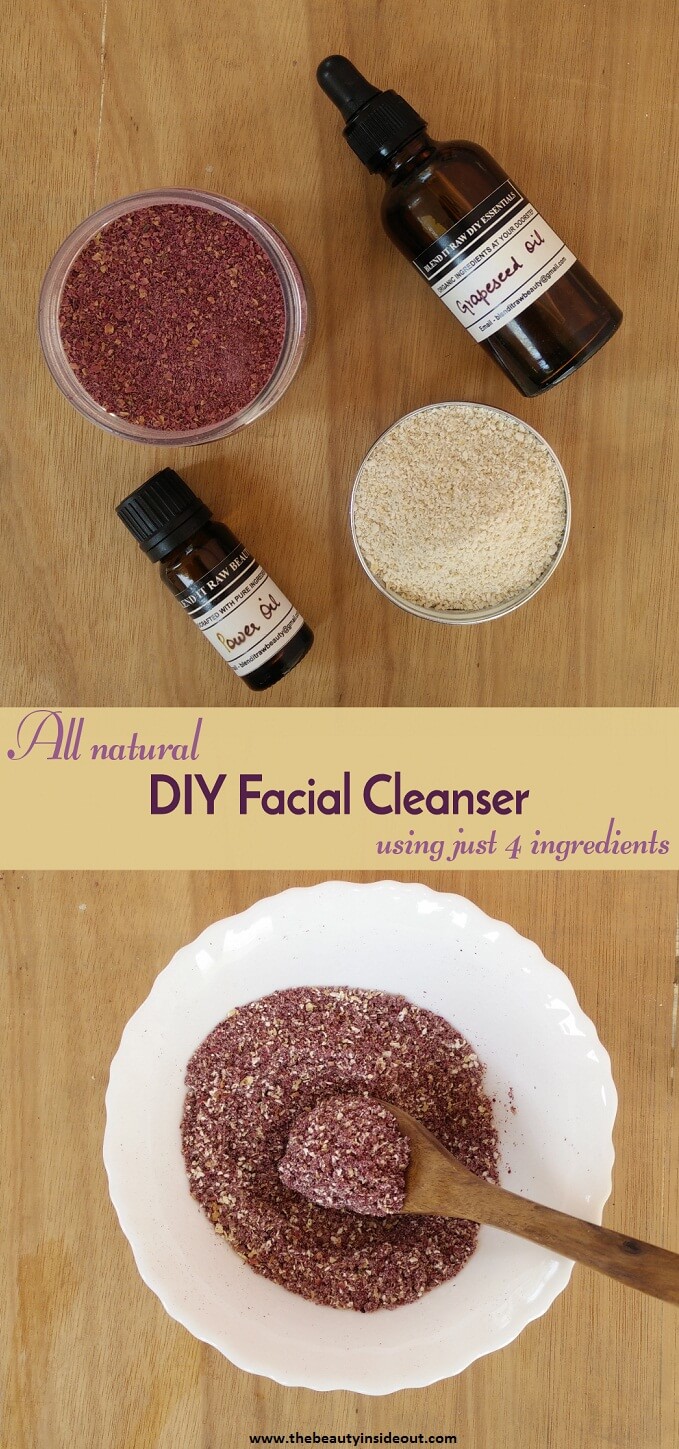 Ingredients required:
Oatmeal
Rose Petal Powder
Grapeseed Oil
Essential Oil Blend
Ingredient Benefits:
Oatmeal: Oatmeal yields clean and clear skin due to the presence of saponins, a natural cleansing agent. Oatmeal's high soothing power makes it most suitable for sensitive skin types. It also aids in treating acne, eczema, and inflamed skin.
Rose Petals Powder: Rose Petals Powder is rich in antioxidants that fight free radicals and delay aging. It is also enriched with a little Vitamin C and helps to fade away blemishes faster and promote glowing skin.
Grapeseed Oil: Grapeseed Oil has a comedogenic rating of 2 and is one of the carrier oils that would suit acne-prone skin. Its lightweight nature makes it an oily-skin friendly ingredient. Grapeseed oil is rich in Vitamin C, E, and fatty acids, all of which have wonderful skin benefits including skin tightening, reduction in dark circles, wrinkles & acne, and improved skin texture. I have oily acne-prone skin, so I chose to use Grapeseed Oil. You can use any carrier oil of your choice like Coconut Oil or Jojoba Oil.
Essential Oil Blend Of Your Choice: I used a blend of organic essential oils – Carrot Seed, Cedarwood, Frankincense, Lavender & Rosemary, effective in reducing hyper pigmentation, acne scars, blemishes, and improving overall complexion. Again, I chose to use this power oil blend. You can also use any other essential oil of your choice.
How to make the DIY Homemade Cleanser?
Step by Step Guide to make the Homemade Cleanser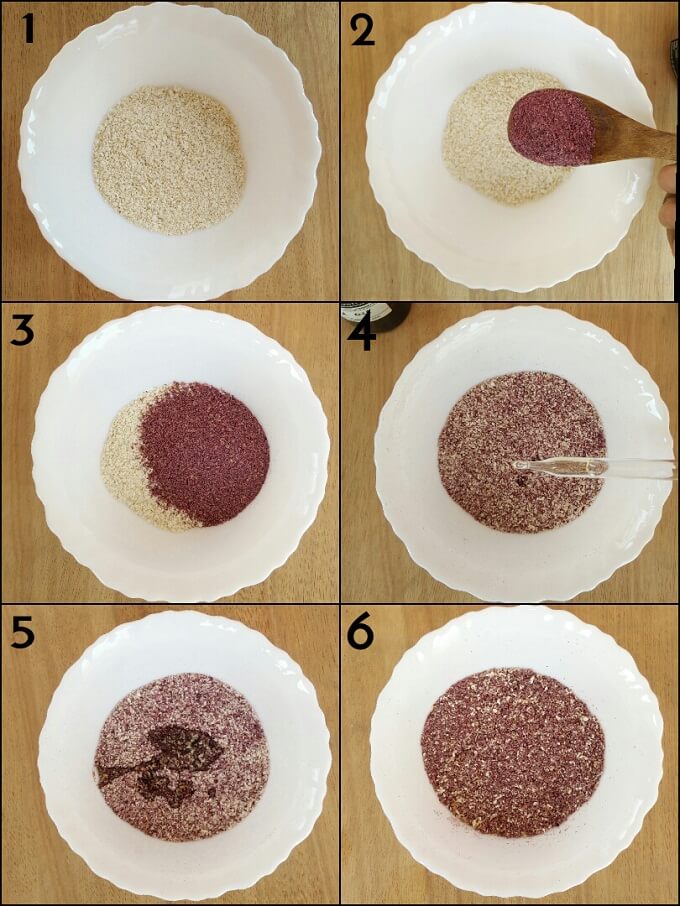 For 40 gms of cleanser
Take 20 gms of finely powdered Oatmeal in a bowl
Add 20 gms of rose petals powder and mix it.
Add 5 ml of Grapeseed oil.
Add 8 to 10 drops of power oil.
Mix everything and store it in a cool and dry place.
This quantity would last for about 15 days when used once per day. For a single usage, take equal quantities of oatmeal and rose petal powder, say ½ teaspoon each, add 0.5 ml of grapeseed oil and 1 drop of power oil.
How to use this Homemade Cleanser?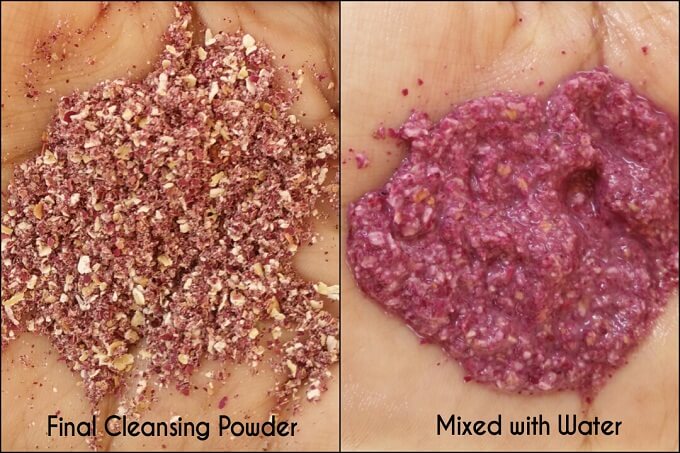 Begin with
Splashing water on your face.
Take a teaspoonful of the cleansing mixture, add the desired amount of water or rose water, mix it to a smooth texture.
Gently massage it into your skin and Rinse it off with normal water.
Follow it up with toner & moisturizer
Tada! Flaunt your clean and glowy skin to everyone.
Precautions &  Bonus Tips
Always use a gentle hand while massaging your skin with this cleanser.
Never use your damp hands or wet spoon to take the product out of your tub/bottle (wherever you've stored the cleansing mixture) in order to avoid contamination.
This cleanser doubles up as face mask. You can leave the mixture on your face for 10-15 minutes for extraordinary-looking skin.
You can make this, even more, milder by using the ratio of 2:1 for oatmeal & rose petal powder, instead of 1:1.
Use unmilled oatmeal and rose petal powder in the ratio of 1:2 to make it a coarser weekly scrub.
Well, we've come to the end of this post. Do try out this Homemade Cleanser and let us know if you liked it.
Don't forget to check out my other DIY's
Until Next Time,
Stay Beautiful♥