Facial oils can be a life savior for dry skin if used correctly. I believe, the skincare industry of recent years doesn't treat oils to their full potential. Everyone said oh don't put any oil, you will have pimples and it clogs pores. But that isn't the case because first of all, decades of beauty legends like Cleopatra used oils to enhance their beauty. Only in the last 5 to 6 years, after a lot of research and science-backed up papers led us to believe that oils can be quite effective provided you pick the right one for your skin type. I personally have very dry skin so my face just eats up oil and gives me that glow that my skin lacks. So needless to say I love and adore them. Today I am going to review the Disguise Cosmetics Rainbow Glow Oil.
Product Description:
Disguise Cosmetics Rainbow Glow Oil has a blend of oils that helps to rejuvenate one's skin within one week of use. The oils present in them are high on Linoleic and Oleic Acid which is good for damaged skin barriers.
Rainbow Glow Oil Ingredients:
The Grapeseed oil, Isopropyl Myristate (vegetable derived), Argan oil, Marula oil, Jojoba oil, Avocado oil, Apricot oil, Almond oil, Olive oil, Vitamin E, Pomegranate Extract, Fragrance.
The Rainbow Glow Oil has natural fragrance isolates together with nature-identical fragrances.
Price: Rs.700 for 30 ml.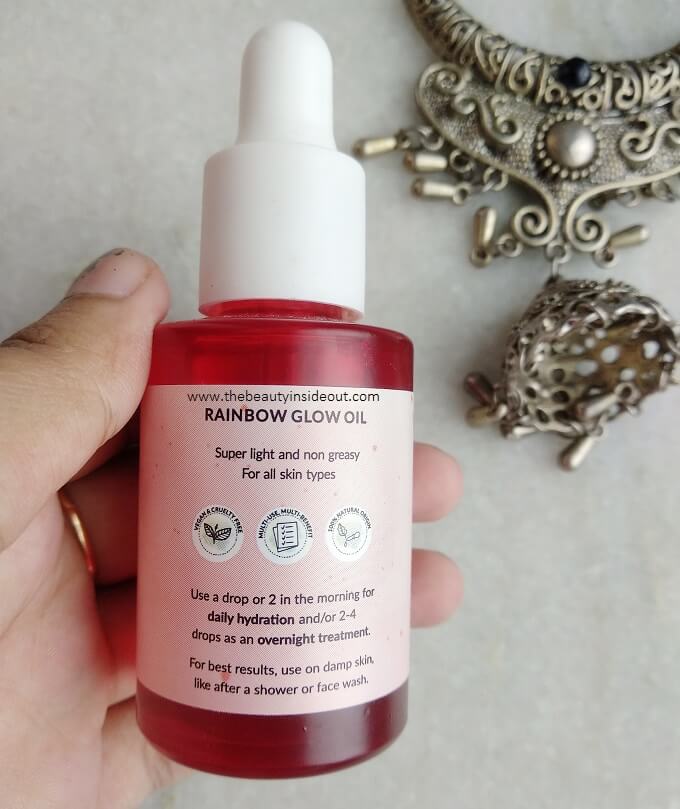 Disguise Cosmetics Rainbow Glow Oil Review
Packaging: This particular facial oil comes in a red bottle which looks scary at a first glance. However, the bottle packaging is sturdy and doesn't look cheap. The dropper works fine but I feel like it sometimes unloads a lot of product at once. As this is an oil, one doesn't need much so having a lot of product at once seems lavish.
Texture: It has a very runny texture which is weird because it has a bunch of heavy-duty oils. It's so runny that I can't hold it in my palm.
Fragrance: Though it doesn't smell anything, in particular, the Glow Oil has added natural fragrance, which may/may not suit sensitive skin.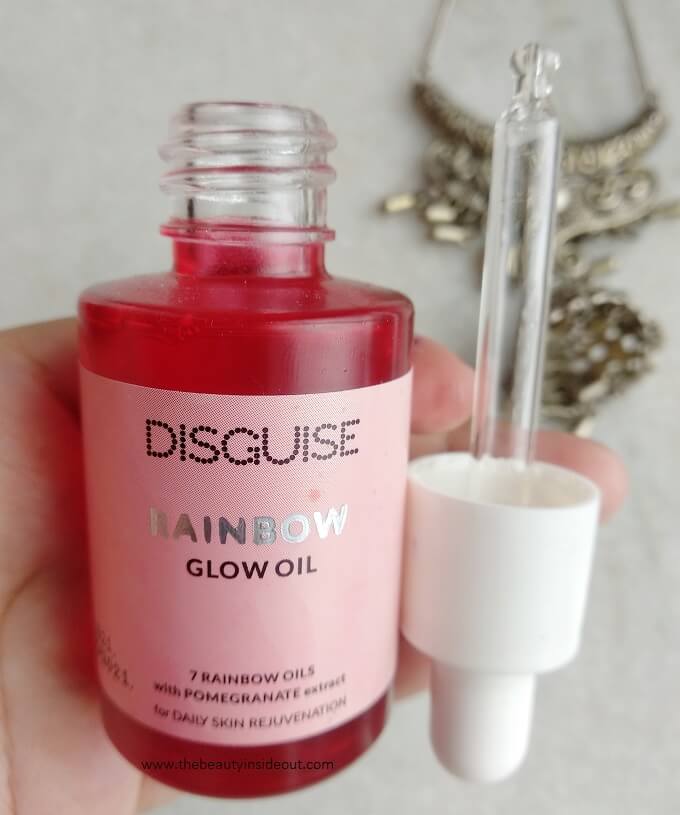 My Experience:
The Disguise Cosmetics Rainbow Glow Oil is the most lightweight oil I have used in recent years. It has Grapeseed Oil as the first ingredient which is supposedly non-comedogenic and is great for our skin barrier. I use 2 to 3 drops of the oil at the end of my nighttime skincare routine. It absorbs quickly and is quite light on the skin. Sometimes I feel like my Bioderma Baume is heavier than this. The oil adds a nice glow immediately and leaves my skin firmer and soft to touch in the morning. It has a lot of antioxidants and fatty acids which is great for the skin and I'm sure its benefits are reaped in the long term.
On the downside side, I felt that that the oil made my skin a bit dull and lifeless. This was the biggest disappointment for me despite spending this much on a brightening skincare product. It didn't clog my pores or cause acne on my dry skin however on my sister who has oily skin it was otherwise.
The oil works well under matte foundation imparting a subtle glow which I love. Overall I liked using this oil for its antioxidant benefits however I think it's not worth investing in it as the results aren't overwhelming. I believe a Vitamin C Serum would do a better job at making my skin glow while giving a brightened look.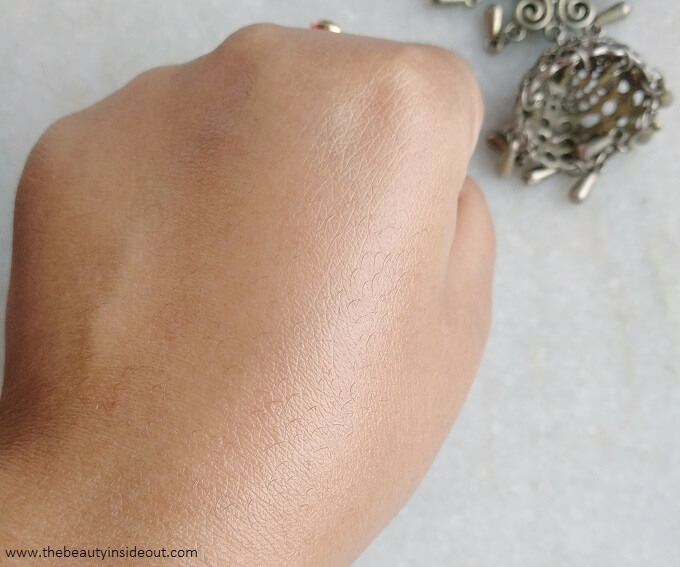 Pros :
It's a very lightweight oil.
Alcohol and Paraben free.
Has a bunch of antioxidants and fatty acids.
Nourishing blend of oils.
2 drops is enough For every day.
Good as a makeup base.
Cons:
No major glow and hydration was seen.
Expensive for what it does.
Can be comedogenic for some.
Makes my skin kind of dark for some reason.
Rating: 3/5
Would I recommend it? If you love oils, you can try this once. Otherwise, you can skip it.
Have you tried this oil? Let me know in the comments section below.