For everyday use, I like to use lotion-based sunscreens that doubles up as a moisturizer. Since I tend to stay in most of the time, a minimal SPF of 30 is more than enough for me. Heavy-duty sunscreens, especially those with a super slippery silicone base and ghostly white cast are not my cup of tea. Recently I stumbled upon this Fixderma Shadow Sunscreen Gel SPF 30+ PA+++. It's not only moisturizer-like but it's also very affordable. Read on to know more about my experience, its pros, and its cons.
Product Description

: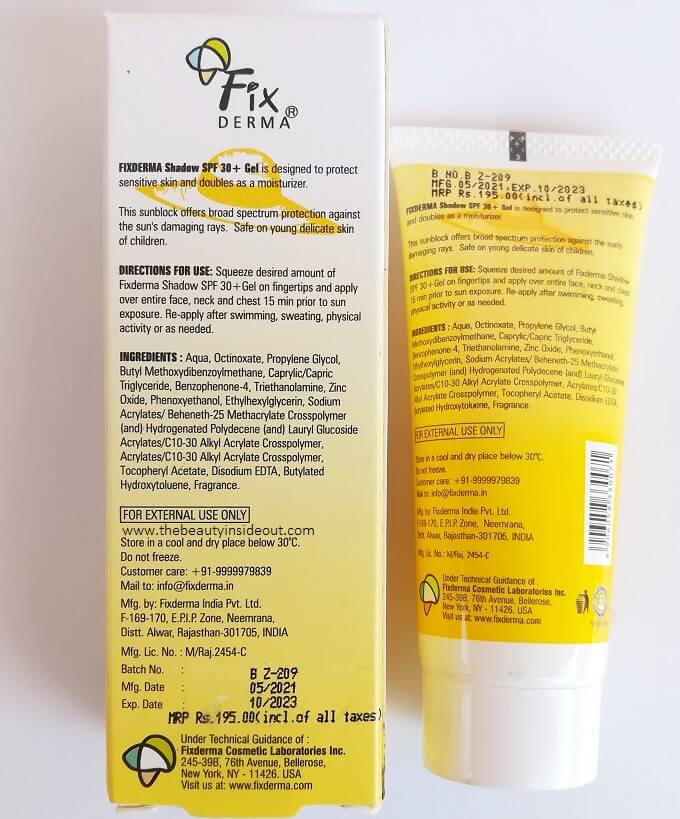 Fixderma Shadow SPF 30 Gel Sunscreen is designed to offer broad-spectrum protection against damaging rays. It's ideal for sensitive skin and doubles as a moisturizer.
Ingredients

: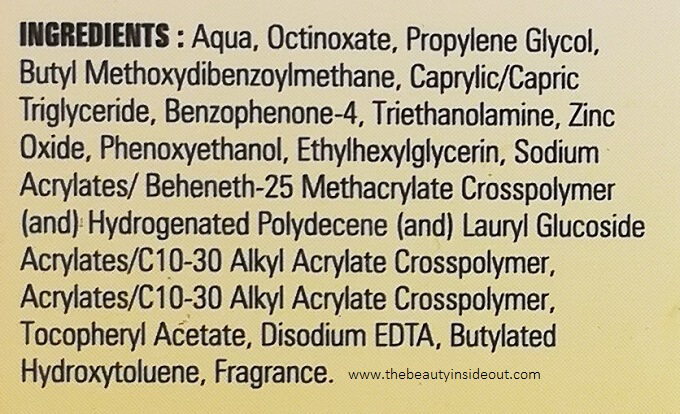 The Fixderma Sunscreen is a hybrid sunscreen with old-school chemical filters Octinoxate, Avobenzone, Benzophenone 4, and Zinc Oxide which is a physical filter. This sunscreen doesn't really have the best filters out there. But for this price, you can't ask more!
Price:
40 gms – Rs.175
75 gms – Rs.299
150 gms – Rs.475
Fixderma Sunscreen Gel Review
Packaging: The packaging of the Fixderma Sunscreen is pretty basic. It comes in a plastic tube with a screw cap. What makes it stand out is its bright yellow color print. The 150 ml variant comes in a pump dispenser bottle which I think is great.
Color & Texture: The texture is the best thing about this sunscreen. It is a gel-cream sunscreen with a medium consistency. It blends like a dream. You hardly need 30 seconds to apply this product.
Fragrance: The biggest con of the Fixderma Sunscreen is its scent. It has a strong fragrance that resembles men's grooming products. It's quite overpowering, to be honest. I got used to it after a couple of uses and it doesn't bother me much nowadays. Sensitive skin types might have to lookout for the fragrance.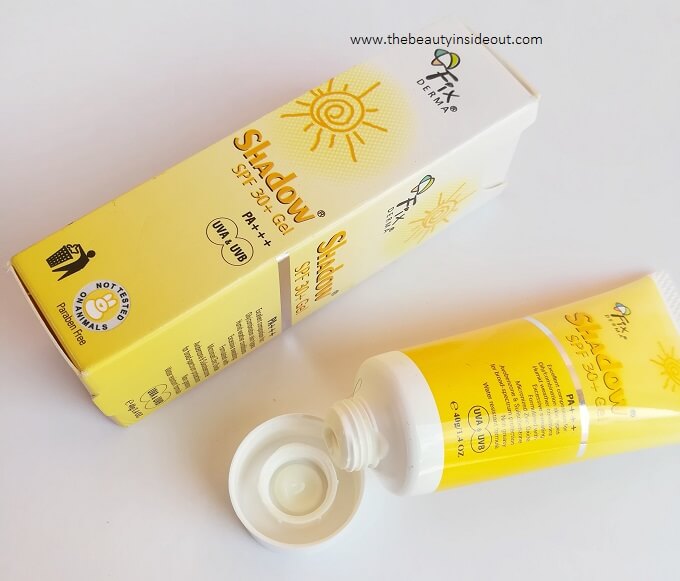 My Experience:
I've used this sunscreen for a month now and I can say it's definitely a repurchase material. I have combination skin and most of the days, I use it right after just cleansing on damp skin. Occasionally I'd use a hydrating toner when I need additional hydration. I use a big blob, about a big coin-sized amount of the gel. That is sufficient to form a uniform protective layer all over my face. The application of this sunscreen is so effortless; it blends super smoothly, feels like a watery gel. It does take a couple of seconds to dry/settle down on the skin. The sunscreen has a mild cooling sensation upon contact and definitely feels refreshing to use in my morning routine.
Another great thing about this sunscreen is its finish. It's incredibly lightweight and gives a non-oily, moisturized finish, that's neither matte nor dewy. And there is literally no white cast at all. It works exactly like a moisturizer and doesn't make my skin dull like many sunscreens. This Fixderma Sunscreen Gel is very comfortable on the skin like I have applied nothing on the skin. This is also one of those sunscreens that I'd like to re-apply. It doesn't sting or burn my eyes when used around the eye area. Also, it never broke me out.
Fixderma, the brand, released its clinical trials meeting the US FDA Standards wherein the sunscreen achieved an SPF of 35.08 which is more than what they claim (SPF 30). Despite that, I'm not 100% sure of its sun-protecting abilities. I wouldn't use this for heavy-duty sun exposure due to its low SPF PA rating as well as it being not sweatproof. It does melt away with sweat if you step out immediately after application. The key is to let it settle down completely before you step out. I mainly use it for indoor use and I didn't tan from the sun rays that come through my windows and the 10-15 min sun exposure while drying clothes on the terrace. For outdoors I'd recommend any of the Dermatologists Recommended Sunscreens.
The availability of this sunscreen in various sizes is a great thing. Because once you decide that you like this, you can get the 150 ml bigger bottle and prevent environmental wastage, unlike brands that come up with only 30 ml of product.
Pros:
Budget friendly.
Lightweight, watery gel cream texture.
Doubles as a moisturizer.
Zero white cast.
Reapplication is easy.
Available in various sizes.
Suitable for oily, combination & normal skin types.
Cons:
Strong fragrance.
Not for very oily or very dry skin.
Rating: 4.5/5
Would I recommend it? Despite its strong fragrance, its cosmetically elegant texture, skin feel, zero white casts, affordability makes it worth giving a shot. Especially if you need an indoor sunscreen that acts as a moisturizer, this is great.
Where to buy it?
Have you tried this? Share your thoughts.