Though I don't own many Coloressence products, it is a great brand for beginners as they are available at super affordable prices. My mom is an avid user of their products, she uses their Coloressence Panstick which I'll be reviewing today, HD loose powder and their Aqua Base Makeup Foundation. She's been having this panstick for such a long time that she repurchased her second stick. So I thought why not try it on myself . We both have almost the same skin tone, fair to wheatish, so I had no problem using her shade. Let's hop on to the product details.
Product Description:
It provides a long lasting finished base on the skin, with its moisture balancing and anti-aging formula. Its special components protects the skin against harmful effects of UV rays. It gives a smooth application to cover the flaws of the skin. Can also be used as concealer to give a flawless look to the skin.
Price: Rs.185 for 12.5 gm . Available easily both offline and online. You can buy it from HERE.
My take on Coloressence Panstick Roll-On :
One look of it reminds me of a lipstick. It has a similar twist up mechanism and comes in black matte packaging. The shade number is written on the bottom of the panstick and other details of the product are mentioned on the outer cardboard box in which the actual panstick came. The bullet is round and thick as opposed to lipstick bullets. In all, though boring, I like the packaging, it is user friendly and travel friendly.
These are available in 3 shades, I have the shade FS-5 Beige which suits my fair to wheatish skin. The other shades are pinkish beige and natural brown. Natural Brown is great for contouring fair skin tones.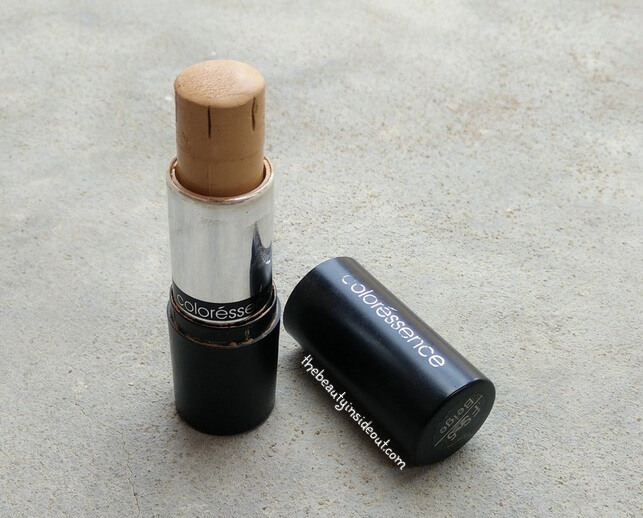 The texture of Coloressence Panstick is not oh-so-creamy rather it is thick but soft enough to glide on smoothly on moisturized skin. I just swipe the panstick across my whole face and start blending using a wet sponge. I find that it takes some effort to blend if I am using brush or fingers as the formula dries quickly. So I suggest blending in quickly or using a beauty blender. It gives medium coverage in a swipe but cakes up if layered upon. It covers minor blemishes and evens out my skin tone giving a natural looking skin. The finish is true matte with no hint of dewiness. On my oily skin it stays for a maximum of 3 hours after which my skin becomes oily and dull. I prefer using this only for quick casual outings.
Though I don't recommend skipping moisturizing, I just wanted to let you all know that when used directly on cleansed face, it accentuates fine lines and sticks to every dry patches on your skin. So moisturizing your skin with a heavy-duty moisturizer is a must, be it any skin type. This can be also used as a concealer as well as bronzer provided you pick the correct shade. Overall, with proper application techniques, this does perform well and gives a nice finish.
The only thing I don't like about this panstick is its prominent clove oil fragrance. It's way too strong for my liking and ladies with sensitive noses might not like it too.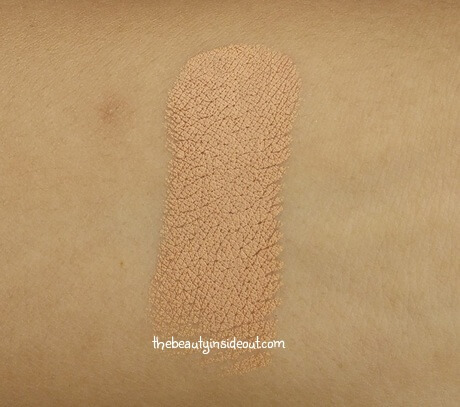 Pros:
Affordable price.
Travel friendly packaging.
Covers blemishes and acne marks.
Gives a natural matte finish.
Can be used as a concealer as well as bronzer.
Not tested on animals.
Cons:
Incomplete ingredient list.
Strong Fragrance.
Difficult to blend.
Might not suit not dry skin types.
Rating: 4/5
Recommendation : Yes. After all, this is a great affordable stick foundation plus concealer which provides good coverage and has a decent staying power.
Have you tried this Coloressence Panstick? Share your thoughts in the comments section below.
Also check out
Until Next Time,
Stay Beautiful♥