Aroma Essentials Lavender Face Wash is basically my second face wash from the natural skincare brand. I quite liked their Neem Face Wash for its beautiful after effects and now I got to try their Lavender variant which is meant for sensitive skin types. So without much talks, let's get straight into the details.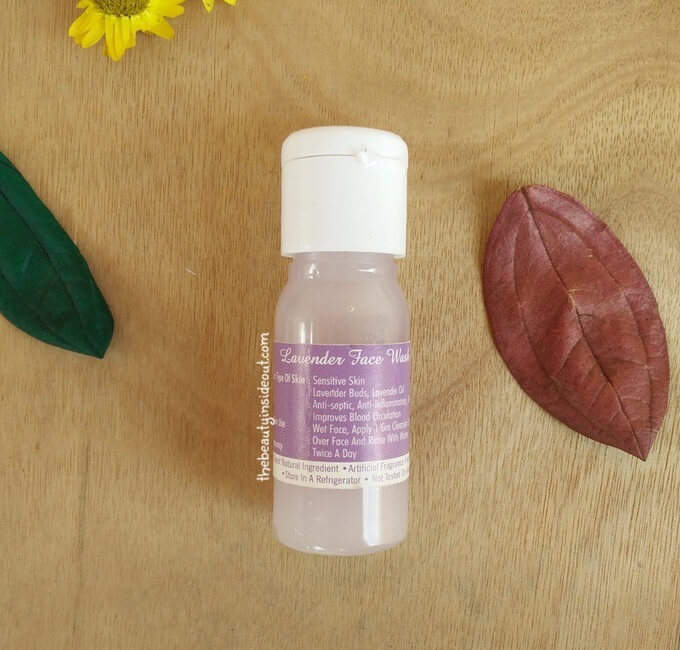 Skin Type: Sensitive Skin
Ingredients: Lavender Buds, Lavender Oil
Functions: Anti-septic, Anti-inflammatory, Improves Blood Circulation
Directions for use: Wet face, apply 1 gm cleanser all over the face and rinse with water
Frequency : Twice a day
Price : Rs.95 for 30 gm.
My take Aroma Essentials Lavender Face Wash:
Aroma Essentials Lavender Face Wash comes in a transparent plastic bottle with a flip top cap. All their face washes come in a similar packaging. Nothing too fancy but very travel friendly, hygienic and easy to use. The packaging does not mention the full ingredient list like always. Though one can enquire the brand directly, I prefer it to have printed on the packaging. Other details like price, quantity, expiry date are mentioned on the bottle.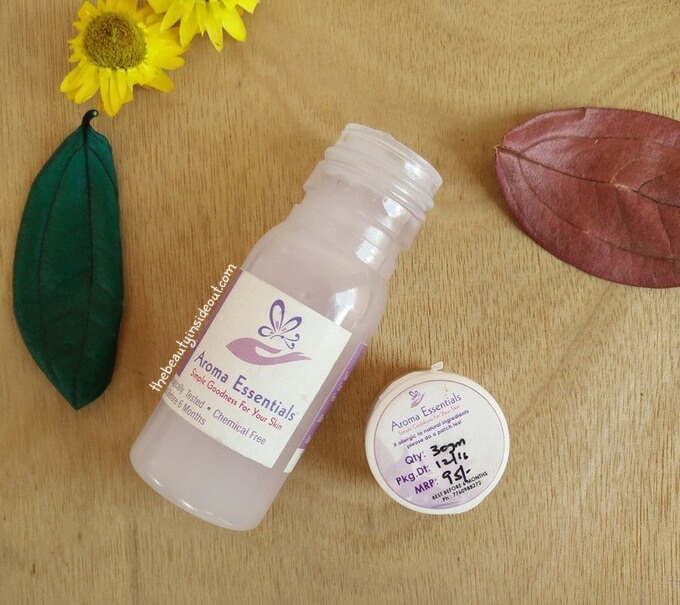 The face wash smells like lavender and has the color of lavender, as you can see from outside of the bottle and has a gel, semi-runny consistency. Like their Neem Face Wash, this too does not lather and goes on like a massage gel. On my dampen skin, I take a good amount of the product and massage it on my face and then wash it off with plain water. It cleanses efficiently pulling out impurities, dirt and oil from the skin. Post washing my skin feels squeaky clean and dry and it does not my make my skin soft and smooth to touch as it was with the Neem variant. Honestly my skin loved the Neem one much more than this.
Other thing that I noted is that when used in smaller quantities, I could feel the gel literally getting absorbed into the skin which does not happen with face washes usually. I don't think that's a bad thing, but it was quite peculiar for a face wash to be like that.
Pros:
Made with natural ingredients.
Travel-friendly packaging.
Nice Lavender Essential Oil fragrance.
Gel consistency.
Cleanses the skin effectively and efficiently.
Suitable for very oily skin types.
Not tested on animals.
Cons:
Incomplete ingredient list.
Dries out the skin.
Must be stored in refrigerator.
Not easily available.
Rating: 3/5
Recommendation: May be. If you like lavender fragrance. For me, I would skip this and get the NEEM variant.
Also check out
Until next time,
Stay Beautiful♥