I like to call myself a highlighter stockholder. At least after highlighting, contouring takes over the makeup world. I have been obsessed with highlighters. Subtle to blinding, powder to the liquid you name it and I have it. But being a college broke girl I am always looking for what's best in the drugstore. This year after wet n wild launched in the Indian market it certainly became one of my favourite brands. It is cost-effective and true to its claims. I have known of their highlighter for quite sometime now. It is well rated all over the world. So obviously when it was available in India I knew I had to try this immediately! So today I am going to review the famous Wet n Wild Highlighter in Blossom Glow and if you are interested then keep on reading.
Product Description:
Wet n Wild Highlighter is made with ultra-reflective pearl ingredients which is finely melted. This is supposed to give everyone shine and glow inside out without being powdery or chalky. It has a very creamy formula with nylon extracts for easy blending without taking too much time or energy.
Ingredients: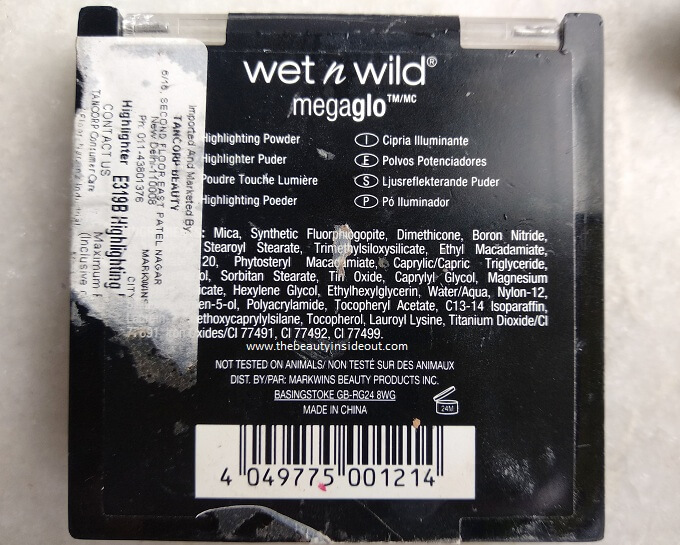 Price: 499 INR
Quantity: It is not mentioned anywhere.
Availability: Only online right now
Wet n Wild MegaGlo Highlighter Review
Packaging: The Wet n Wild Highlighter comes in a square box with a plastic lid. It has the shade and brand's name with logo in the front and other ingredients, manufacturing date and time in the back cover. The packaging is very weak in my opinion. The plastic case can break in any moment and the product can get affected. It also looks cheap. And the product build is not excellent for traveling. You definitely have to handle it with care.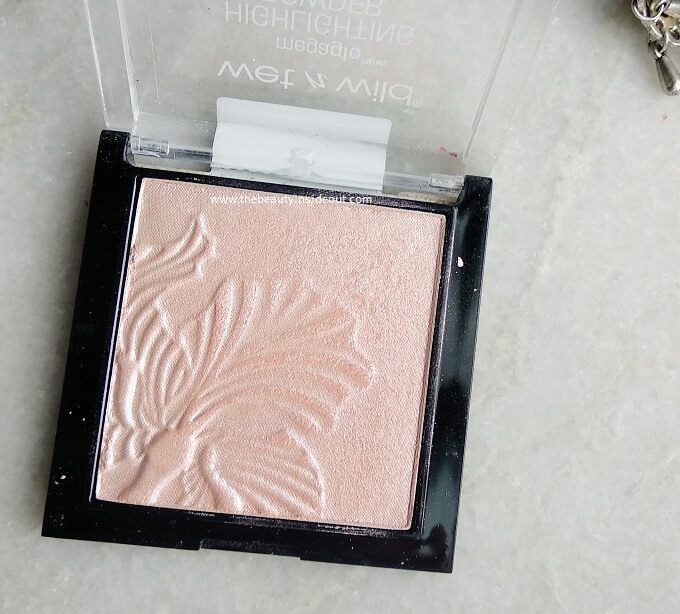 Shade: I bought the Blossom Glow shade which is pearly pinkish in colour. It is most flattering on fair to light skin girls with any kind of undertones.
The product comes in different shades with different names. Like Precious Petals is more of a golden shade whereas Winter Falls in LA is an extreme white colour. So please remember that, when buying online.
Texture: It is a baked highlight which is very creamy in texture. It is buttery soft when blending. I didn't find it chalky or powdery on my dry skin whatsoever. But it has some shimmer in it so if you are not a fan of that then I think you will like to pass this particular product.
Fragrance: It doesn't have any fragrance which is lovely.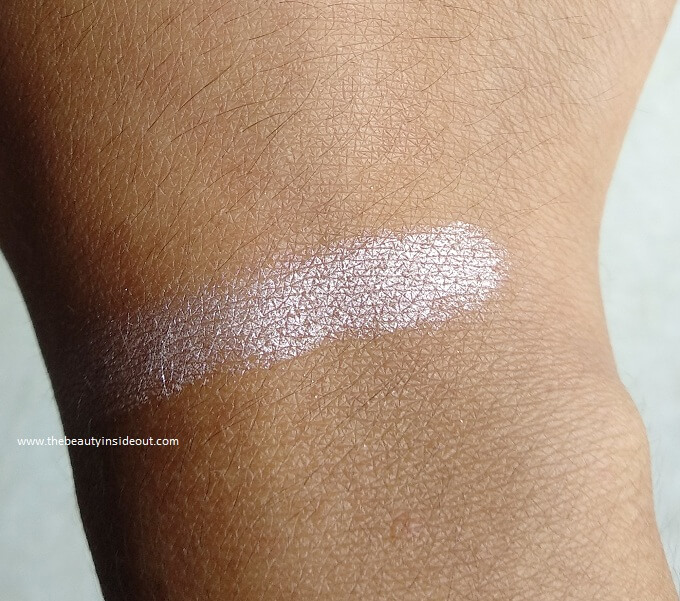 Performance: The Wet n Wild Highlighter is perfect when you need that glow! It is great for special events or weddings as it is a blinding highlighter. You have to use very little amount otherwise you can look like a disco ball rolling around. Being said that this highlighter will go for ages even when you use it every day. I have been using this for 1 year and it is not even half empty. I think half of the half is not spared by me!  And Yes as per the claim, the highlighter blends like a dream. I use this with a fan brush when I need that tremendous amount of glow, other than that I use my finger to tap on the highlighting areas and even with fingers it doesn't take much time to blend, which is great for everyday purpose.
However, it doesn't give me any inside out glow. One can definitely tell you are using a highlighter because of the shimmering particles present in it. The staying power of this MegaGlow product is decent. It wears off after 6 hours in summer days. But what I like most about the product is that when it wears off, it doesn't look like patches sitting on the skin. It is more like a tint of highlighters in my cheekbones, which gives me subtle yet convinced look.
Pros:
Blends like a dream, even with fingers.
Very pigmented formula.
Not chalky and powdery.
Good for wedding and special events.
Value for money as it lasts for ages.
After wearing off, it gives me a tint of glow which looks stunning in person.
Cons:
Only available online.
Doesn't give inside out healthy glow.
Has shimmering particles.
Poor packaging.
Rating: 4/5
Would I recommend? Yes I recommend this product. It's a great affordable buy.
Related Reviews: