Special occasions always calls for facials. But going to a parlor can be time consuming as well as expensive for many of us. VLCC gives us an opportunity to do facials at the comfort of our homes with its wide range of facial kits. Myself having tried their Ayurveda and Anti-Tan Papaya Facial Kit decided to get the VLCC Diamond Facial Kit next, because this is one of their most popular and best selling kit along with the Gold facial kit. A few days ago I tried this kit and let me share how this fared on me.
Let me begin with the packaging. VLCC Diamond Facial Kit comes in a simple black colored card box which is furnished with various details about the products in the kit. If you are new to facials and are wondering how to use the facial kit, you need not go look elsewhere, everything is clearly mentioned on the box step by step which is a big plus for beginners as well as experts.
What I hate the most is the sachet packing. The products definitely comes for more than one usage and storing them for later use is a big hassle. I am sure I won't be doing facials that often, may be once a month and by that time, the opened sachets would get contaminated due to exposure of air. I am not even asking for tubes, but if they can make the comfrey cleanser sachet alone with a screw lid, why not the others!! And the last product of the kit, the SPF moisturizer, it is such a waste, the product is good but is wasted due to that poor packing.
The VLCC Diamond facial kit has 6 products in it which includes
VLCC Comfrey Cleanser Cum Toner
VLCC Diamond Polishing Scrub
VLCC Detox Lotion
VLCC Diamond Massage Gel
VLCC Diamond Wash off Mask
VLCC Oil Free Moisturizer with SPF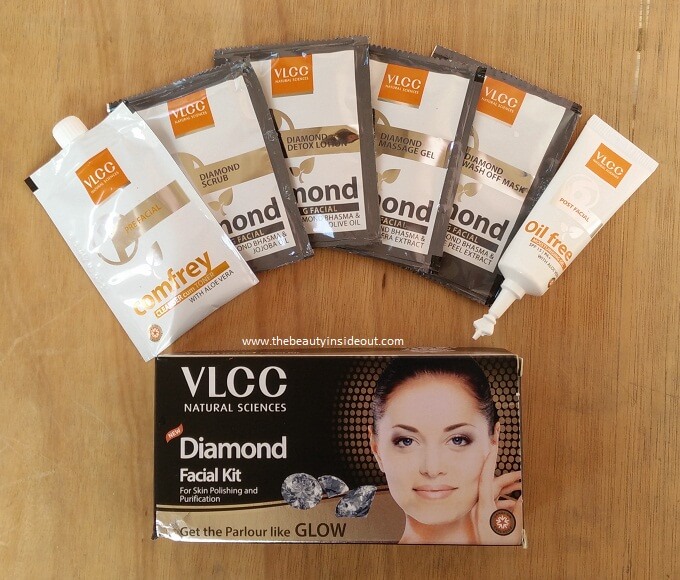 Ingredients:

Price: 350 INR
How to use VLCC Diamond Facial Kit?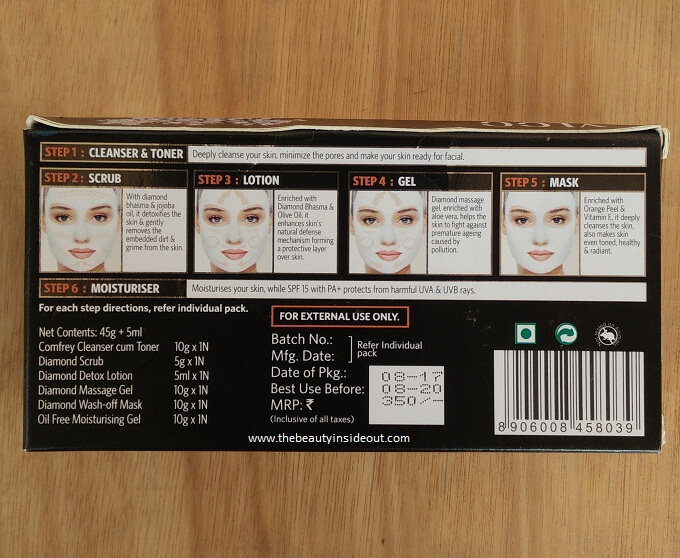 Step 1 : VLCC Comfrey Cleanser Cum Toner with Aloe Vera
This is the first and a pre-facial step. Basically this looks and feels like a cleansing milk due to its milky and lotion consistency. The product smells really nice in spite of having an artificial fragrance. I began my facial with this cleanser and toner. I took quite a lot of the product and massaged on my damp skin and then wiped it off with a cotton ball, just like how I use a makeup remover. The cleanser removed dirt from my skin very well and left it clean, smooth and supple without any oily feel. This is a cleanser cum toner, but I did not see it working like a toner, almost doing nothing for my pores except cleaning them. Anyways, this was a much needed prepping step and it did serve its purpose.
Step 2 : VLCC Diamond Scrub with Diamond Bhasma and Jojoba Oil
The second step is the usage of the scrub. The Diamond Scrub is colourless with lots of tiny glittering particles which are supposedly "diamonds". The scrub has a jelly consistency and glided easily on semi-damp skin. As per the instructions, one is supposed to massage the scrub for 5 to 7 minutes. But since the particles were a bit harsh, I massaged only for less than 5 minutes using gentle hand. The scrub feels oily on the skin due to the presence of Jojoba oil. But once I wiped off using a cotton, the oiliness were gone and my skin was soft and hydrated. Since the granules are small and rough on the skin, my stubborn blackheads on my nose were gone for good. The fragrance of the scrub is also mild, so I kind of liked this scrubbing session.
Step 3 : VLCC Diamond Detox Lotion
This is a milky white lotion with a mild scent to it. Due to its runny consistency, I needed only a little of the lotion. The lotion is very lightweight on the skin and gets absorbed very quickly leaving the skin super soft and mattifying. However, I do not know what is the use of applying this lotion as this step made no difference to me actually. This step does not require removal, the lotion gets absorbed and you are good to go for the next step.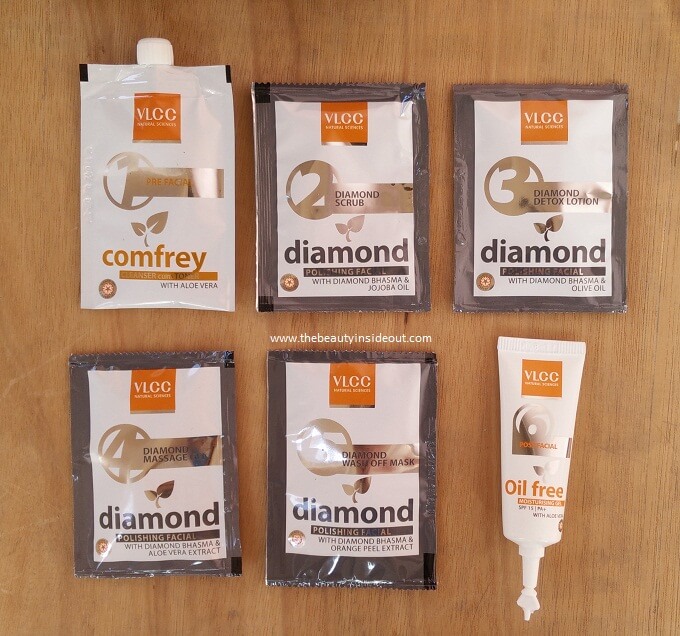 Step 4 : VLCC Diamond Massage Gel
This is the most important step for any facial. A good massage gel and proper techniques is what makes a facial stand out. The VLCC Diamond Massage Gel almost looks like the step 2 Diamond Scrub which is colourless with glitters in it. The only difference is that this is a smooth gel and the glitters are not scrubbing particles, rather they are just glitters that are smooth. The massage gel is emollient enough for massaging. I took ample time for this step, massaging in gentle strokes in upward direction. Once done, I wiped off the excess with a cotton ball and proceeded to the next step.
Step 5 : VLCC Diamond Wash off Mask
After all the massaging is done, a good mask is really needed to reveal the inner glow. The first thing one will notice in this diamond mask is its strong pungent smell. It is totally bothering!! This is not a dry clay mask but a lotion type mask. It has a smooth milky lotion texture and I required only a little of it to cover my entire face and neck. I applied only a thin layer as I could feel some tingling sensation immediately upon application. I washed off the mask after 5 minutes or so, as I couldn't bear the stinging. The mask was still damp when I removed it. But it looks like the 5 minutes was more than enough as my skin was glowing like a bulb after rinsing off the mask. It brightened up my skin significantly and everyone I met after that could easily tell that I had a facial done.
Step 6 : VLCC Oil Free Moisturizer with SPF
I'm glad that they have included this SPF Moisturizer in the kit. This comes in a one time use tube that when open cannot be closed. I hated this packaging the most! I required only a little of the product but couldn't store it for later use because of the poor packaging. The gel moisturizer has a strange yellow colour to it but has a light weight formula suitable for oily skin. The moisturizer is mattifying and would not provide much moisture for dry skin. The moisturizer has a hardly noticeable fragrance which I like.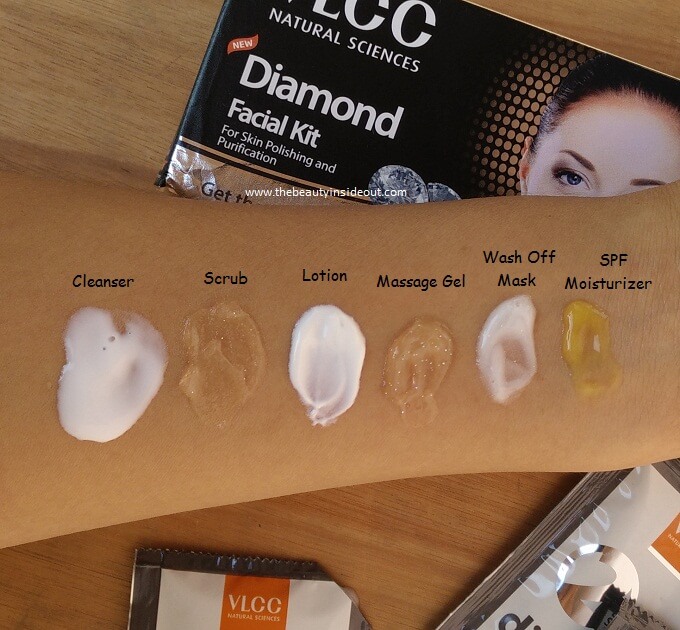 Overall VLCC Diamond Facial Kit is an amazing kit that give great results. Although I do not actually believe the "Diamonds" in it, I loved how this made my skin brighter and glowing. And yes the results were temporary. But with proper skin care routine, the facial effect lasted on me for a whole week. So I would suggest taking good care of your skin post any facial for that matter. The mandatory step being the usage of a sunscreen all the time and staying away from sunlight as far as possible. In all, compared to the two other facial kits that I tried, the VLCC Diamond Facial Kit scores an extra point from me.
Pros:
Proper usage directions given on the packaging.
The kit comes for more than one usage.
Suitable for most skin types.
Gives amazing results.
Effects lasts for a week.
Did not break me out.
No adverse skin irritations.
Cons:
Poor packaging makes storage impossible.
Not completely free of chemicals.
Rating: 5/5
Do I recommend? Definitely yes. Go get the Parlour like GLOW with this VLCC Diamond Facial Kit.
Also read: