This is the second product that I have been trying out from the Luxury Herbal Brand Vanya Herbal. Earlier I've reviewed the Gulaabcare Face Cream and in today's post, I'll be reviewing the Vanya Herbal Haldi Clear Tulsi & Turmeric Oil Face Cleanser. This is not your typical foaming-drying face wash rather a gentle soothing cleanser. Read on to know more about this product.
Product Description:
Tulsi & Turmeric Oil Face Cleanser is a blend of 100% pure aloe vera juice and Himalayan essential oils of tulsi and turmeric. Pure essential oils of Himalayan Tulsi and Turmeric are perfectly blended with Himalayan Juniper to create a natural cleanser. Use regularly morning and evening to combat pollution, dirt and brightens the skin.
Ingredients: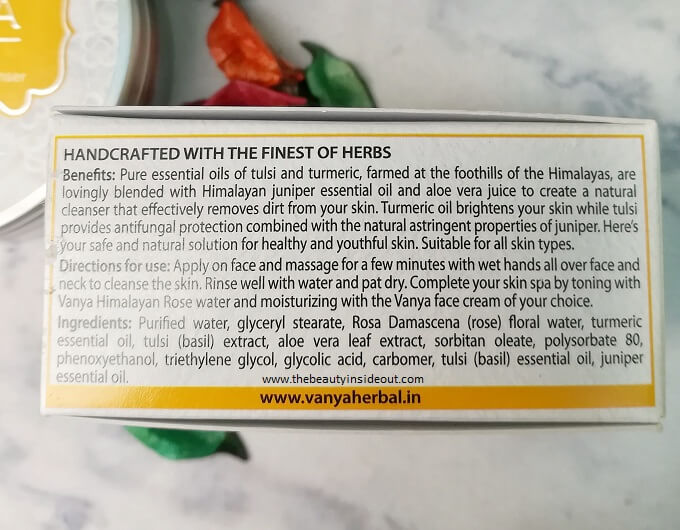 Price: Rs.795 for 60 gms
Where to buy? Vanya Herbals
Vanya Herbal Haldi Clear Tulsi & Turmeric Oil Face Cleanser Review
Packaging: Vanya Herbal Haldi Clear Tulsi & Turmeric Oil Face Cleanser comes in a round aluminum tin with a protective lid. The packaging is intact and does not cause spillage or leakage when travelled with it. The tin comes housed in a white card box which has various details about the product including its ingredient list, how to use them and manufacturing & expiry dates. The whole packaging is environmental friendly and reusable.
Color & Texture: This has the texture and feel of a cleansing milk. It is pure white in color and has a smooth lotion like texture.
Fragrance: The cleanser has a herbal scent. To be precise, it has dominant notes of Basil Essential Oil with hints of Juniper Essential Oil. It smells ayurvedic and soothing to my senses.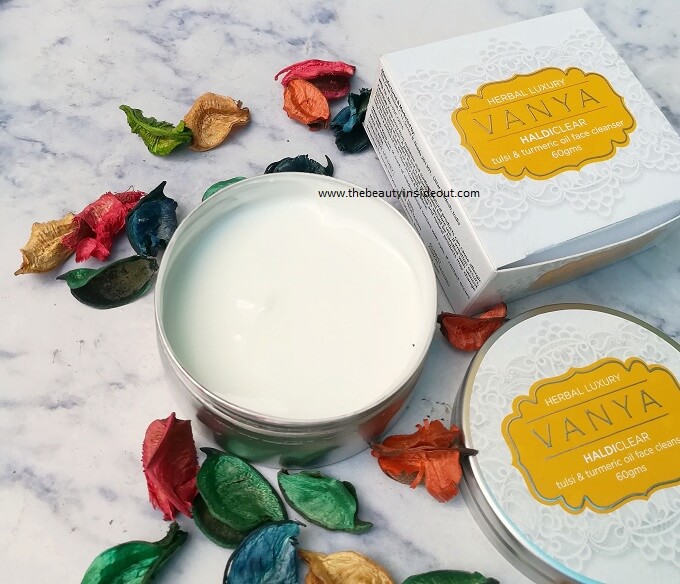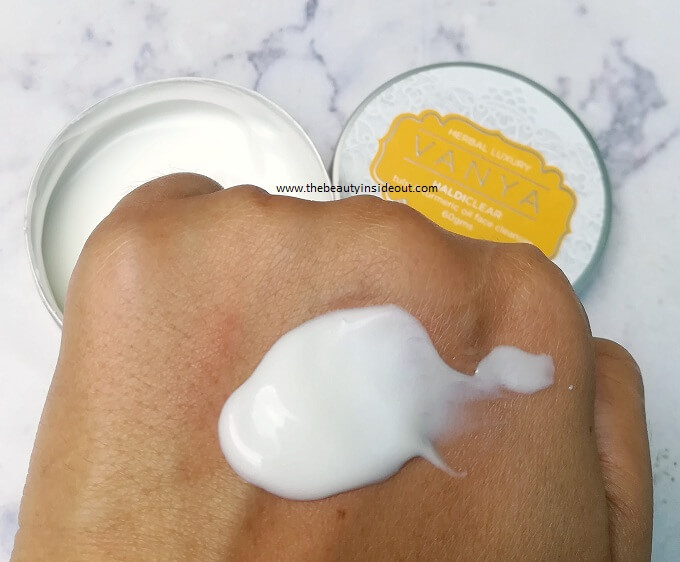 Experience: This face cleanser is actually a cleansing milk that does not foam up. I usually take a little of the lotion and massage it all over my face and neck and rinse it off with water. It washes off easily without leaving any slippery residue behind. Although it does not foam up, it cleans the skin really well. It removes skin impurities and clears the pores so well. It does not strip off the skin's natural oils while giving a fresh looking skin. On days when I wear makeup, I use a cotton pad to gently wipe off the lotion after massaging. The cleanser is able to remove makeup efficiently. At the end of the day, the cleanser leaves the skin clean, clear and brighter. The cleanser has anti fungal and natural astringent properties, hence its specially great for those who are prone to acne and pimple breakouts. It has also got small quantities of glycolic acid which is very effective in treating acne.
Overall, the Vanya Herbal Haldi Clear Face Cleanser is one that will be highly beneficial for oily and acne prone skin types due to the presence of various acne treating ingredients in it.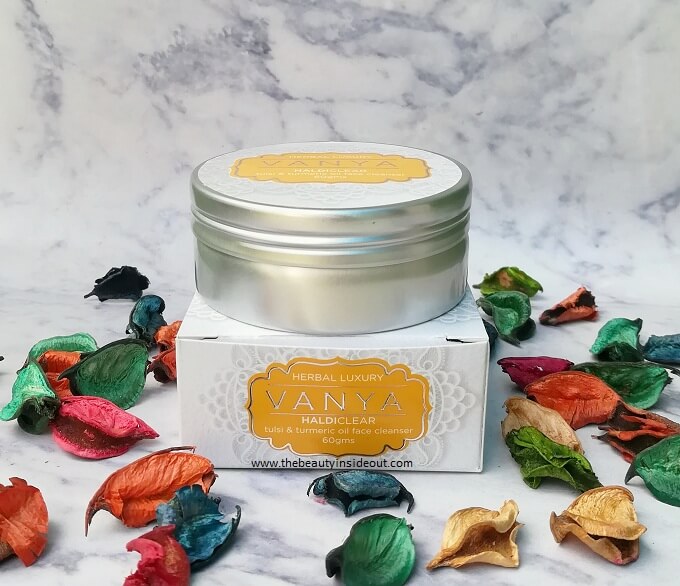 Pros:
It is a cleansing milk, hence very gentle on the skin.
Effectively remove dirt and impurities.
Does not dry out the skin.
Environmental friendly packaging.
Disclosure of full ingredient list.
Sulphate & Paraben Free.
100% Vegetarian.
Cons:
Essential oil based so may not suit sensitive skin types.
Price could have been better.
Rating: 4.5/5
Would I recommend? Yes, it's a great herbal cleanser that doesn't hide what goes inside it in the name of actives and inactives! It cleanses the skin and makes your skin fresh and healthy looking.