Today I am going to review Lotus Herbals Natural Glow Skin Radiance Facial Kit. This is one skin care product that I buy again and again. Facials at spas and parlours have become extremely expensive these days. Plus, parlour service and waiting time in the queue are also bothersome in parlours during rush season. These are the reasons I have decided to cut back my monthly parlour-time. I have bought a few parlour essentials like a facial kit, a mani-pedi kit and some tools for eyebrow shaping and waxing. Every month I free a day to do all the parlour chores at home and believe me the results are almost same as parlour. I have been able to save a lot in this way as well! The Lotus kit I am reviewing here comes under Rs.200 but at the parlour a facial using the same kit used to cost me 400-450. This kit contain 5 individual sachets of different items needed for a facial. Let's read on to find more about this kit.
Product Description:
Lotus Herbals Natural Glow Skin Radiance Facial Kit is perfect to include in your daily skin care routine as it cleans and exfoliates dull skin to give smoother skin. It lightens, tones, firms and nourishes skin. It also rejuvenates dull and dehydrated skin making your skin soft and supple.
Ingredients: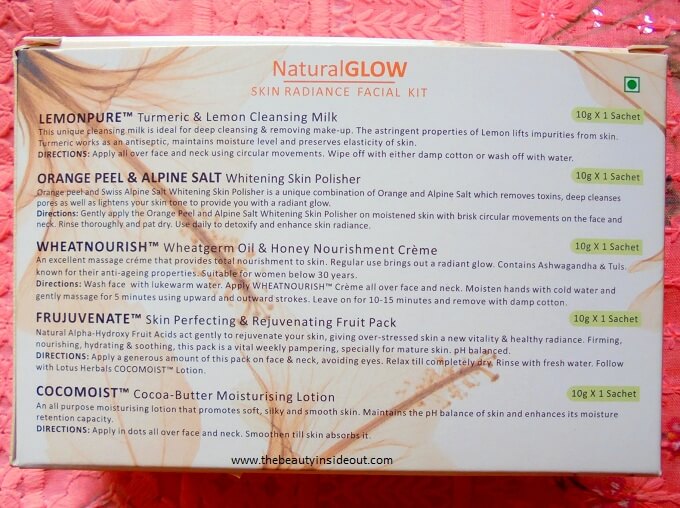 Price: Rs.185 for 5 sacket kit of 50gm
Where to Buy? This facial kit is available online at different shopping sites like amazon and nykaa. It is also available at local beauty stores and counters of Lotus herbals.
Lotus Herbals Natural Glow Skin Radiance Facial Kit Review
Packaging: The Lotus Herbals Natural Glow Skin Radiance Facial Kit comes in a small cardboard box. The box mentions important details regarding each product and their elaborate usage steps. Inside the box there are five individual sachets containing 10ml product each. The sachets are for one-time use so there is no resealing mechanism in them. The product inside remains secured. Once you learn the usage details you don't even need the outer pack. You can travel with just the sachets. So, the kit is extremely travel-friendly in that sense.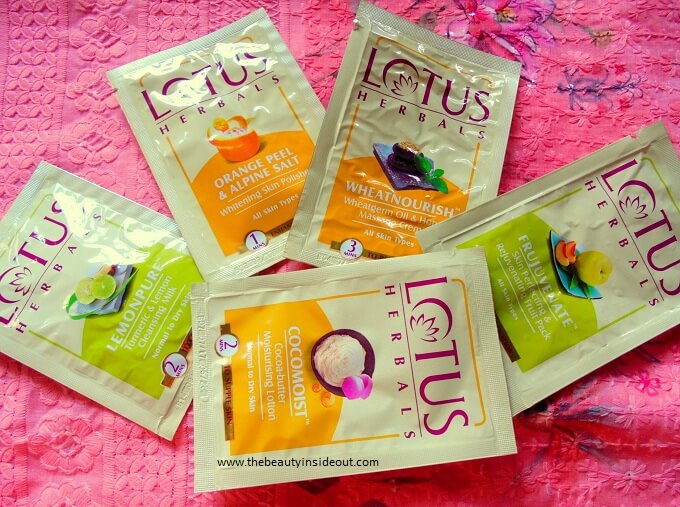 My Experience with Lotus Herbals Natural Glow Skin Radiance Facial Kit:
This facial kit contains five different products to be used as 5 steps to complete a facial. Here I am listing the products one by one and sharing my experience on them.
1. Lemonpure Turmeric & Lemon Cleansing Milk- This is the first step. This helps to get rid of makeup, excess oil, dirt or any other superfinial impurities. The cleansing milk is off-white in colour and has thick consistency. It has a very soothing citrus aroma. I have oily-combination skin so I generally use my regular face wash after using this cleansing milk. I apply this all over the face and neck and massage gently for 2 minutes and then wipe it off with a cotton dipped in lukewarm water. This cleanser is quite creamy so it might leave the skin oily if used alone.
2. Orange Peel & Alpine Salt Whitening Skin Polisher- This is a gel based scrub containing scrub beads made up of alpine salt. The salt beads are quite sharp so this is a heavyduty exfoliator. It has a light orange zest aroma. I use this scrub in very little amount as I use a salicylic acid based exfoliating face wash on a regular basis. I always wet my face before scrubbing. It helps in spreading scrub beads evenly and provides enough slip to massage. This scrub deeply cleanses the skin and provides an instant brightness.
3. Wheatnourish Wheatgerm Oil & Honey Massage Creme- This is a very thick and heavy cream with very soothing incense kind of aroma. This cream really rejuvenates the skin and makes the skin soft and smoother to touch. It helps to get rid of dull and dehydrated skin and brought a nice glow to the skin. As this is a heavy cream I don't keep it on my skin more than 8-10 minutes. I also wet my hands from time to time to ease the massaging process.
4. Frujuvenate Skin Perfecting & Rejuvenating Fruit Pack- This is a clay based face pack with green apple and peach. Though it has clay base, it is a non-drying face mask. It spreads evenly on the skin and freshens up my skin. I didn't experience anything great from this pack so I sometimes use Lotus's Claywhite or any other clay mask that gives better result.
5. Cocomoist Cocoa-butter Moisturizing Lotion- This is a lightweight moisturizing lotion for normal to dry skin. It has rosy floral fragrance. Its creamy and nourishing formula helps to lock the moisture to the skin. I don't have dry skin so I use it as the last step of facial only when my skin is feeling dehydrated. Otherwise I use my regular moisturizer.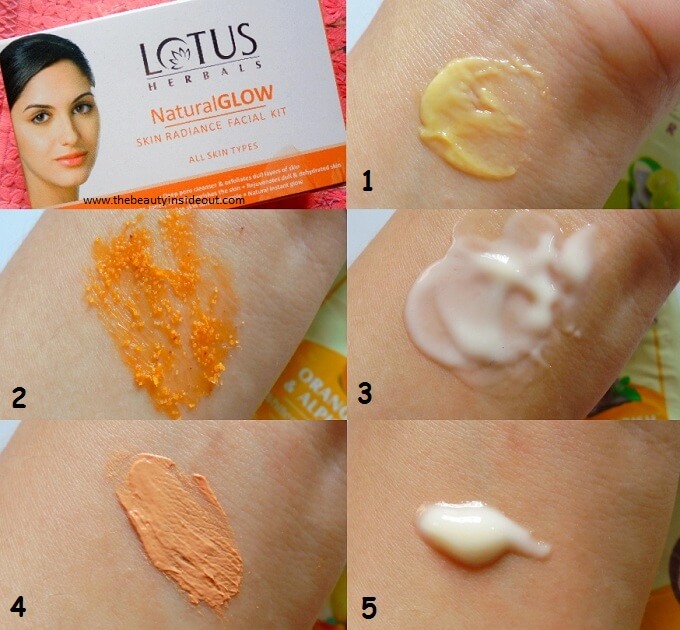 Almost all the products in this kit contain some ingredients like wheatgerm oil, almond oil etc. that have been reported for pore-clogging experience by various scientific studies. Though these are all natural products, they might cause pimple of clogged pores if used more than 1-2 times a month by someone with oily and acne-prone skin. Some of the products in this kit are available individually. When I used Lemonpure and Cocomoist on a regular basis I had pimples but using them once a month in this kit worked just fine.
Pros:
Five step facial kit for both men and women
Gives parlour like facial cleanup experience at home
Deeply cleanses the skin
reduces dullness and brings glow
Easily available and pocket-friendly
Cons:
Not suitable for extremely sensitive and acne-prone skin
Rating: 4.75/5
Would I Recommend? This is a great facial kit for home use for all skin types except for sensitive and acne prone skin. I would recomeend this to both men and women. If you have any occasion to attend or want a regular facial cleanup but don't have time for a parlour visit then this one will surely save the day.