Today I am going to talk about Lotus Herbals Claywhite Black Clay Skin Whitening Face Pack. Clay based face packs are not a very new concept in Indian ancient ayurveda. We have been using various types of clay fuller's earth, kaolin, volcanic clay etc. for thousands of years due to their skin care benefits. Lotus's Claywhite face pack is based on three types of skin-friendly clay; kaolin clay, bentonite clay and black clay. All these clays are known for their moisturizing and skin brightening properties. These are the milder clays that do not dry out the skin. This mask also contains liquorice, bearberry and gum acacia extracts for dullness reduction. Let's read on to know more about this mask.
Product Description:
Lotus Herbals Claywhite Black Clay Skin Whitening Face Pack provides brighter skin with black clay, bearberry extract and liquorice extract. Black clay is very rich in minerals and silica; helps brighten facial complexion. Bearberry extract, rich in arbutin, and liquorice extract help lighten facial complexion.
Ingredients: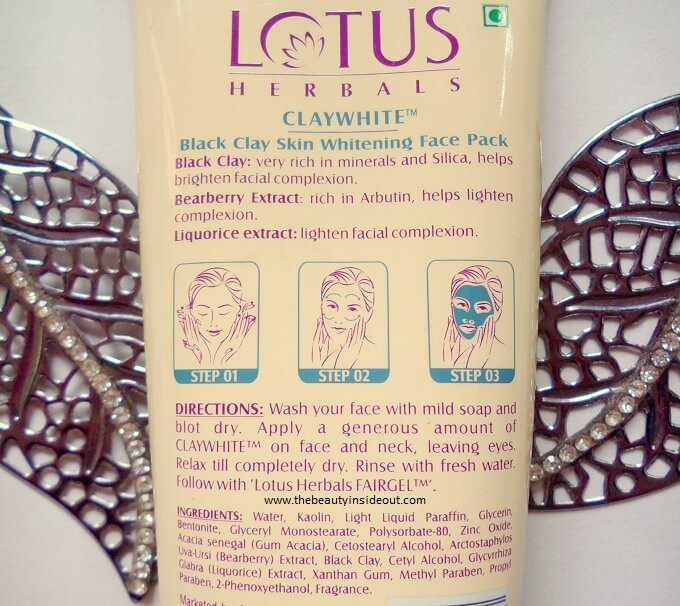 Price: Rs.190 for 60gm
Where to Buy? This mask is easily available both online and offline.
Lotus Herbals Claywhite Black Clay Skin Whitening Face Pack Review
Packaging: This mask comes in an off-white plastic tube with translucent flip-top cap of same colour. The body of the tube is opaque so there is no other way than squeezong to know how much product is left in it. The packaging is sturdy enough and not made up of flimsy material. This is available in two sizes; 60 ml and 120 ml. I have bought the smaller size; this is travel-friendly.
Color & Texture: The pack is grey in colour and has medium thick texture. This is a mud based pack so it has dense consistency. Still it applies smoothly on skin. Some mud based face packs need certain amount of rose water, curd or any other solvent to reach to applicable consistency but this pack applies evenly on its own. It does not have a very drying texture so there is almost no cracks when it dries completely on skin.
Fragrance: It has a very light and sweet herbal smell. The fragrance does not feel over powering. I don't like heavily fragrant products and this one does not have that heaviness to its smell. The fragrance helps in relaxing instead. A faint hint of fragrance stays after washing it off from the face for about 5 minutes.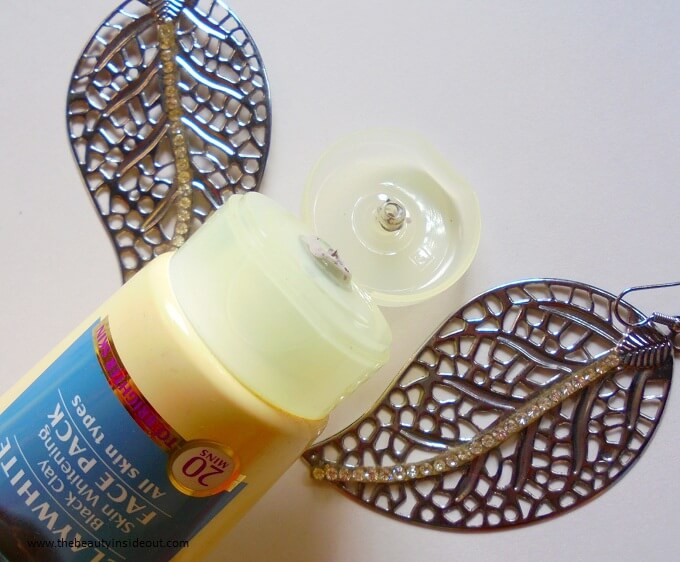 My Experience: I have severe clogged pore issues so I use strong ingredients like Salicylic Acid and tea tree oil in my skin care. These ingredients often leave my skin drier than usual so I generally avoid clay based face masks. While searching through the web for a suitable clay for my skin I found about several moisturizing clays. Bentonite, kaolin and back mud clay are three such nourishing clay that brighten the skin without over drying. Since, this particular mask has all three, I quickly bought this and started using. This mask is thinner than basic Multani Mitti masks and it takes 15-20 minutes to dry. It does not waste much water while rinsing it off from the face. It gets rid of excess oil and brings an instant glow to the skin. The skin feels soft and deeply clean. It does not cause redness or temporary irritation to my skin like Himalaya face packs. It is not an anti-pimple product so it does nothing to my pimples. It does not aggravate them or lessen them.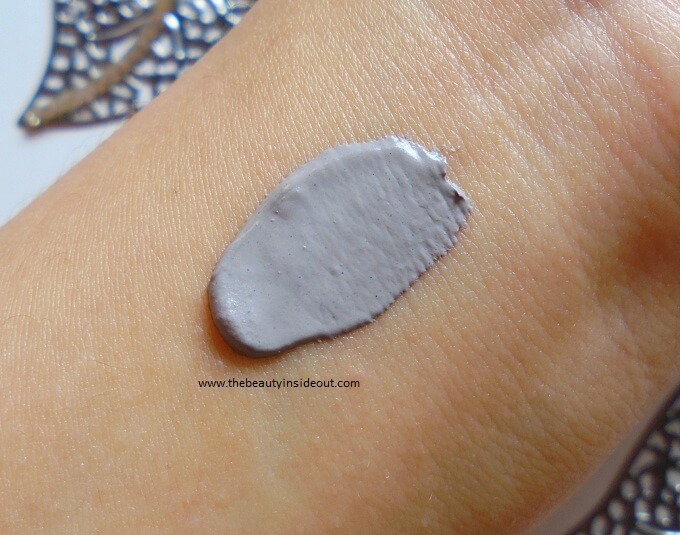 Pros:
Clay based face pack with kaolin, bentonite and black clay
Provides deep cleansing effects
Removes excess oil and dullness
Brings instant glow
Nice soothing fragrance
Does not dry out my skin
Easily available
Cons:
Contains methyl and ethyl paraben
Noticed no long term benefits or fading of acne marks as such
Considering the performance, price could have been lesser
Rating: 3.75/5
Would I Recommend? The Lotus Herbals Claywhite Black Clay Skin Whitening Face Pack instantly brightens my skin and provides a nice calming effect to my tired skin. That is why I like it and will repurchase it. I would recommend this to people of any skin type. This is one of the few clay masks in the budget category that even the dry skin prople can use. My suggestion would be, go for this if it is on sale.