Chemical Exfoliation is the most trending topic in the beauty industry for the last decade. From vigorously rubbing sugars to science-based acids we have surely come far. If one wants to put down one skincare brand which legitimately revolutionized the idea behind acids you have to name The Ordinary. Its no-fuss skincare with budget-friendly and easy-to-accessible approach made us fall in love with skincare in the first place. I have particularly used many products from them but never a chemical exfoliant. So when my Acnes Hydrating Toner came to an end I knew I had to try this. Read on to know my experience with The Ordinary Lactic Acid Serum.
Product Description:
Providing clinical solutions with integrity The Ordinary brings this gentle Lactic Acid Serum with Hyaluronic Acid to you. This particular high-strength Lactic acid's superficial peeling formulation gives you even-toned skin within one use. This has berry extracts that help with inflammation and sensitive skin problems.
Ingredients:
Water, Lactic Acid, Glycerin, Pentylene Glycol, Potassium Citrate, Arginine, Triethanolamine, Sodium Hyaluronate Crosspolymer, Tasmannia Lanceolata Fruit/leaf Extract, Acacia Senegal Gum, Xanthan Gum, Trisodium Ethylenediamine Disuccinate, PPG-26-Buteth-26, Ethyl 2,2-Dimethylhydrocinnamal, PEG-40 Hydrogenated Castor Oil, Ethylhexylglycerin, 1,2-Hexanediol, Caprylyl Glycol
How to use

?
After cleansing your skin, take 2 to 3 drops of the serum and apply it all over the face.
Once dried, apply a good soothing moisturizer.
For beginners and those with sensitive skin can follow short contact method (wash it off after few minutes)or sandwich method (cleanse-moisturize-serum-moisturize) or use it mixed with your moisturizer.
Use this exfoliating acid twice or thrice a week in your PM routine as it can cause sensitivity and use a broad spectrum sunscreen in AM.
Avoid using other AHA's, BHA's, Retinol, Vitamin C, Benzoyl Peroxide in the same routine.
Price: $6.80 for 30 ml.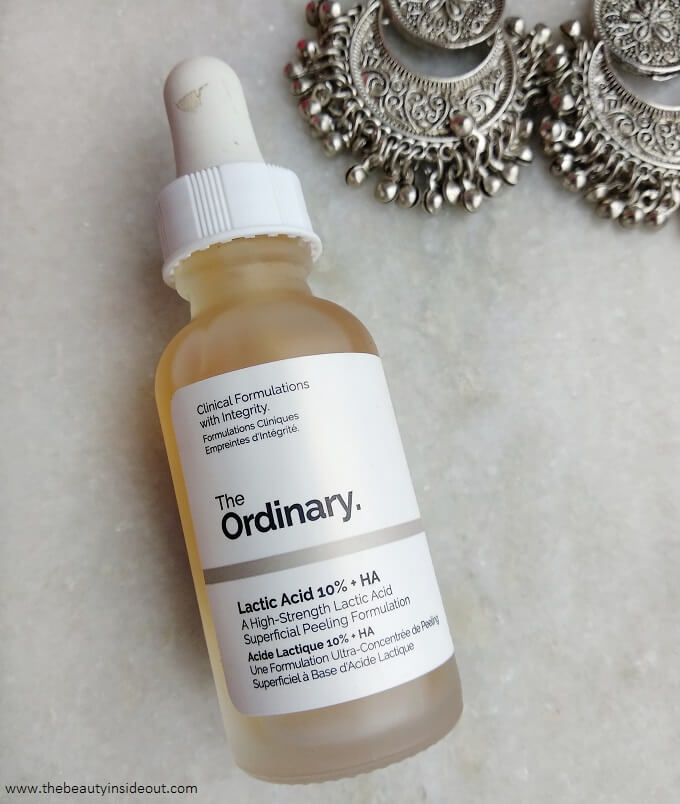 The Ordinary Lactic Acid 10 + HA Review
Packaging: The Ordinary Lactic Acid Serum comes in a frosted glass bottle with a glass dropper. The product build is aesthetically pleasing despite its minimalistic, medicinal looking packaging. But I suppose you have to take extra precautions if you plan to travel with it as glass can break and it can be quite messy. The dropper looks high quality which is great at this price and I never had a problem with it.
Texture: The product is a muddy yellow colored liquid. It's easy to spread and blend on damp skin but if you put it on dry skin I suppose you have to use a lot more product than necessary.
Fragrance: The Ordinary Products are free from added fragrance. If I'm being too technical, the Lactic Acid Serum has a chemical smell from the ingredients used, but it goes away after you put it on the face.
My Experience:
Firstly, if I look at the claims it perfectly does what it claims. The serum doesn't overly damage my skin barrier and hydrates my skin to the point it looked like I used a hydrating toner. I have used chemical exfoliators before so this doesn't really irritate my skin. Just the first time I used it, I felt a very mild sensation. The serum sinks in almost immediately with no tacky finish. It gives a plump look to the skin due to the hyaluronic acid in it.
I've been using this serum twice a week for two months now. The product should be used only at night time. I use it after double cleansing, a hydrating toner and follow it up with a heavy moisturizer. I must say I see a difference in my pores and puffy eyes in the morning. The serum worked on my sebaceous filaments and whiteheads beautifully but didn't do anything for my blackheads. I can see my PIH to be fading lightly but it's very mild so I don't expect to completely fade them anytime soon.
I didn't go through any purging from using The Ordinary Lactic acid but at the same time, it doesn't do anything for my active pimples. It doesn't add much difference if you are used to stronger AHA's. The glow isn't there only subtle hydration can be seen if you have very dry skin like mine. So my last thought is, if you are a beginner in acids it might be the best product for you, but if you are used to Glycolic Acid Products in the past, then there is no need to buy this because you will be underwhelmed to the least. It's not a bad product but buy it if you really need it.
Pros:
Very mild and beginner friendly.
Makes skin even-toned.
Pores look small.
Works on sebaceous filaments, pigmentation, and sunspots.
Very hydrating as this product have 2% hyaluronic acid.
Helps with inflammation and puffy eyes.
Free of oil, water, alcohol, silicones, nut and gluten.
Cruelty Free and Vegan product.
Cons:
Doesn't work on active pimples.
Very mild for people who have used other AHA and BHA serums.
Doesn't make my skin glow like other acids.
Doesn't work on blackheads.
Rating: 4/5
Would I recommend? Yes, I would recommend this product for beginners in chemical exfoliation.
Have you tried this? Share your thoughts.