In this age of internet era, online shopping has become a part and parcel of many women's life. Right from ordering groceries to big appliances, everything has become fuss-free with these shopping sites. My recent interest in beauty made me search for skincare and makeup products at affordable price ranges. As a beginner, I never wanted to burn a hole in my pocket with high-end products to just try out and learn basic makeup techniques. As you might have known, being an ardent online shopper, I mainly looked for online beauty shopping sites that hoard affordable products. In my quest, I stumbled upon purplle.com which is an online shopping website for beauty products in India. It is popularly sorted after the infamous Nykaa.com. Purplle is an Indian Website currently well known for featuring exclusive affordable makeup brands which aren't available elsewhere like NY-Bae, I-Amsterdam, Stay Quirky to name a few. I recently hauled quite a few products from this website and here I am with my experience of shopping from the Purplle App.
Let's have a look at what Purplle has to say:
Makeup has been around for over a hundred thousand years, and beauty is only evolving. What started with red pigment clay is now a fascinating world of foundation, rouge, lipstick, blush, mascara, eye shadow, eyeliner, eye caramba!
Meet Purplle, a powerful concoction of technology and beauty. A portal that delivers the best of both worlds.
My take and Experience on Shopping with Purplle:
Website/App Interface: To have a fast loading, good user interface, is much important for any e-commerce website. It's the only way to connect to customers. In that perspective, I would say they have a user-friendly and easily accessible portal, both the website as well as a mobile app.
They have categorized everything perfectly. You can shop by categories, brand-wise, and you also have offers and newly launched sections. Once you choose a category, it is easier to sort by price, relevance, rating, discount and you can even use filters to narrow down your search by various other categories.
The other unique aspect of Purplle is its Beauty Assistant Feature which helps you choose your products wisely. It's like you have a virtual assistant who helps you to choose products based on few questionnaires.
The only con I find in the user interface – Although the representative pictures of the products are HD and are enough to lure customers to buy them, they should definitely improve on the display of the product shades or say swatches. Be it foundation or lipsticks, there is no proper differentiation and most of the shades look much alike making it difficult to make an informed purchase.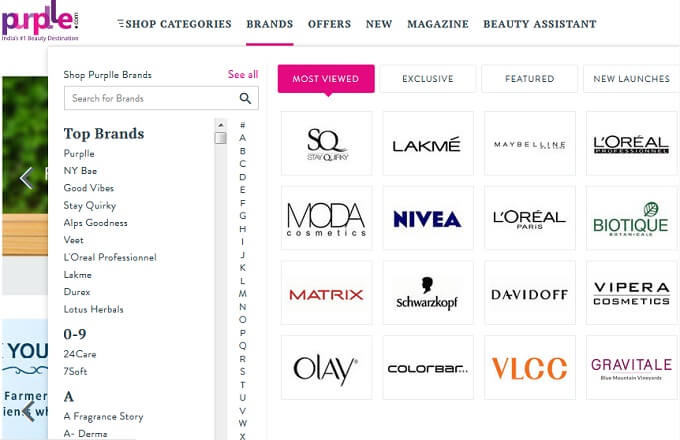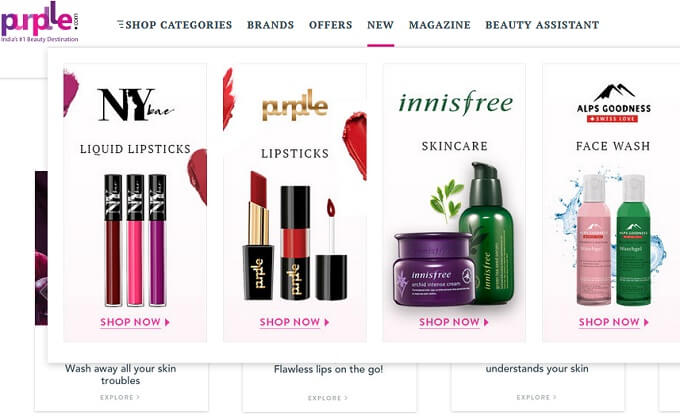 Ordering:  The ordering process is super easy, be it saving products to wishlist, adding products to cart, checking out, and making payment. Everything is simple, hassle-free, and similar in lines to most common online shopping methods
Purplle has various payment options including Card Payments, Net Banking, Wallet Cards, and Cash on Delivery. Just like Nykaa.com, they provide free shipping for orders above Rs.500 and impose no hidden tax or charges (like Jabong & Myntra). You are charged only what is mentioned on the product pricing page.
It took only a few minutes to place my actual order once my cart was ready. Obviously, I took a couple of days to choose the products.
Delivery: On the delivery front, it depends on where do you want the items to be shipped. It took 3-4 days for my items to reach me in Chennai, which I consider to be fast shipping. I had also received all the products as a single package, which is a plus for me. Some sites send the items in different days and packets, depending upon the sellers and brands. In this case, I did not have that hassle. I received everything all together.
Proper notifications are also sent at timely intervals like the order placement, shipment, and out for delivery. Hence tracking of items was not a hardship at all.
I didn't have any problem with returning or refund, so I hadn't a chance to encounter their customer care support. A couple of years ago, I fairly remember the website having not-so-good reviews. But I believe they would have improved on that aspect.
Packaging: All the products arrived in a brown carton box with labels of purplle.com stuck to it. Inside of it, each product was bubble wrapped individually, ensuring no breakage or spill of items. The packaging was very good and I have no complaints or whatsoever about it.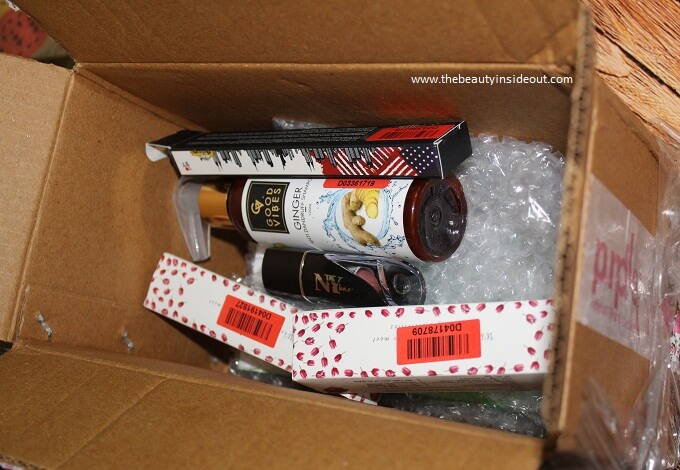 Haul: So let's see what I bought from Purplle
Good vibes Anti-dandruff Shampoo -Ginger -120 ml for RS.165
NY BAE lipstick, Creamy matte brown -Madam from Madison -23 – RS 125
I-Amster DAMN Matte Liquid Lipstick Tulipa Triumph, Purple -Salmon jewel 6-Rs 199
I-Amster DAMN Matte Liquid Lipstick Tulipa Triumph, Brown -Early Glory 8-Rs 199.
NY BAE Kohl, Black -the big apple of my eye -Rs 85.
Good vibes Tea Tree Essential oil -Rs 225
Good vibes Lavender Essential oil -Rs 165
Summarizing,
What do I love about Purplle?
Its fast-loading, user-friendly interface makes ordering super easy.
Availability of a wide range of brands. I can see they are trying to keep up with its competitor Nykaa by bringing in international brands like Innisfree, It's Skin, L.A.Girl, Thank You Farmer and also launching its own in-house makeup under the same name Purplle.
Few budget-friendly brands are exclusively available only on Purplle.com. This is enough for beginners and college goers to shop from them.
Delivery and Packaging were up to the standards.
What could they improvise?
I feel that they can work on picture /shade quality as it's the only way for us to decide whether to buy or not. But for other skincare or haircare range it's good to go with.
Long story short, I have had a good shopping experience with Purplle.com. Though I had tried my hands on newly launched products, I am quite happy with products as well.
My Rating: 3.5/5
Don't forget to share your experience shopping with Purplle.com with us in the comments section below.