If you are into K-Beauty, I am sure you would have heard about this South Korean Cosmetics Brand Peripera. Although it has a wide range of makeup products including foundations, contouring products to cutesy eye makeup products, they are infamous for their lip tints and lipsticks. With all the hype over them, I got myself two shades of the Peripera Ink Airy Velvet. These are considered to be budget friendly if you buy it in their home country. Anyways let's see how these lip tints worked for me.
Product Description:
Peripera Ink Airy Velvet is a weightless lip tint that provides glamorous full color pay off. Its velvety formula keeps your lips moist and glossy without feeling sticky. It has a long lasting effect and stays comfortable throughout.
Ingredients:
Dimethicone, Cyclopentasiloxane, Dimethicone Crosspolymer, Cyclohexasiloxane, Polyglyceryl-2 Triisostearate, 1,2-Hexanediol, Cyclotetrasiloxane, Phenoxyethanol, Fragrance, Tocopheryl Acetate, Green Tea Seed Oil, Cotton Seed Oil, Mango Seed Oil, Lithol Rubine BCA, Cetyl PEG/PPG-10/1 Dimethicone, Tetrachlorotetrabromofluorescein, Titanium Dioxide, Ferric Oxide, Phloxine B, Hydrated Ferric Oxide, Sunset Yellow FCF, Tartrazine, Black Oxide of Iron.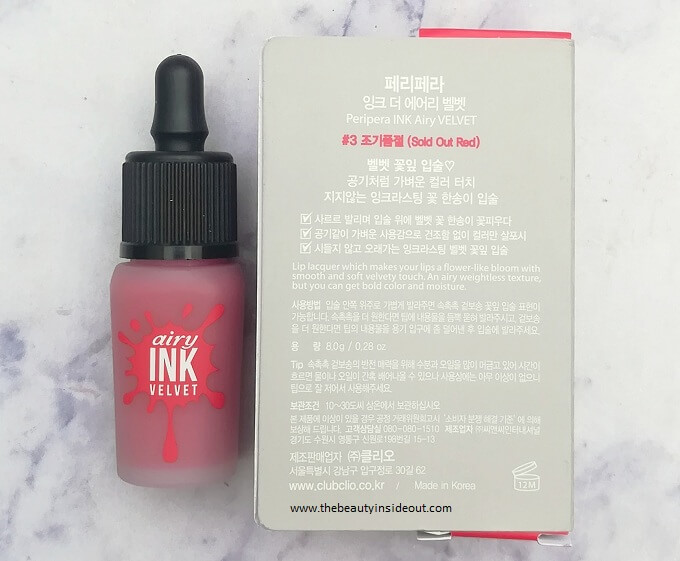 How to use Peripera Ink Airy Velvet?
Always start with prepping your lips with a lip scrub and application of a lip balm, when it comes to long staying lip tints so it doesn't accentuate lip lines as time goes on.
For fuller lips: Glide the applicator starting from the bottom center to give your lips vivid color. Apply more color if needed.
For gradient look: Dab a tiny amount of the tint on the inner of the bottom center of your lips. Use your fingers to blend the product properly for a gradiant look.
As a blush: Dab small dots on the apples of your cheek and use your fingers or a brush to blend out the tint using quick tapping motions.
Price: Around 5 USD or Rs.700.
Peripera Ink Airy Velvet Review
Packaging: The Peripera Ink Airy Velvet comes in a cute frosty matte plastic bottle. It's very small and fits within one's palm. The bottle comes with a black cap that has a wand attached to it. The applicator wand is curved at the tip which aids in proper application at the corner of the lips. The shade name and number is written on the bottom of the bottle. The whole packaging is color coded, so it is quite easy to identify them in a pile of different shades. The lip tint further comes enclosed in a small carton box which looks appealing as well. Few information about the tint is printed in Korean Language, which I am unable to understand.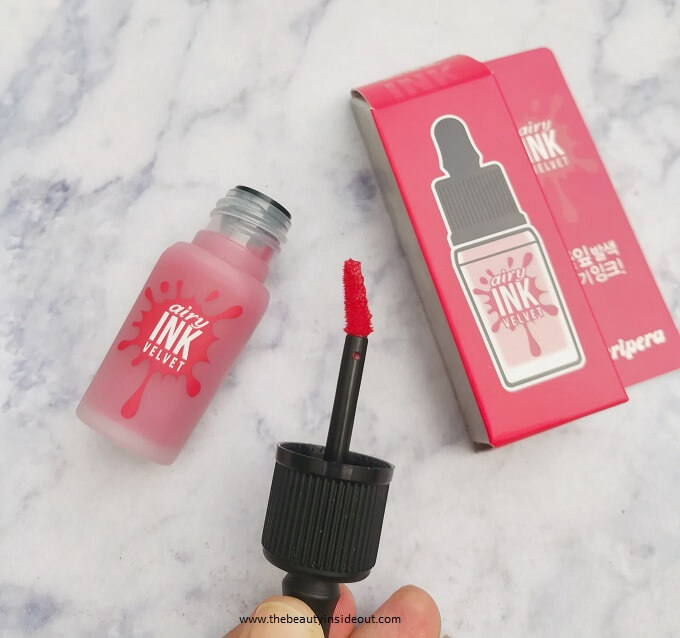 Texture: It has a thick creamy texture that spreads so smoothly on the lips. Its super pigmented and requires just a tiny amount for each application. The lip tint applies glossy and sets down to a comfortable soft matte finish within seconds. The lip tint has a silicone feel to it when I purse my lips together. I am not sure if this is a trait of Korean lip tints altogether. It's not something bad, in fact I like that feel since its gives a moisturized feel and hides my lip lines giving a smooth looking fuller lips. Overall, I like this unique formulation.
Fragrance: It has a mild fruity fragrance that does not linger. But it does have a mild taste which I am not a fan of. With frequent usage, you get used to it though.
Shades: Initially there were 10 shades in this range. They often come up with new shades from time to time. I have 2 shades from this range.
03 Sold Out Red: 03 Sold Out Red is an intense cool toned red. It's deep and has a tinge of pink to it. The pinkish tint is not noticeable until it starts fading. It's a flattering red that will look pretty on all skin tones especially medium skin tones.
09 Legend Brown Red: 09 Legend Brown Red is not a red lip tint, if you may assume so. It's an easily wearable mauve shade with hints of brown. This will be a good MLBB shade for fair to medium skin tones. It suitable for everyday wear and pairs up well with a smokey eye makeup look.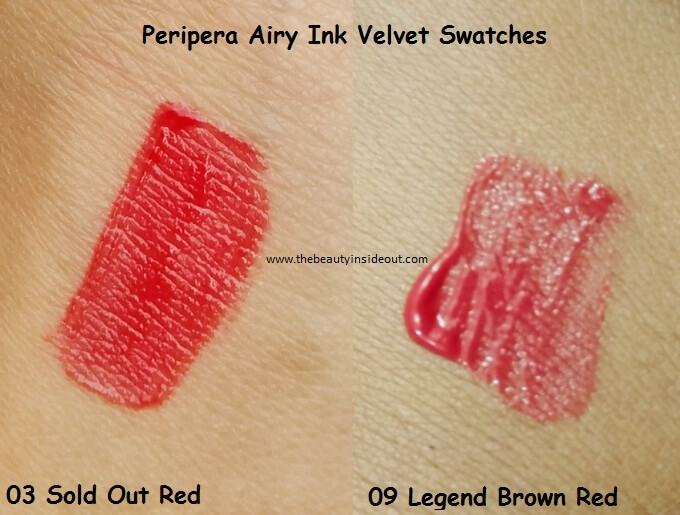 Pigmentation: Both the shades I have are highly pigmented and can be used for both fuller lips and gradient lips. Just one stroke is more than enough for opaque coverage and just a small dab of color is enough for tinted look. The Peripera Airy Ink Velvet can also be used as a blush for that flushed look.
Staying Power: Peripera Airy Ink Velvet lasts for about more than five hours, including sipping drinks and snacks. It leaves a light tint after a meal. It transfers very little. The color doesn't sustains through greasy food. An oil cleanser or makeup remover is required to remove the tint properly at the end of the day.
Pros:
Wide shade range.
Non drying, velvety formula.
Doesn't accentuate lip lines.
Comfortable semi-matte finish.
Transfers very little.
Can be worn as a blusher.
Cons:
Not easily available everywhere.
Some colors from the shade range are not suitable for dark skin.
The pinkish colors in the range are not particularly distinct.
Rating: 5/5
Would I recommend? Yes, absolutely. Peripera Ink Airy Velvet is one of my favorite lip tints and I always buy this brand's lip tints which can be worn every day. I mainly love this because these are not at all drying and doesn't accentuate fine lines on my lips. There are many shade range to choose from, such as from the collections of 2017 and 2018 and I am sure you will have atleast one shade that you will fall in love with.
Guest Author: Asmita Basu