Hello everyone. Today I'm going to review about The Nature's Co Irish Moss Body Butter which belongs to their Aquaspark range.This body butter is specifically meant for dry skin. To know more about this body butter, read ahead.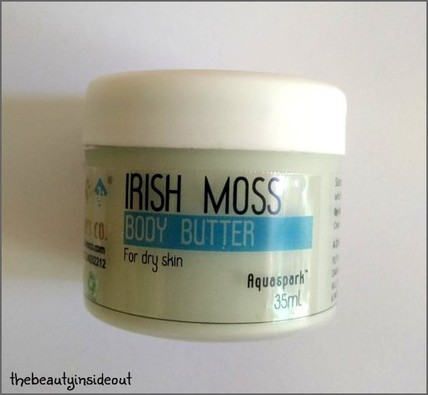 Product Description:
Slather on whipped Irish Moss Body Butter. It contains Irish Moss extract which had soothing, protective & noturishing properties that work wonders on your skin.
Application:
Apply this rich creamy butter onto skin daily. Massage slowly, allowing your skin to absorb the nutrients. Reapply as needed to rough or chapped areas. Enjoy the difference!
Key Ingredients:
Irish Moss extract, Grape seed oil, Vegetable Glycerin, Olive oil, Cream base, Aroma, Natural preservatives and For Grade colors (FD & C ) Q.S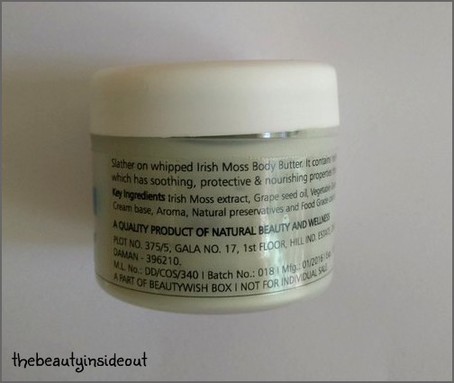 Price & Quantity: Rs.1295 for 270 ml
Availability: Available online here
My experience with The Nature's Co Irish Moss Body Butter:
I got the Irish Moss Body Butter in The nature's co Beauty wish box. It was a sample of 35 ml. Since I haven't heard about Irish moss, I tried googling and found out that Irish Moss is a type of seaweed grown in cold waters. It has a soothing effect on the skin and it also eases sunburn, chapped skin, eczema, psoriasis, and other rashes.
Coming to the packaging, the body butter comes in a sturdy plastic tub with screw type lid. I personally prefer tubs for body butters since it's easy to take out the product but many would feel otherwise. The body butter is pale green in color and has a mild herbal scent that fades away in a couple of minutes.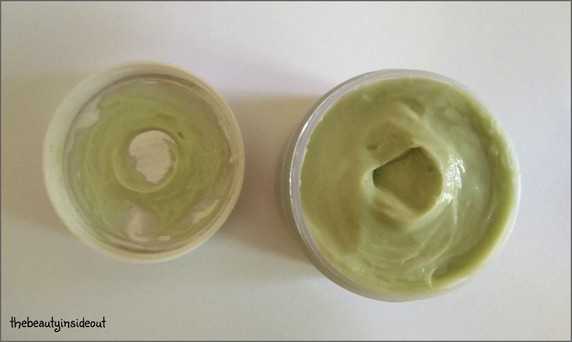 Even though the texture is thick in consistency, it spreads easily on my skin. During application I felt the body butter to be a little oily, but that goes away after 2-3 minutes and gets completely absorbed into the skin. Since I have very dry skin even during summers, this body butter kept my skin well moisturized for the whole day. I didn't have the need to reapply it until the night. The dry patches on my elbows were completely vanished and it made my skin soft and smooth. As the body butter claims it to be for dry skin, it won't be suitable for normal or oily skin types. It made my dull skin glowing and refreshed.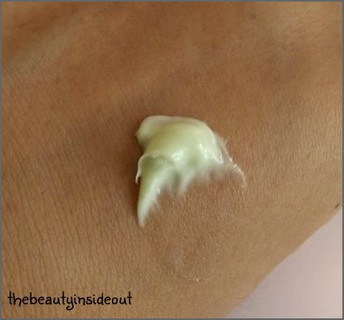 Pros:
Sturdy packaging makes it travel friendly.
Vegan, eco-friendly and natural ingredients.
Long lasting effect.
Heals dry patches.
Provides intense moisturization for dry skin.
Keeps skin healthy and radiant.
Cons:
No complete ingredient list.
Expensive.
Availability.
FInal Word:
The Nature's Co Irish Moss Body Butter is a good body butter for very dry skin types. I liked it a lot. If you are not on budget and have very dry skin like me, I would absolutely recommend it. It made my skin so soft and nourished. I'm planning to buy the full size product once this sample gets over.
Rating: 4.9/5
Have you tried The Nature's Co Irish Moss Body Butter? If so , share your thoughts on it in the comments section below.