We all know the amazing benefits of Vitamin E. Vitamin E is a great skin food which retains moisture, repairs dry patches, lightens dark spots, reverse premature aging and treats sun burns. Today I'll share my view on a product which is loaded with Vitamin E. The product I'm talking about is the Natural Bath and Body Vitamin E Whipped Cream. I got this whipped cream in my April Fab Bag along with Natural Bath Body French Red Clay Mask. I have almost finished up the tube so I thought its the right time to share my experience. So let's get into the details of the product.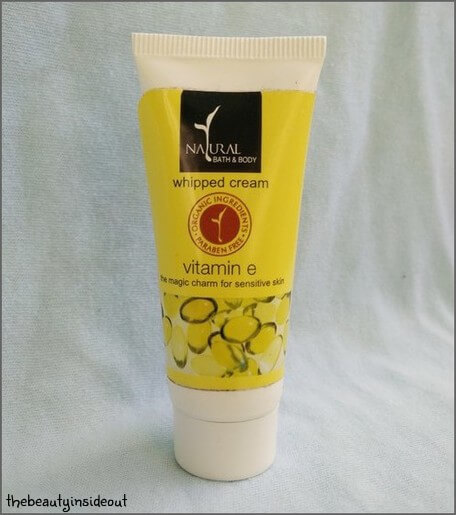 About Natural and Body Vitamin E Whipped Cream: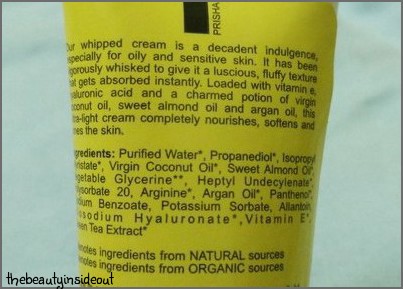 Priced at Rs.275 for 50 ml
My take on Natural Bath and Body Vitamin E Whipped Cream: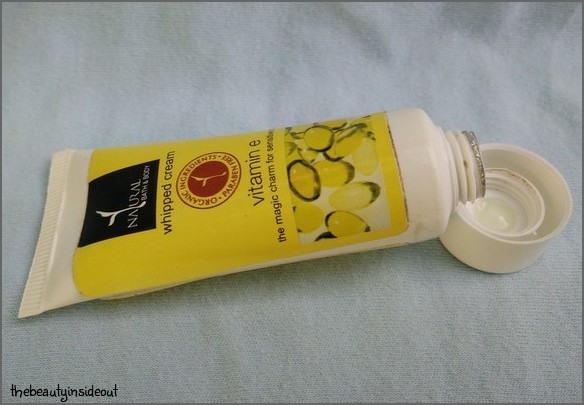 Most of the Natural Bath and Body sample products have a tube packaging whereas the full sized products come in a tub container. I prefer tubes to tubs as they are more hygienic. Since this is sample, I got the cream in a white tube with a yellow sticker pasted on it. All the necessary details of the product are clearly mentioned on the sticker. The whipped cream is white in color and has a gel cream consistency rather than a rich creamy consistency. I needed only a pea sized amount of the cream for my entire face. This tube lasted me for about 15 days which is more than enough considering this is only a sample of 15 gm. The cream spreads easily and gets absorbed quickly, you need not massage it for a long time. The whipped cream feels very lightweight on the skin and does not give any sticky or greasy feeling. It provides the right amount of moisture and keeps my skin nourished and supple throughout the day. I totally love the smell of it which is mild and pleasant. Even though it contains different oils, it did not break me out even once. This would be apt for sensitive and oily skin types. I love that it is all natural, free from parabens, artificial preservatives and harsh chemicals.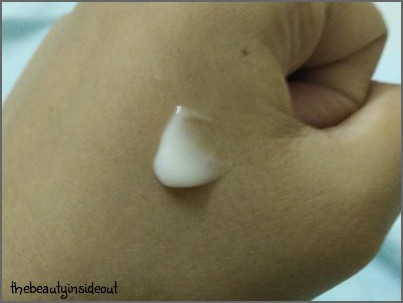 Pros:
Contains the goodness of Vitamin E, Coconut oil and Argan Oil.
Hydrates and keeps the skin moisturized well.
Gel creamy texture blends easily.
Lightweight and no greasiness or stickiness.
Feels comfortable to wear under makeup.
Free from parabens.
Does not break out.
Suitable for oily, combination and sensitive skin types.
Cons:
Final Word:
Natural Bath and Body Vitamin E Whipped Cream is a good natural product loaded with the goodness of Vitamin E and various oils. It is very lightweight, provides ample hydration leaving the skin soft and supple. There is nothing I didn't like about this product. I would recommend this product to give it a try.
Rating: 4/5
Have you tried this whipped cream? I am currently searching for a lightweight moisturizer for combination skin type. If you have any suggestions do share it in the comments section below. Hope you find this post helpful and don't forget to follow me on Facebook.
Love Safi 🙂