Today I am going to share my experience on Lotus Herbals Cocomoist Cocoa Butter Moisturizing Lotion. This moisturizer is available in individual pack and it also comes as the fifth step in Lotus Herbals' facial kit. I really liked using this moisturizer while doing home facial with this kit so I bought the individual pack to use as my everyday moisturizer. Here is what I found about this product.
Product Description:
Lotus Herbal Cocomoist Cocoa-Butter Moisturising Lotion is an all-purpose moisturizing lotion that promotes soft, silky and smooth skin. It helps in maintaining the pH balance of skin and enhances skin's moisture retention capacity.
Ingredients: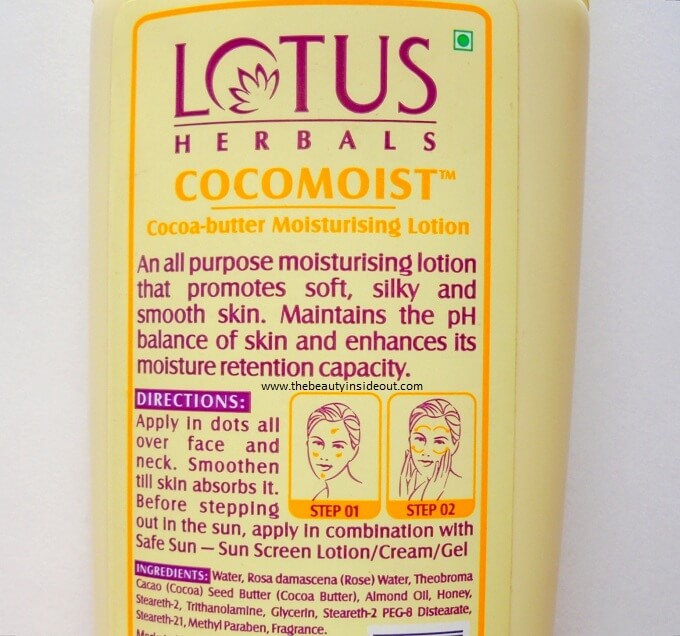 Price: Rs.415 for 170ml
Where to Buy? This moisturizer is available both online and offline.
Lotus Herbals Cocomoist Cocoa-butter Moisturizing Lotion Review
Packaging: This moisturizer comes in an off-white plastic pump bottle. The opaque bottle has lock-unlock mechanism to prevent leakage. It also has a screw opening provision to re-use the bottle once the moisturizer is finished. The pump is secured with a plastic cap. I have opted for the 170ml bottle, this bulky bottle is not very travel-friendly. This one also comes in a smaller travel pack. The ingredient list and other details regarding the product has been provided in the labels of the pack. The brand even mentioned the massaging time for this moisturizer.
Color & Texture: This moisturizer has an off-white colour, though it looks white while taken out in small amount. It has the consistency of a medium thick lotion. As it is a product for dry skin, it is quite creamy and moisturizing. It is not a quick absorbing product and might leave an oily film behind if used in excess.
Fragrance: Since it is a cocoa butter enriched product I expected it to have nutty fragrance. But, this one has a nice floral fragrance. The fragrance is light but stays 15-20 minutes on the skin. Though the rosy fragrance feels really nice, I prefer fragrance free moisturizers. Products with synthetic fragrances often induce pimples on my skin.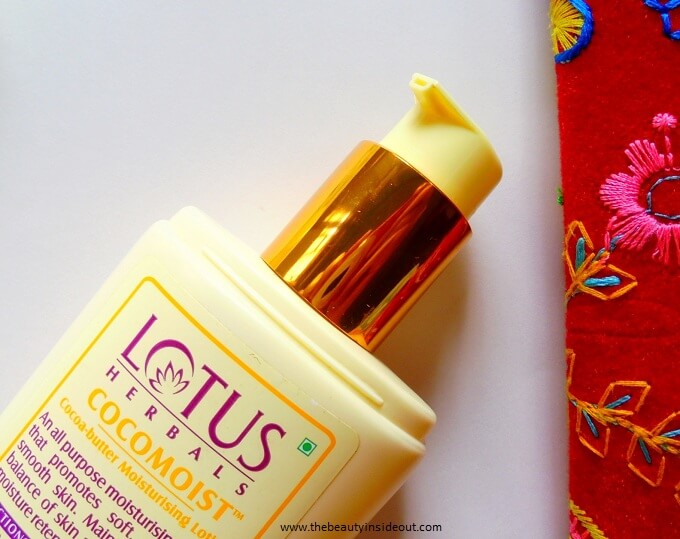 My Experience: This moisturizer is specially designed for dry skin but I still wanted to try it out on my combination skin. My skin loves producing tons and tons of pimple if it comes in contact with any pore-clogging skin care or makeup product. My skin gets on the drier side in winter so I have to switch to a heavier moisturizer in winter leaving the oil-free moisturizers that I use on the other seasons. This is a lotion moisturizer with the potential of being a winter cream. It is lighter than basic cold creams and has higher absorbancy than those.
When I started to use this moisturizer, My skin was very dry and rough. Within 4-5 uses the dry patches of my skin started to disappear. My skin felt moist and soft again. I was quite happy to see my skin getting used to such a heavy moisturizer. But after 1 week or so new pimples and zits from clogged pores began to appear. I stopped using this and shifted to my old friend Cetaphil Moisturizer and after 2 weeks my skin became normal again. After taking a look at the ingredients list I found 2-3 pore clogging herbal ingredients (almond oil, cocoa butter). These may have caused my pimples. Finally I gave this moisturizer to my mom and it is working excellent on her normal skin. It also worked great on my aunt who has normal to dry mature skin. Both of them said this moisturizer gave them long lasting suppleness and relief from winter dryness.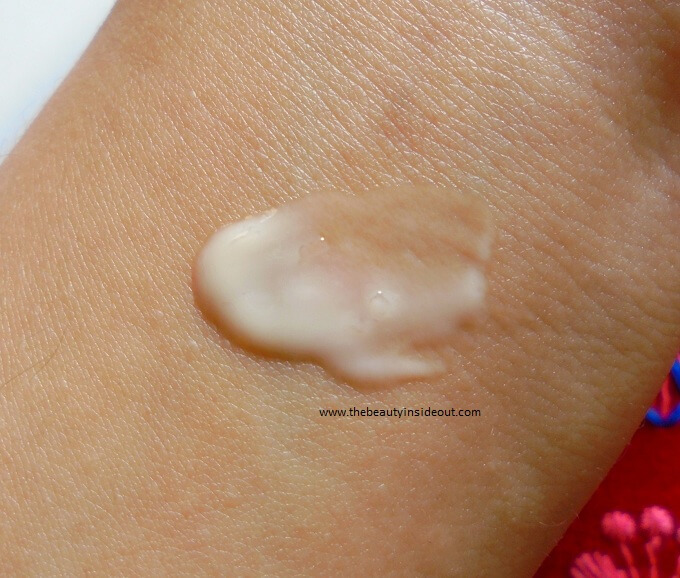 Pros:
Lightweight nourishing moisturizer for normal to dry skin
Prevents dryness and provides long lasting nourishment
Moisturizes skin and heals flaky skin due to dry skin
Makes the skin soft and radiant
Easily available
Cons:
Contains paraben and fragrance
Not suitable for acne-prone skin
Rating: 4/5
Would I Recommend? I would recommend this to people with normal to dry skin who do not have acne-prone skin. If you have dry skin with pimple tendency then stay away from this one as it contain certain natural oils that has been reported for pore-clogging.