Today I am going to share my experience with an exciting product in the Indian Market which is the Dr. Sheth's Basic Brightening Extra Gentle Daily Peel. A peel is usually a solution or product with an exfoliating acid (like Lactic Acid, Glycolic Acid) to refine the skin texture while targeting various skin concerns including reducing scars and acne marks. Peels aids in shedding off the dead skin cells on the outer layer of the skin to reveal smoother looking skin. Generally peels are done by professionals in skin clinics but in this case, it is totally safe to use this product at home, since it's pretty much like any other low concentration chemical exfoliant available for use by ourself. Let's see how this product worked for my skin. Was it effective? Read on.
Product Description:
Dr. Sheth's Basic Brightening Extra Gentle Daily Peel is a lotion peel that works to deliver alpha hydroxy acids (fruit acids) in a controlled and slow manner to evenly exfoliate the skin. Formulated especially for brown skin, the daily peel has calendula to calm the skin along with wheat and oat sugars to hydrate it.
Ingredients:
Purified Water, Glycolic Acid, Lactic Acid, Glycerin, Light Liquid Paraffin, Olivem 1000, Arlamol 812, Wheat And Berry Sugars, Anhydroxylitol, Xylitol, Steareth 21, Cetyl Alchohol, Propylene Glycol, Sodium Acrylates Copolymer, Lecithin, Pomegranite Extract, Grapefruit Extract, Sodium Hydroxide, Perfume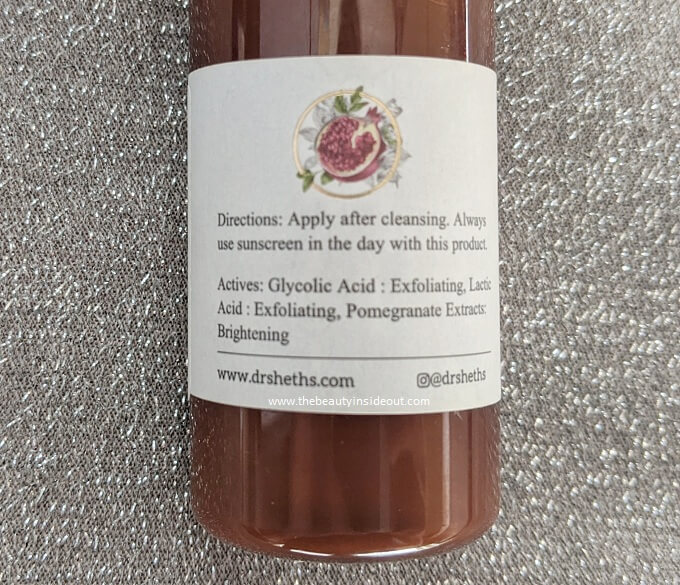 Price: Rs.850 for 50 ml.
Dr. Sheth's Basic Brightening Extra Gentle Daily Peel Review
Packaging: Dr. Sheth's Basic Brightening Extra Gentle Daily Peel comes in an amber brown colored glass bottle with a plastic pump dispenser. The pump is a bit stiff and I will say it does not work properly until the end. The product comes with an outer carton box which is furnished with few details of the product.
Texture: Dr. Sheth's Basic Brightening Extra Gentle Daily Peel has a lotion like consistency that's slightly thin. It almost like a gel crème with its smooth texture.
Fragrance: The Daily Peel has a strong scent. It smells tangy or you can say it smells similar to Amla Hair Oils.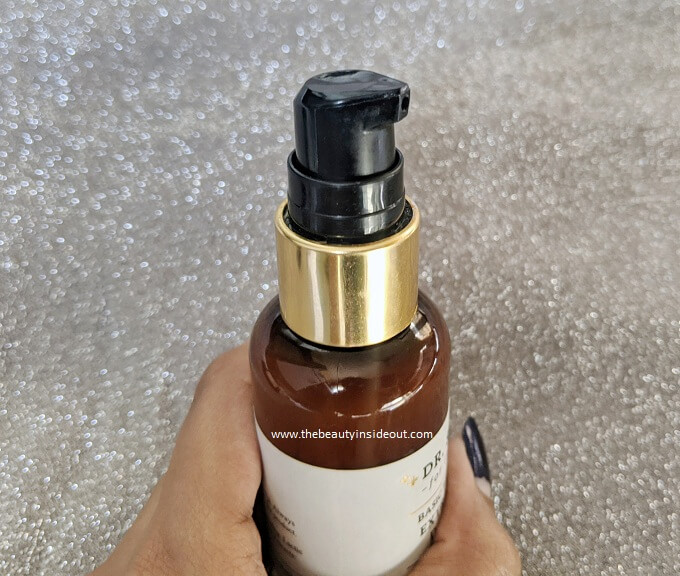 How to use Dr. Sheth's Basic Brightening Extra Gentle Daily Peel?
The packaging says "Apply after cleansing. Always use sunscreen in the day with this product". I wish they were more clear on this part, so that beginners might not stutter on when to use or how to use to reap its benefits fully. In general, a peel is supposed to be used like a mask – apply, leave it on for few minutes and wipe it off. However with this product, it can be used as a leave on where you apply a thin layer and follow the rest of the skincare routine without washing it off.
My experience with Dr. Sheth's Basic Brightening Extra Gentle Daily Peel:



I have been using this product for over 4 months now and I think that's enough time to come to a conclusion on this product. Considering that this is an exfoliating product, I use this only during the night time. I usually apply a pea sized amount of the product evenly all over my face after cleansing and toning. The product dries down to a smooth finish and I follow it up with a gentle soothing moisturizer. It gives a mild tingling sensation that subsides after 2 to 3 minutes. But in case if it does not subside, it is best to wash off the product immediately and calm down your skin with soothing products like Aloe Vera Gel. I always recommend to do a patch before using any product and it's no different with this product.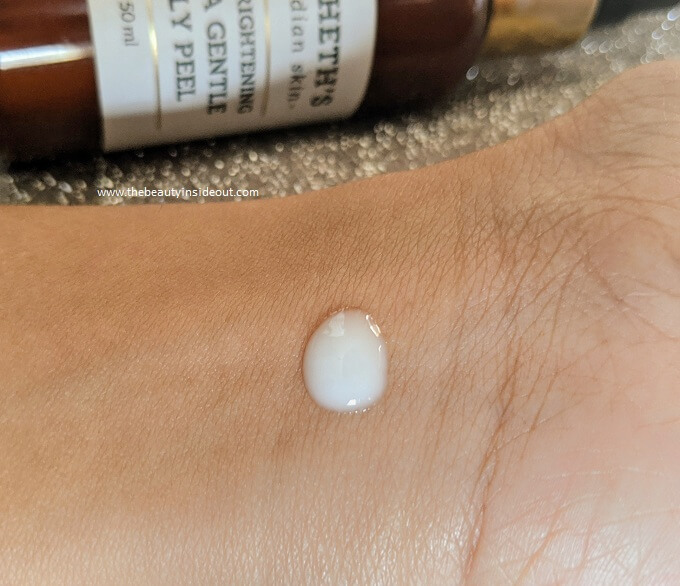 The Daily Peel is gentle enough for everyday use. However I recommend starting it slow especially if you are new to exfoliation. I use it twice a week all over the face and quite frequently on spots where I have acne marks. I also like to use it as a wash off mask once a week. The product does not show any instant results like other potent AHA Peels. However with regular use (note that I have been using it for 4 months), it helped with lightening of my fresh acne marks and I can see a reduction in my uneven skin tone. Just don't expect for any brightening effect instantly. The product works, but you need lots of patience, especially if you are used to potent exfoliating products.
Lastly, never forget to apply sunscreen whilst using this product. With any exfoliant for that matter. If you see people complaining of getting darker skin after starting to use an exfoliant or peel, the major reason is because you failed to use a sunscreen and not because of the product. As said earlier, exfoliants causes shedding off dead cells revealing fresh skin and is more prone to sun damage and hence darker skin. Always protect your skin with a sunscreen.
In a nutshell, Dr. Sheth's Basic Brightening Extra Gentle Daily Peel is a decent option for Indian people. It is a very gentle peel suitable for beginners in chemical exfoliation.
Pros:
Made For Indian Skin.
Contains Lactic Acid & Glycolic Acid
Gentle on the skin, compared to other similar products.
Lotion like texture is comfortable on the skin.
Makes skin look healthy.
Paraben and Sulphate free
Jain & Vegan Friendly.
Cons:
Faulty Pump Dispenser.
Strong Fragrance.
Takes more time to show results.
Not an affordable option.
Rating: 3.5/5
Would I recommend? If you are new to chemical exfoliants then may be you will like this. But if you are used to chemical exfoliants then you might not see that much difference and you need lots of patience to see the results. For the price point, I guess you can just spend a bit more and get the Pixi Glow Tonic.
Guest Author: Snehal. R. Gavade