My today's review will be about Lotus Herbals Alphamoist Alpha Hydroxy Skin Renewal Oil-free Moisturizer. Alpha hydroxy acids like glycolic acids are plant derived organic and skin-friendly acids that helps in unclogging the pores and exfoliating the dead skin to reveal fresh skin. These acids are often used by oily skin to prevent pimples. The Alphamoist moisturizer contains Green Grape Extract which is rich in alpha hydroxy acids. Let's read on to know how this moisturizer for normal to oily skin fared on my acne-prone oily-combination skin.
Product Description:
Lotus Herbals Alphamoist Alpha Hydroxy Skin Renewal Oil-free Moisturiser rejuvenates the skin, make the skin look and feel younger. Enriched with the goodness of Grape extract, Aloe Vera and Milk Enzyme it has natural astringent, antimicrobial and antioxidant properties. It helps you rejuvenate and nourish your skin leaving it moisturized. Its skin healing, anti-inflammatory and soothing properties give a care to your skin.
Ingredients: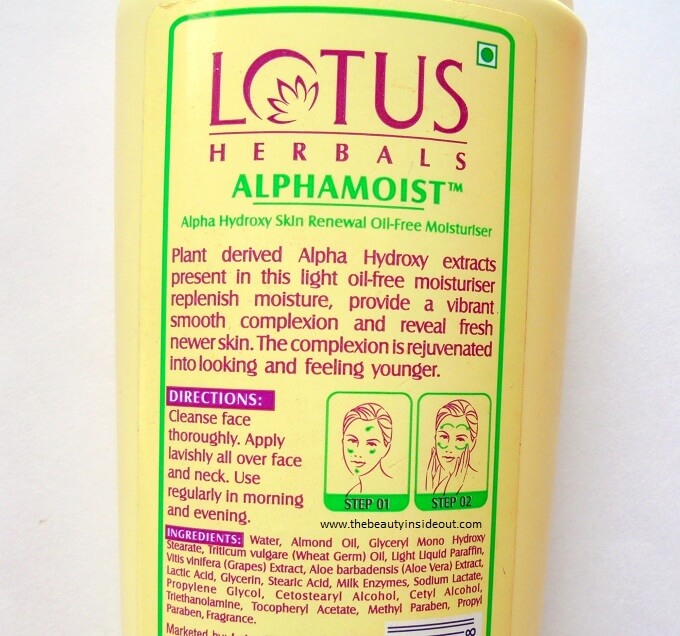 Price: Rs.395 for 170ml
Where to Buy? This moisturizer is available in Lotus Herbals counters in beauty shops. It is also available online. You can avail certain percentage discounts on this both online and offline.
Lotus Herbals Alphamoist Alpha Hydroxy Skin Renewal Oil-free Moisturizer Review
Packaging: This moisturizer comes in a plastic pump bottle with off-white coloured body and cap. The pump is not flimsy and has lock-unlock mechanism. That makes the packaging a travel-safe one. My 170ml bottle feels quite bulky to travel with. Thankfully, this one also comes with another smaller size. The packaging is simple but efficient. The brand has mentioned all the ingredients in the ingredient list on the back. You will also see a nice tint pictorial describing the application process along with the written details.
Color & Texture: This is a pure white colored moisturizer. It has medium consistency. Though it feels creamy while poured out, it gets absorbed into the skin easily and provides more or less oil free finish. In winter it gives a perfect matte kind of finish but in summer it feels a little heavy and causes sweating.
Fragrance:It has an unique herbal fragrance with a faint hint of citrus notes in it. The fragrance is very mild and it does not linger at all. I have also tried this Alphamoist's counterpart, the Cocomoist Moisturizer from the same brand. This one's fragrance is far milder than the cocomoist.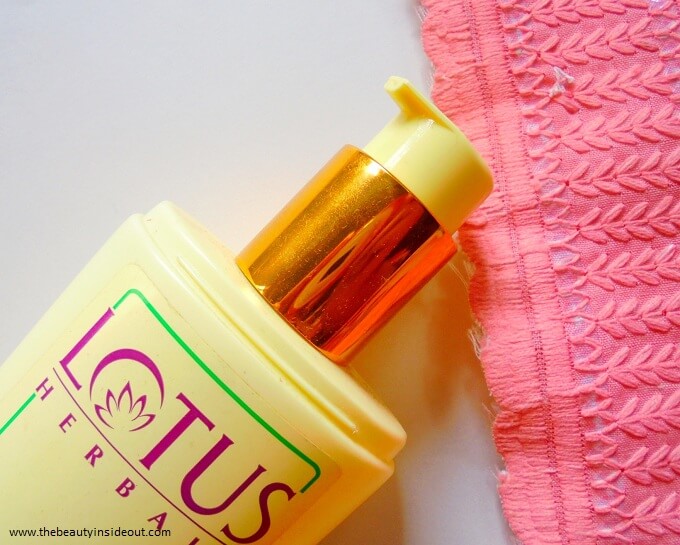 My Experience: This is not the first time I am buying this. This is my third purchase I think. I used to use this moisturizer during my school years but then my skin got more oily somehow and I switched to Neutrogena Oil Free Moisturizer. I bought this last summer as I got bored with my other moisturizers. It used to feel heavy on my skin before, the situation remained same. The place where I live has a very humid summer so the sweatiness is a bother. So, I shelfed it to use in winter. These days I use it as my day cream if I am staying at home. It leaves my skin nicely moisturized but it needs reapplication every 3-4 hours or so. This product contains wheat germ oil and almond oil. I don't know why this 'oil-free' moisturizer has so many pore-clogging oils in its ingredients. These ingredients are causing small zits on my forehead so I will have to replace it soon. However, this is a great product to remove water-proof makeup specially the water-proof mascara and stubborn liquid lipsticks.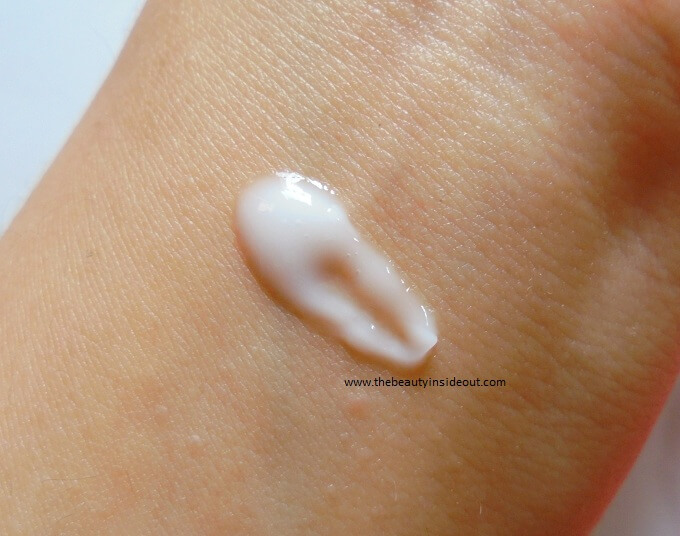 Pros:
Lightweight moisturizer for normal skin
Provides matte finish for 1-2 hours
Removes water-proof makeup pretty well
Cons:
Claims 'oil-free' but has wheat germ and almond oil
Not paraben free
Might feel heavy on skin in summer for oily skin
Might cause pimple or clogged pore for acne-prone skin
Rating: 2.75/5
Would I Recommend? Though this is an oil-free moisturizer, it has many oils in its ingredient list and these oils might clog the pores to cause acne. Plus, it feels heavy on skin in summer. So, I can't recommend it to people with oily acne-prone skin. However, if your skin is normal, dry or oily but without the pimple problem, you might give it a try. For this price there are many more oil-free moisturizers available that do work better than this so giving it a skip is not a bad idea as well!